gfxCardStatus: Switch Between MacBook Pro Graphic Cards Based On Power Source
If your Mac has both internal GPU and external graphic card installed on expansion slot, then you often have to check that which GPU is in use. Since it's quite tiring to keep track of which graphic card your Mac is using, you may need an application that can show the currently used GPU. gfxCardStatus is an application for MacBook Pro, which not only shows the current graphic card, but also lets you switch between internal and discrete graphic cards with a click. The utility operates from system menu bar, and keeps a check on available graphic units. The 'i' icon in menu bar signifies that Intel graphic cars is being used, whereas the 'n' represents NVIDIA GeForce GPU.
Before installing the application, make sure that both graphic cards are enabled and functional. When you launch the application, it verifies the availability of both graphic cards on your MacBook Pro. It it fails to identify installed graphic units, reboot the system and then launch the application. Clicking its icon reveals the currently used graphic card and an option to switch to other GPU.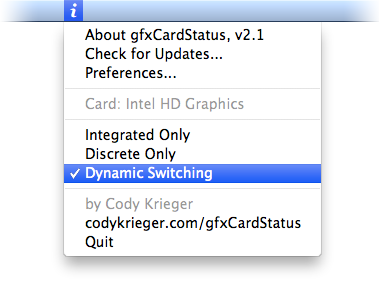 From Preferences, you can set application launch with Mac logon and enable/disable Growl notification system to send GPU change notifications. The Advanced tab lets you configure power source based switching; you can choose to use Integrated GPU on battery, and Discrete (external) graphic card when power cable is plugged in.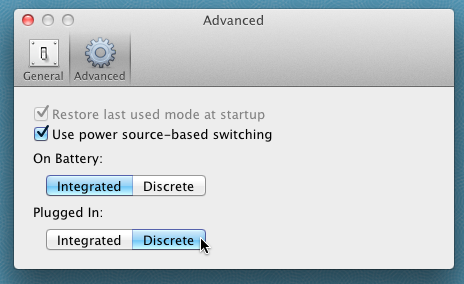 gfxCardStatus is a must-have app for MacBook Pro users, as it not only brings convenience in switching between installed GPU but also prevents quick battery drain by automatically switching to specified graphic card. It is an open source application that works on Mac 10.6 and higher. Testing was done on Mac OS X 10.7 Lion.