[Giveaway] SyncMate: Sync Unlimited Devices Of Any Platform To Your Mac [Paid]
We've covered a lot of tools that let you sync either your iOS device with your Mac or an Android device to it. Some apps were free, others came with a price tag. As far as syncing devices go, if you stick to the little apps, you will be able to, at best, sync between any two devices. SyncMate is a Mac app that is perhaps the mothership of all sync utilities out there. It doesn't just sync between any two devices, but rather, just about any device that you can imagine; Windows PC, Android, iOS, Windows Phone and Sony PSP. Additionally, the app also lets you sync with Dropbox, your Google Account, Nokia phone, and Blackberry. The free version of the app lets you take it for a test spin without any time constraint. The pro version, which costs $39.95, offers lots of additional syncing options including a Mount Storage option that mounts the user accessible storage as a separate disk to your Mac and lets you browse and copy files.
Note: SyncMate's pro version is a paid app that will set you back by $39.95. AddictiveTips is giving away five licenses for the pro version to five lucky readers, details for which can be found at the end of this post.
To connect an Android device or a Windows PC, you will need to download their respective app to the device. iOS devices only need a simple USB connection. To connect a device, click Add Connection, select the type of device from the panel that opens and enter its IP address and click Continue.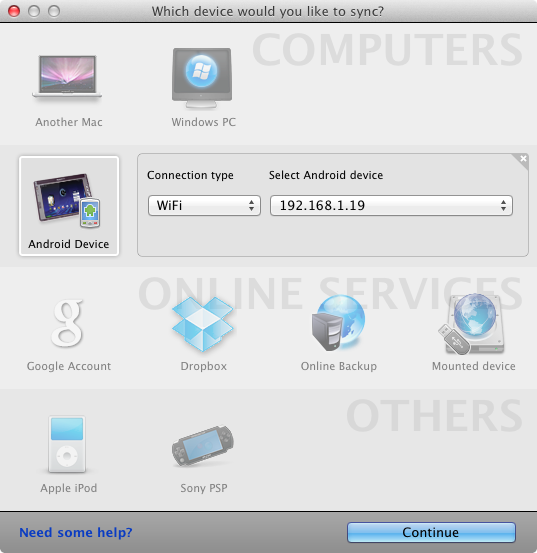 All connected devices will appear on the top bar. Select a device and click Sync Now at the top right of the app's window. You will first have to select which items you want to sync. For Android devices, you will not be able to sync iCal or Safari bookmarks, as they do have these apps. You can select which devices to sync by checking each one from the top bar and sync them all at once.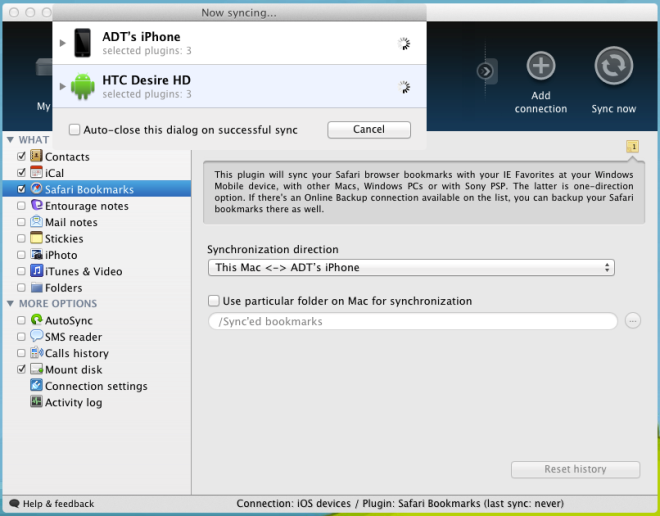 The app doesn't just sync your photos, contacts, folders and music; when syncing mobile devices, it also lets you view and send text messages as well as your call history. To mount a device's user accessible storage, select the device and click Mount disk. A large disk icon will appear in the panel on the right. Click it and the device's storage will be mounted.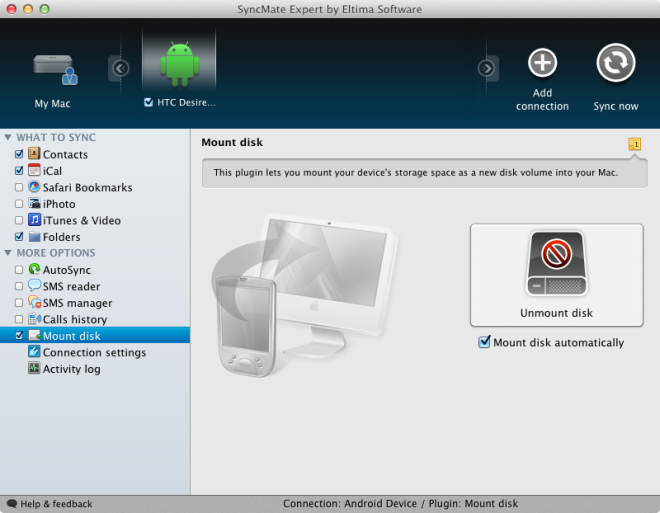 The best thing about this app is that it doesn't limit the number of devices you can sync or add to it. Additionally, it isn't just device specific which means you don't need to own Apple devices exclusively to seamlessly sync all your devices. This review is for the pro version of the app. The free version lets you add multiple devices but limits the number of items you can sync. For a full comparison of the two versions, visit this page on the developer's site. To buy the pro version, you will first have to download the free one.
Giveaway: We are giving away 5 licenses for this app. The giveaway will last for 48 hours. Participation is simple. Follow @addtips on Twitter, tweet the giveaway and in the comments below, provide a link to the tweet. Alternatively, you may comment on our Facebook or Google+ page, where the comment should preferably be under the shared post and not on the page itself. Our editors will pick the five winners randomly.
Update: The giveaway has been closed. Winners will be contacted shortly.
Update: Winners have been contacted.