Toggle System Settings And Launch Apps Via Text Commands On OS X
Spotlight is quite a popular feature on OS X and people who have used both OS X and Windows often cite it as the better of the two. Spotlight is great for launching apps or looking up the definition of a word but it is still a basic search tool. Lacona is free OS X app that's built to work like Spotlight but is exponentially better. The app will let you launch other apps, open URLs in any app of your choice, toggle the WiFi switch, empty the trash, and much more all by typing it into the Spotlight like command bar. Where Spotlight can search apps, Lacona can perform actions.
Install Lacona and open it via the Alt+Space bar shortcut. Type in the name of an app, or a URL and it will automatically suggest additional commands such as other apps to open. Lacona will also suggest apps that you can use to perform a specific function, e.g., if you're opening a URL and you have multiple browsers installed on your desktop, it will allow you to choose the app you open the URL with.

Lacona is much more than an app launcher though; you can use it to turn your WiFi off, or empty the Trash simply by typing the command in the app's bar.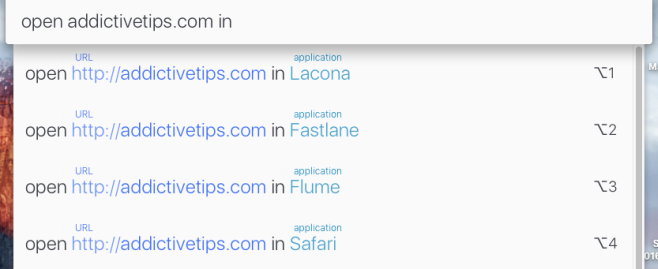 The app is very similar to Spotlight and the suggestions it gives can be selected and executed via keyboard shortcuts. In addition to opening apps and toggling system settings, the app can set reminders, open a particular file (provided you give it the right name), and much more. Lacona is essentially a personal assistant like Alfred or, dare we say it, Cortana that can find and open apps but also execute a few basic functions that you normally perform with quite a few clicks and some navigation between apps. It's free for now but will eventually have a paid version that comes with additional features.