Upload Screenshots From OS X To Your Public Dropbox Folder With UpShot
Dropbox is more than just a cloud drive; with an API that allows other apps to add Dropbox integration, it's been used in a lot of unique ways. Not only does it make collaboration easier, it also allows developers to create apps that can sync their app data over to it. One of the more frequently used features of Dropbox is the public folder where you can upload files for public viewing. Anyone with the link to your files can view or download them, and they don't even need to have a Dropbox account for this. UpShot is a free and open source Mac app that makes use of the public folder to share your screenshots publicly.  The app runs in the Menu Bar and while enabled, it automatically uploads the screenshots you take to your Dropbox public folder.
To use UpShot, you need to have the Dropbox app installed and running. There is a small setup procedure you have to follow before you can start using UpShot. The app needs to be provided with your unique Dropbox ID to upload the screenshots. The process of getting your ID is illustrated in the app's startup screen but here's how it goes: head over to your Dropbox folder, open the Public folder in it and right-click on any file. From the 'Dropbox' option in the context menu, select 'Copy Public Link'. Once you copy it to your clipboard, UpShot will detect it automatically and grab your ID from it. When the ID is detected, the 'Found! Press OK to save' message appears.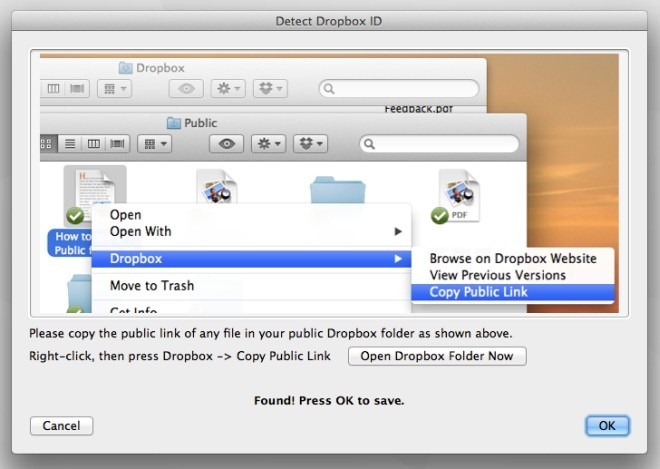 After the app has been configured with the ID, the UpShot icon turns blue to indicate it has established a connection and is ready to use. When you are ready to start sharing your screenshots, simply right-click the Menu bar icon and select 'Start Screenshot Sharing'. Fortunately, sharing can be paused or resumed any time since you probably won't want to share every single screenshot you take. You will still take screenshots with OS X's default keyboard shortcuts, but they will now sync to the Public Dropbox folder.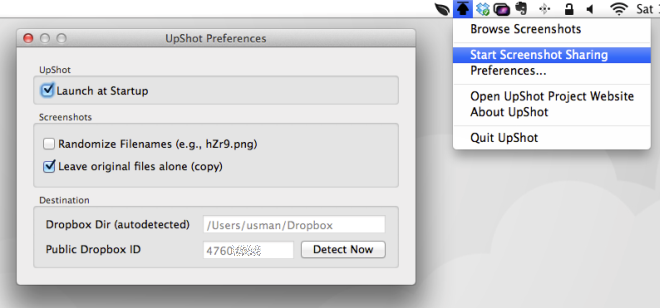 The 'Leave original files alone (copy)' option in the app's preferences lets you control how the file is saved. You can choose to have the originals kept and a copy added to Dropbox, or you can have the original go straight to your Dropbox public folder. Also, the name of the file can be added randomly or it can stick with the name that OS X assigns to it. Syncing begins immediately upon taking a screenshot and though UpShot's own Menu Bar icon gives no indication of it, the sync symbol on the Dropbox icon indicates that files have been added. Screenshots are saved to a 'Screenshot' folder created in the Public folder.
We noticed a few quirks with the app; if you've set screenshots to save in any location besides the default Desktop location, the app won't work. Also, in our testing, UpShot did not activate at first attempt after adding the Dropbox ID. However, closing the app and launching it again fixed this.
The app is still a work in progress and an option to automatically select the public link of the last file uploaded is a worthwhile feature that should be added.
[via aptgetupdateDE]