View iTunes Movies Of The Week From Your Menu Bar In macOS
iTunes isn't just for music and podcasts. Apple has expanded its initial music offering to include movies and TV shows. You can buy and rent most popular titles though unlike music, not everything is worth $0.99. The good news is that iTunes offers a specific set of movies for rent every week for just $0.99/movie. It's a lot like the Apps Gone Free thing on the iOS App Store except the movie is rented at a discounted price. If you have trouble keeping up with the iTunes movies of the week on offer, get Movies of the week.
iTunes Movies Of The Week
Movies of the week is a free macOS app available on the Mac App store. It runs in the Menu Bar and lets you pan through all the movies currently included in the movie of the week offering. Run the app and click the app icon in the menu bar.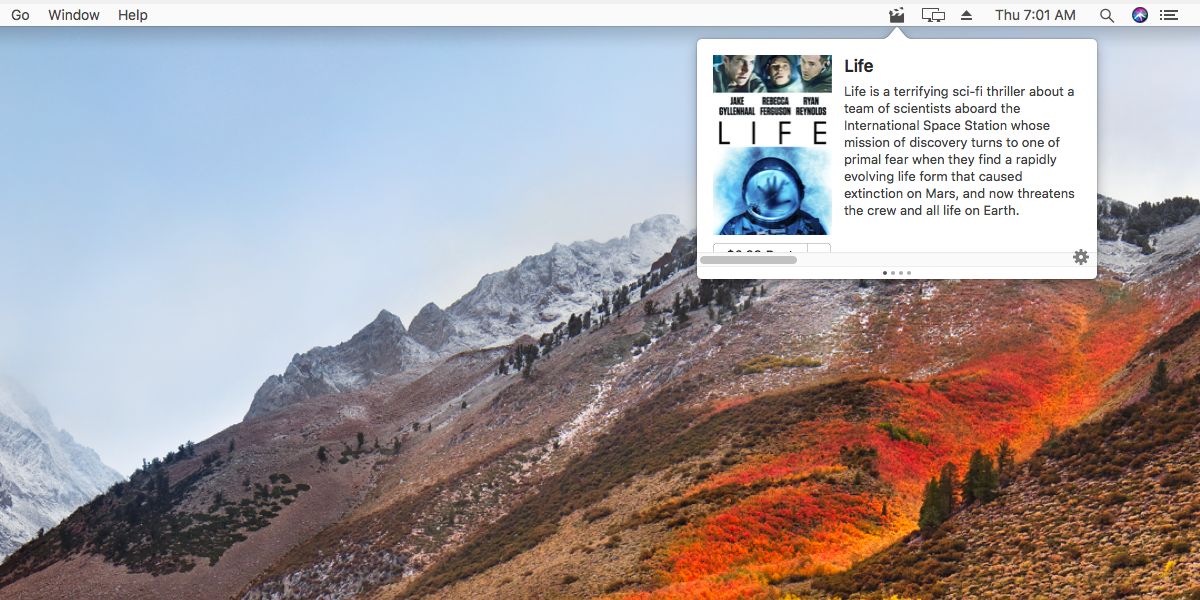 The app can show you the iTunes movies of the week from the US, Canada, France, Germany, China,, Ireland, Italy, Japan, Mexico, Holland, and Spain stores. To change stores, click the cog wheel button at the bottom right of the app's window and go to Store.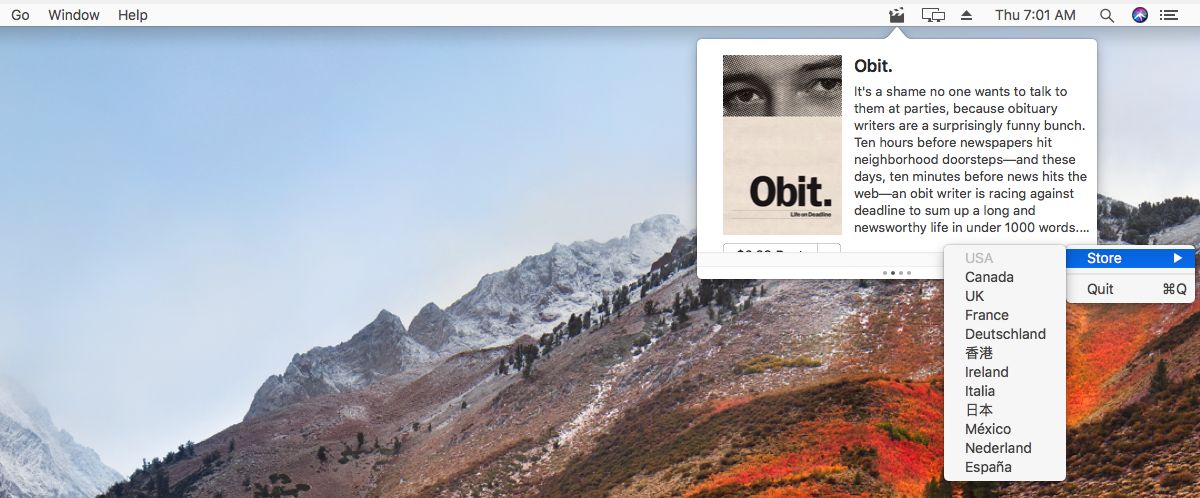 You cannot buy movies with Movies of the week. The app serves as an easy to access catalog for the iTunes movies of the week and nothing else. You can click the buy button and it will open the movie's iTunes page in Safari (or your default browser). In Safari, you can see the rotten tomatoes rating for it and click the Buy button to open it in iTunes.
It's worth mentioning that the movie of the week may differ from region to region. If you reside in a different region, as determined by your Apple ID, the movie may not be available for rent at the $0.99 price.
The app has a few UI kinks; the scrolling in the window isn't the greatest and you might have trouble viewing the next or previous movie. Additionally, the buy button is also cut off inside the window. You can still sort of click on it but there's obviously room for improvement.
Regional Restrictions Apply
It's not clear how often Movies of the week checks for fresh/new movies on offer but it's safe to assume that it will check at least once a week. It goes without saying that if these discounted movie rentals aren't available in your region, you will not be able to rent them. Again, your Apple ID determines your region. If you have a specific Apple ID for one of the supported stores, sign in to it and then rent the movie. You will need a credit card configured for that particular Apple ID in order to make the purchase.