Web Automation With Fake Browser For Mac
Have you ever thought about a web browser which could automatically perform pre-specified actions without any manual acting. To elaborate, let me give you an example; if you want to take screenshots of two websites urgently and you also need to rush somewhere, an intelligent browser is required which you give input, and depart supposing that on return, work will be done.  Fake is a new web browser for Mac which makes automation simple.
It is a web browser which takes input from user and then without any further interaction, performs all the said tasks. From the action library panel, you can drag multiple actions to the workflow panel which once selected can be performed automatically. As mentioned earlier, if you want to take screen shot of two web pages, drag appropriate action tabs from the action library to browser window, and click on the button having Play-like icon. This actions workflow can be saved for future use and also shared. It is more useful for advance level users and computer programmers.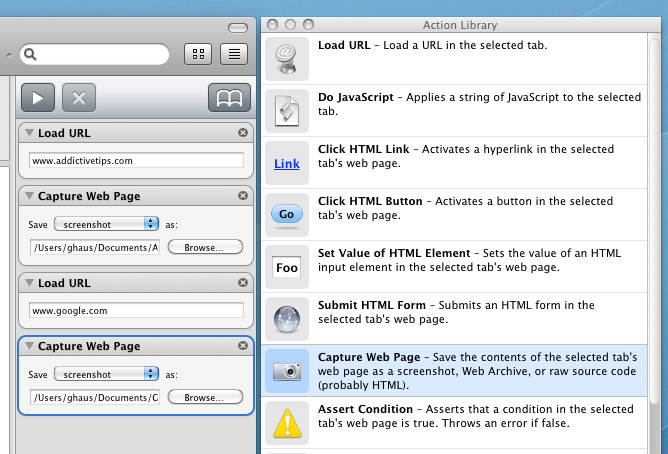 It is named Fake because it allows us to run or re-run the fake interactions with the web. The video below demonstrates how Fake works.
According to the developer, it is inspired by Apple's Automator application. It looks like a combination of Safari and Automator running together. Fake's automation is powered by AppleScript.
Its automation feature along with the action library and workflow panel makes it dandy among other browsers available. If you are an advance level user, you'll really enjoy using this.
Testing was done on Mac OS X 10.6.4.
Update: We just noticed that it is a limited time free demo and will expire on 1st August, 2010.