Wiki Reader: Wikipedia Browser With A Filmstrip-Like Image Viewer [Mac]
Wikipedia may be cited as the number one resource for students who need to get an assignment done overnight, but unsurprisingly, it has a much larger reader base. No matter how you look at it, Wikipedia is a go-to website for most people looking for quick information. For people who need to use Wikipedia more often than others, a desktop client might be a better way to access it instead of a web browser. Wiki Reader is a free Mac app available in the Mac App Store, and is a fairly good browser for Wikipedia. It isn't likely to help you out with research, since there are no note-taking or bookmarking features, however, it's a good site-specific browser. Wiki Reader lets you choose which language you view the website in, i.e. which language repository, and has an excellent image viewer that allows you to view all images associated with an article in a slideshow or filmstrip of sorts. Wiki Reader supports full screen mode and maintains a compete history of the articles you've opened.
The start-up window has a left panel for entering a search term and a history panel. The right side initially shows three other apps made by the same developer; once you click on an article, it is previewed in this same (right) panel.
Type in a search term, and from the listed suggestions (displayed in real time), select an article title, and it will load within the right panel. Loading might take some time depending on the number of images in an article.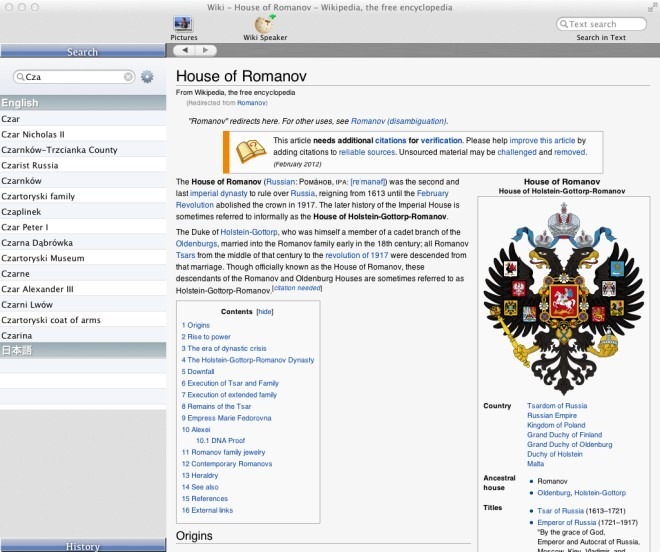 To view the history of articles you've read so far, click the little History panel at the bottom-left, and it will expand to show your search history. Click the cog wheel button next to the search bar, and the preferences window will open. The left panel in preferences is for choosing a wiki site by language, while the right panel allows you to purge your browsing history and increase font size.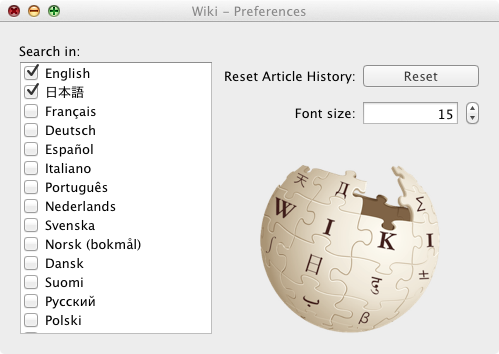 At the top of the main window, you'll find two buttons. The Pictures button is for viewing all images in the current article as a slideshow. The Wiki Speaker button is a link to another app by the same developer. The slideshow works only in full screen mode and switches to it automatically. Image thumbnails appear on the left and the images themselves are viewed on the right.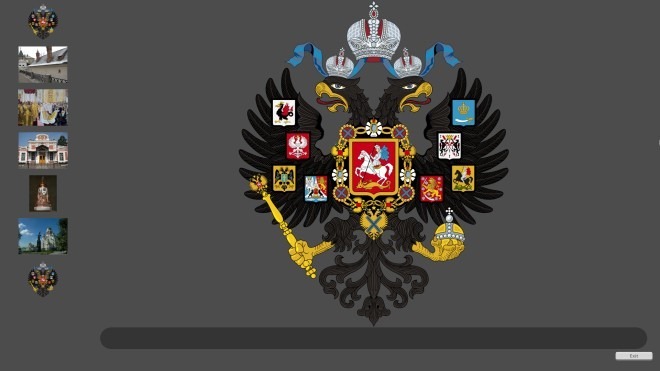 Wiki Reader isn't all that rich on features. The basic features that are present confine the app to being just a Wikipedia browser. Bookmarks and notes could help make the app more useful for its users.
Get Wiki Reader From Mac App Store