You Control: Feature Rich iTunes Controller For Mac Menu Bar
iTunes controllers that sit in your system menu bar aren't hard to find; you can find both paid and free utilities that will do nothing more than adding media controls and perhaps the song name to the menu bar. The point of these apps is to provide easy access without having to switch back to the iTunes app window, since it can be slow. You Control is a similar Mac app with two great qualities; it is feature rich, and is free. It gives you the usual media controls and song name displayed in the system menu bar, but the menu bar controls give you access to pretty much your entire media collection in iTunes. From the menu bar, you can access favorites, albums, artists, recent tracks and playlists. Controls like play/pause, stop, Next Track, Previous Track, Volume and shuffle can also be used.
When you first launch the app, the preferences window will open, letting you choose where You Control will display the iTunes controls and the song name (i.e., which side of the menu bar). You can set hotkeys to toggle the app's visibility. On the left panel, there are four tabs; the Menu tab lets you choose which items will appear in the popup when you click the app icon in the menu bar, and if you select the Inline option next to an item, it will also appear on the menu bar. The Controller tab lets you select from a large list of media control sets which ones you want to use, while the Ticker tab lets you customize the speed, width and duration of the text (album/artist name) appearing on the menu bar. The Overlay tab allows you to keep the app on top of other windows when you access it from the menu bar.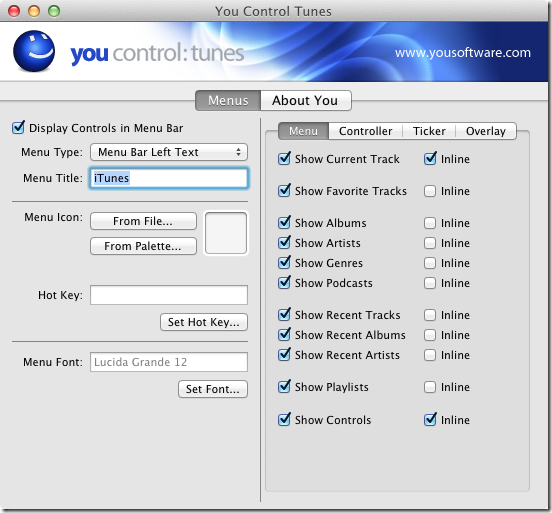 The Menu bar icon gives you access to as many items as you checked in the Menu tab in preferences, and previews album art from the song/video that you're playing in iTunes. You can launch iTunes from the app and also visit the preferences again from the Configure… option.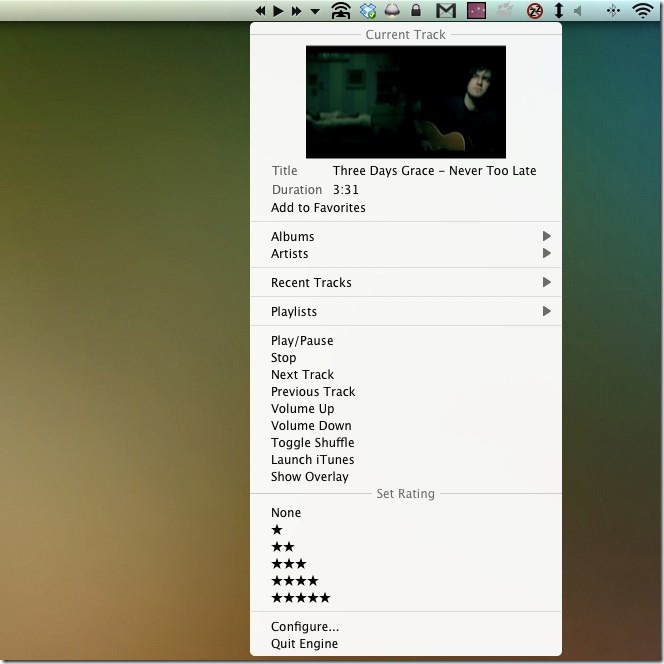 As opposed to the paid options normally available for iTune utilities and apps, this app is a pretty good option. It doesn't let you watch videos, but plays the audio nevertheless. Additional options that you get in the icon menu let you rate a song. There is the typical 1-5 star rating available and half-star rating is not supported.