YouView – Desktop YouTube Viewer For Mac
YouView is a free Mac utility that allows you to watch, comment and download YouTube videos right from your Mac desktop, with streaming speeds faster up to 2x as compared to the Flash-based browser version of the website. YouView also supports high-quality videos and comes with HD support for 720p YouTube content.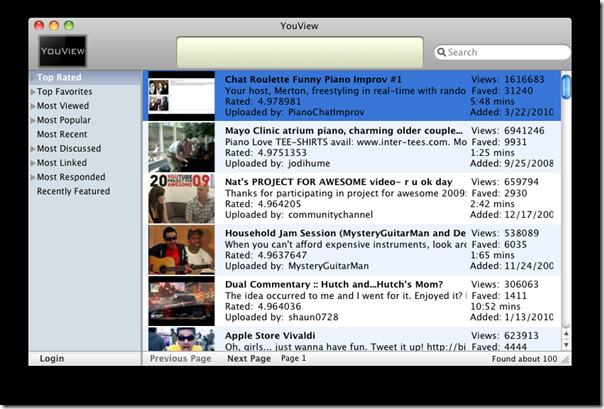 The main view, as shown in the screenshot above, offers different lists on the left pane, showing top rated videos, favorites, most popular etc. You may also login to your YouTube account through the Login button near the bottom.
In order to view a video, double click it. A new player window will open and your video will start to stream.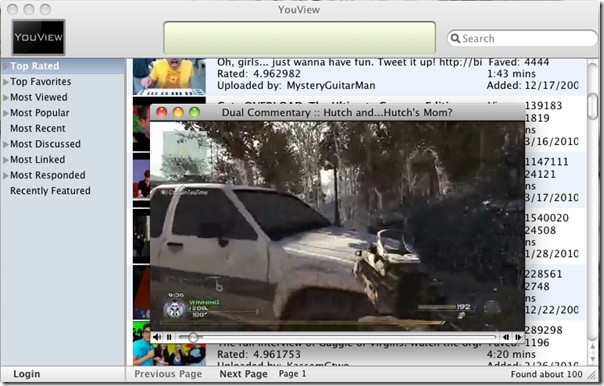 Other main features of YouView include:
-Allows downloading videos for iPod or any other device that you want.
-Apple Remote support
-Parental controls to prevent minors from watching videos that have been flagged for inappropriate content.
-Ability to view and post comments on the video being watched. You can access the commenting interface from the View option on your menu bar if YouView is the front application.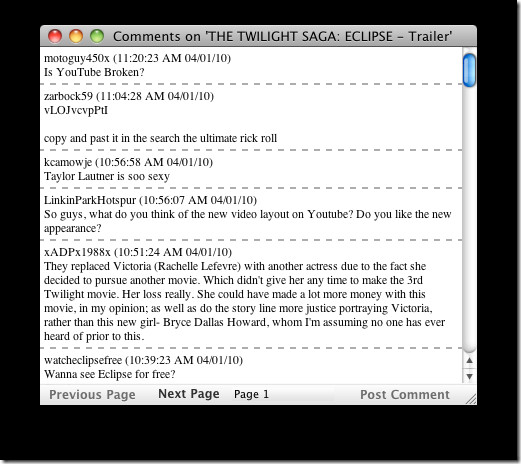 The software requires minimum Mac OS X 10.4 or later to work. Although free, one limitation is that you cannot watch HD videos and download videos without donation. Please review the YouView accompanying documentation for detailed usage guidelines.