We are reader supported and may earn a commission when you buy through links on our site.
Learn more
Food Network Kodi Add-on: How to Watch Food Network on Kodi
Today's article is for all you cooking show fans out there. If you love Food Network shows like Chopped or Cutthroat Kitchen, then you'll want to know about the add-on which we're featuring today.
Lots of people us the Kodi media centre software either on the computers or phones as an app, or as the main interface for their home theatre PCs in their living room. Kodi is great for organising and displaying your media content like movies, music, and TV shows right out of the box. However, Kodi gets even more useful if you install add-ons to customise your experience further.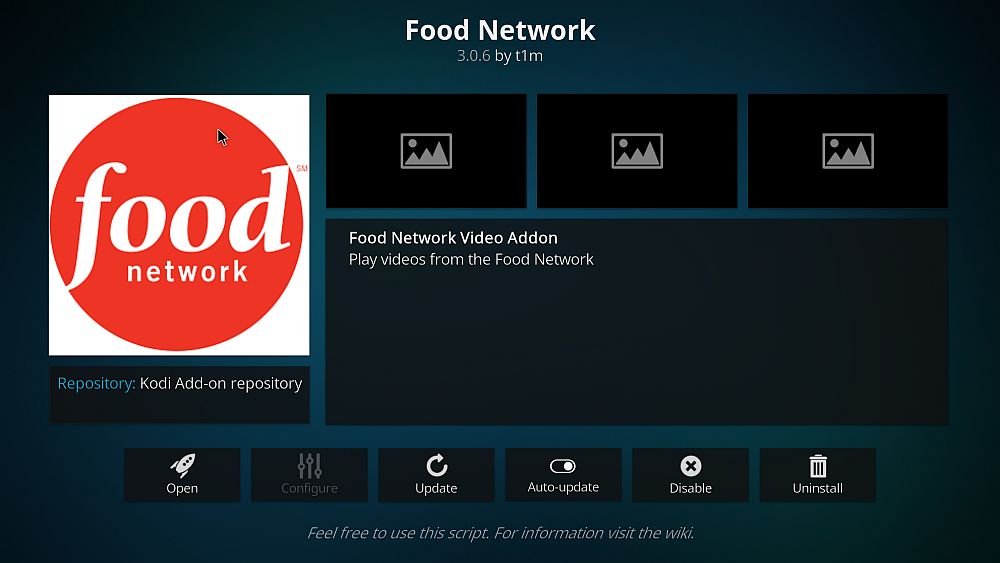 One such add-on is The Food Network add-on, which allows you to stream episodes of your favourite Food Network shows over the internet. As an official add-on from Kodi, it's very easy to install and the quality of the streams is always top notch. If you want a quick and easy way to watch the latest episodes of Food Network shows through your Kodi machine, then read on for instructions on how to install and use the Food Network add-on for Kodi.
30-days money back guarantee
Why You Should Get A VPN When Using Kodi
There's one thing to consider before we move onto installing the add-on, and that's security. The Kodi software itself is open source and fully legal to use, but some of the add-ons which are available for it are not officially supported by Kodi. These add-ons may allow you to stream content illegally, and using them over an unsecured internet connection can open up legal troubles if your ISP or law-enforcement agencies catches you. If caught, you could face a fine or prosecution.
To avoid this, we recommend using a VPN. This piece of software will encrypt all of the data that leaves your machine and travels over the internet, so even if someone looks at your internet use, they won't be able to see exactly what content you have been accessing. All that is visible is the amount of data you have transferred. This is the safest way to protect yourself when streaming content online.
But which VPN provider should you pick? Here are the features that a good VPN provider should have:
Fast connection speeds
Support for several different operating systems
Plenty of servers in many different countries
No logging
We Recommend IPVanish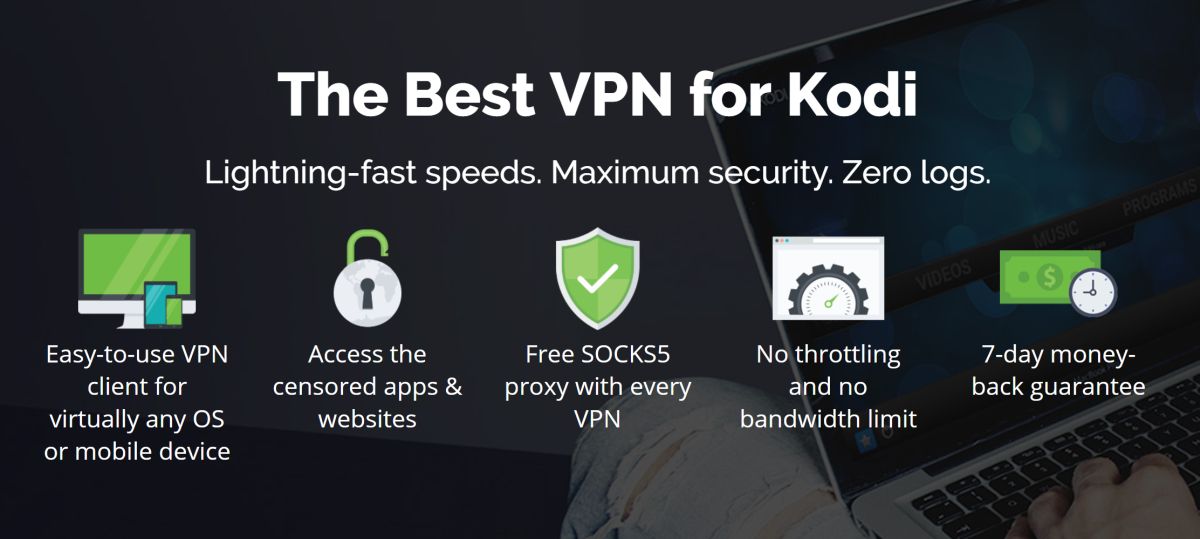 The VPN we recommend for use with SPMC is IPVanish. It has fast connection speeds, over 850 servers in more than 60 countries, a strict no-logging policy, and software support for Android as well as PC, Mac, and iOS. It meets all of our requirements and is easy to install and use.
If you want to try out IPVanish, we have a special offer which is exclusive to Addictive Tips readers! You can get a huge 60% discount on the yearly plan, which works out to only $4.87 per month. There's even a 7-day money-back guarantee so you can buy in confidence.
How to Install The Food Network Add-on for Kodi
The good news is that because The Food Network add-on is officially supported by Kodi, it's really easy to install. You needn't add any third-party repositories as the add-on can be installed from the official Kodi repository. To install the Food Network add-on, just follow these step by step instructions:
Start on your Kodi home screen
Click on Add-ons
Click on the icon that looks like an open box
Click on Install from repository
Go to Kodi Add-on repository
Go to Video add-ons
Scroll down to Food Network
Click on it and a box describing the add-on appears. Click install on the bottom menu
Wait a minute and you'll see a notification once the add-on in installed
That's it!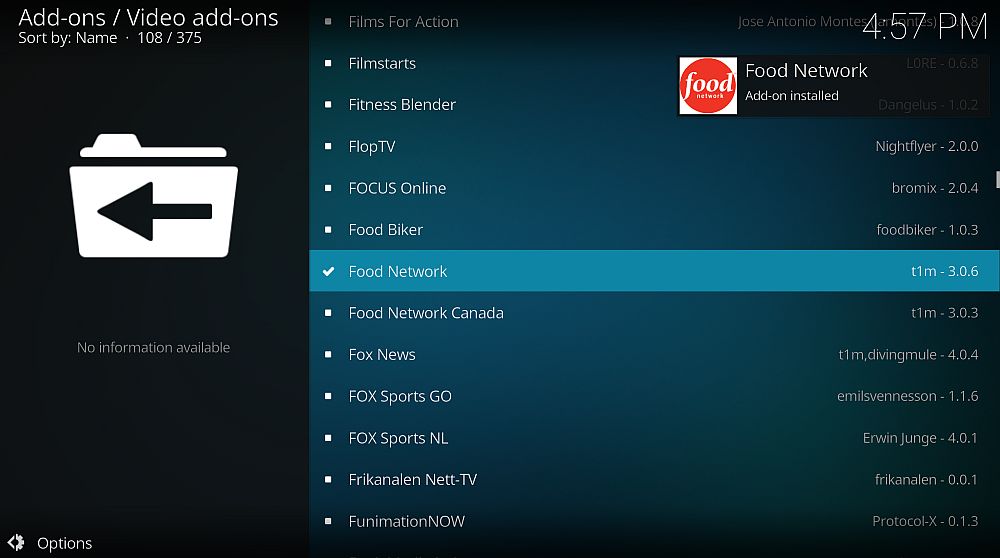 How to Use The Food Network Add-on for Kodi
Now that the Food Network add-on has been installed, we're ready to start watching. To get to all the tasty video content, just follow these steps to use the Food Network add-on:
Start on your Kodi home screen
Go to Add-ons
Go to Video add-ons
Click on Food Network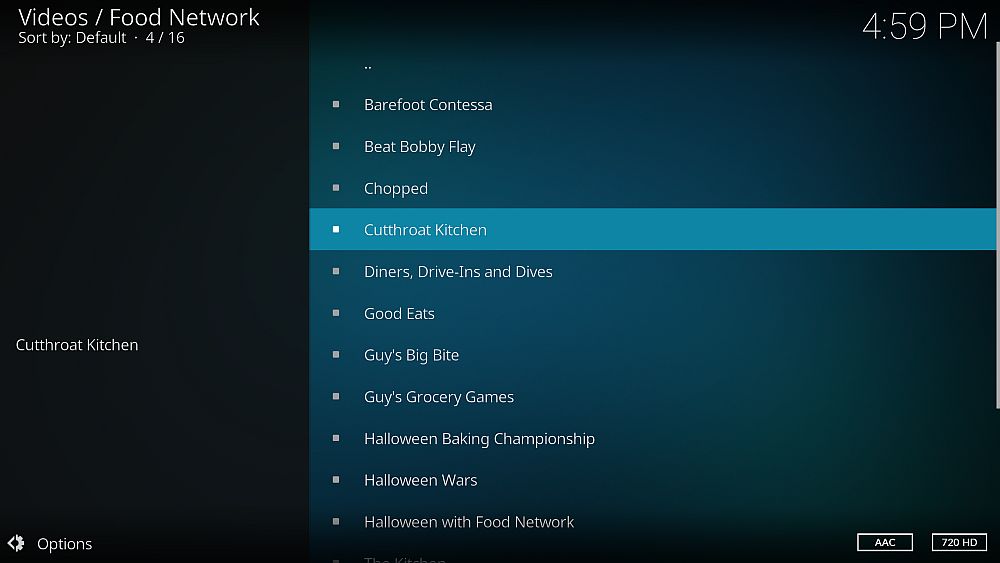 You'll see a list of Food Network shows, like Chopped, Good Eats, Cutthroat Kitchen, and Barefoot Contessa
Click on the title of any show. This will bring up a list of episode names. To the right of the episode name you can see the running time in minutes. At the bottom, you can see the quality of the video (usually 720 HD) and the audio type (usually AAC). Unfortunately, it does not say when the episode originally aired, so you will have to choose an episode by title rather than by air date. However, you can see a summary of the episode in the box to the left
Click on the title of an episode and the video stream will begin. Because this is an officially supported add-on, the streams are always fast and reliable and of very high quality
Unlike some other add-ons, all of the episodes on the Food Network add-ons have subtitles which is great for accessibility or for those who want to watch in noisy environments. The subtitles are enabled by default, but if you want to turn them off, just click the settings icon which looks like a cog on the right hand side of the bottom menu. This brings up a popup. Select Audio and subtitle settings. From here you can toggle the switch to enable or disable subtitles
Sit back and enjoy your Food Network content!
Conclusion
The Food Network add-on is easy to install and incredibly easy to use. The most popular programs are available to watch, with loads of episodes of each one, so you can sit back and watch all day if you like. The video streams are fast and reliable, and the quality is consistently good. If you're a fan of The Food Network's shows and you want to watch them through your Kodi machine, then this add-on is perfect for you.
If you have any issues with installing or using The Food Network add-on for Kodi, then let us know in the comments below and our community can help guide you through the process.