We are reader supported and may earn a commission when you buy through links on our site.
Learn more
Bayanihan TV Kodi Addon: Filipino Movies and TV Shows to Stream on Kodi
The Bayanihan Kodi addon might seem a little bit niche to some as it specialises in Filipinos TV shows and movies. But the Philippines has a population of more than 100 million people and there are an estimated 10 million more living in expat communities around the world too. That is a sizable audience that is rather under-served by many other Kodi addons which are focused primarily on content from the USA, the UK, and Europe. So the developers of the Bayanihan TV addon have actually been pretty shrewd in coming up with this idea.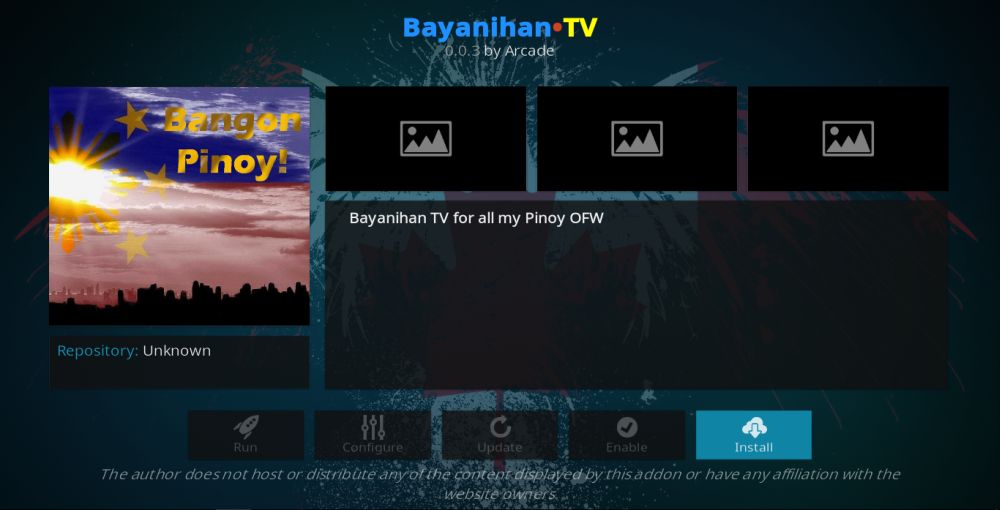 They have created a pretty decent addon too. It keeps things nice and simple but offers a great range of Filipino Movies and TV shows to stream. This is a new addon and not without its flaws, but if you want to enjoy Filipino content, it is without question the best addon around right now. In this guide, we will tell you everything you need to know about the Bayanihan Kodi addon as well as providing you with a simple step-by-step guide on how to download and install it.
30-days money back guarantee
Before you download the Bayanihan TV Kodi addon – Install a VPN
Before you begin to stream Filipino content through the Bayanihan TV Kodi addon, we strongly advise you to make use of a VPN. This is because some unofficial addons such as Bayanihan TV can sometimes enable users to access copyrighted content. Copyright holders have been pursuing Kodi users in recent months and there is no reason to think Filipino copyright holders would be any different. Some users have been in receipt of legal letters or even faced further legal sanctions. But using a VPN can help to protect you. A good VPN will encrypt all of your internet data and change your IP Address, which helps to keep your online activity hidden from prying eyes. Some content may also be geo-restricted too which means if you try to stream outside of the Philippines, it may not work without a VPN too. There are lots of VPNs on the market at the moment, so the question is, which is the best provider to choose.
The Best VPN for Kodi – IPVanish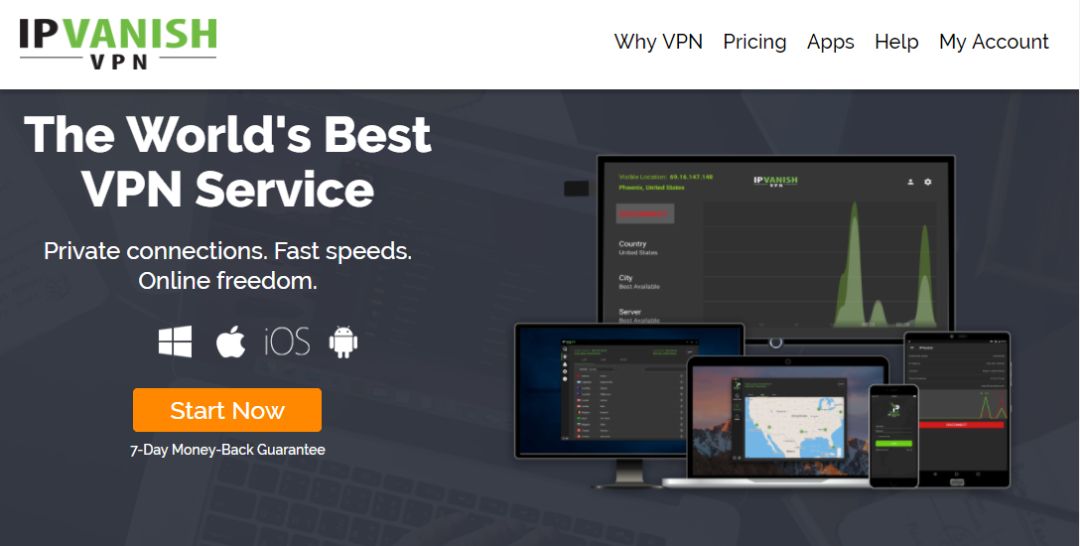 IPVanish offers the fast and consistent connection speeds needed to stream high-quality content through Kodi addons. And what is more, it offers these speeds across its entire server network. IPVanish also offers market-leading encryption which ensures that your data is kept safe. Their privacy policies too are as good will be found anywhere and crucially they offer a no user logs guarantee you can trust.
The IPVanish server network is a big one consisting of more than 850 servers in 60 different countries. This means users can unlock geo-restricted content if needed and it also helps with connection speeds too. Importantly for those streaming content on Kodi, IPVanish also has no restrictions on either file types or data amounts which is ideal for streaming content as this can be very data intensive. There are dedicated IPVanish apps available on just about every device you could ever want to run Kodi on, including the Amazon Firestick too. Put all this together and it should come as no surprise to learn that we view IPVanish as the best VPN for Kodi users right now.
IPVanish offers a 7-day money back guarantee which means you have a week to test it risk-free. Please note that Addictive Tips readers can save a massive 60% here on the IPVanish annual plan, taking the monthly price down to only $4.87/mo.
How to install the Bayanihan TV Kodi addon
Many Kodi developers these days are opting to launch their new addons through their own repositories these days rather than placing them in a big one.  This may be to avoid competition from more established addons or simply to keep them low profile at a time when many addons are being taken down without warning. The Bayanihan TV Kodi addon is no exception with the developers choosing to place it in the smaller Skymashi TV repository. The process of downloading and installing it is still very simple, but to help you through it, we have compiled an easy-to-follow, step-by-step guide:
Bayanihan TV Kodi addon review
When you first open the Bayanihan TV Kodi addon, you will get a nice little pop-up thanking you for watching. Such politeness is not often found in Kodi addons and is of course welcome. However, the addon does take quite a while to open up the first time and in the circumstances,  it is the very least the developers can do. It will first open up onto a fairly unnecessary single option menu which invites you to open a Bayanihan TV option. This will then open up a simple menu with just three options: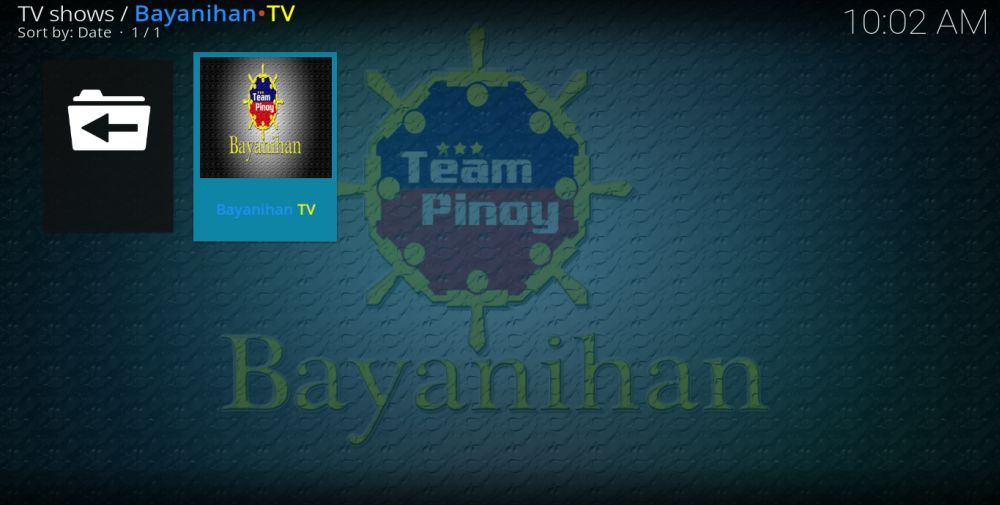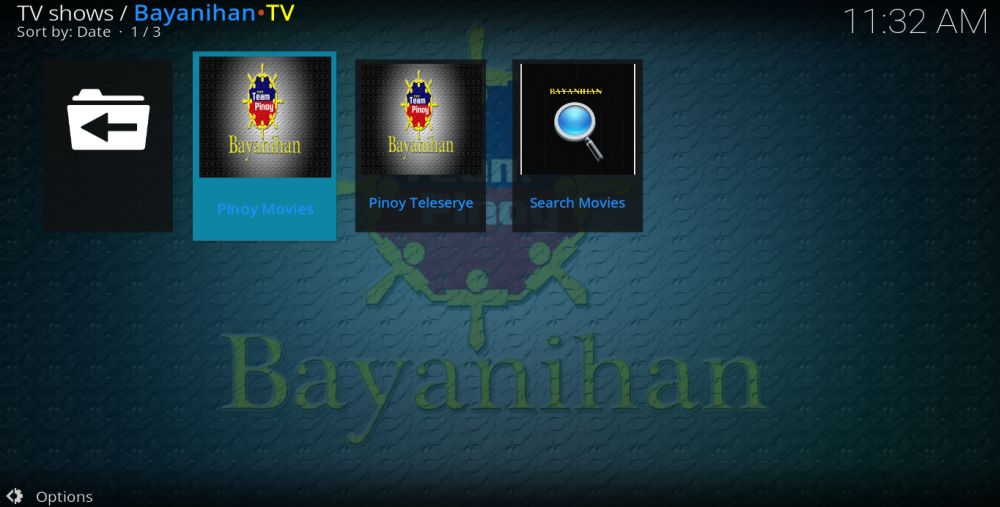 Pinoy Movies
As those familiar with Filipino culture will know, Pinoy is the commonly used demonym used to things and people that originate from the Philippines. Therefore, Pinoy Movies is a section which links to movies of Philippino origin. At present, there are just 21 movies to choose from. Users can expect the developers to add more titles as and when they become available. Movies are listed with title and year or release as well as a thumbnail image. Clicking on an image opens up a selection of available links and these links will then play the movie with a single click.
Pinoy Teleserye
This option includes links to 21 different Philippino TV series. Shows are again displayed as thumbnails and most appear to be single episodes rather than full series which is a shame. Again, when you choose a show it opens up into a list of links which, once clicked play automatically.
Search Movies
A search feature is usually a good addition to an addon, but with only 21 movies available, it seems a little unnecessary here at the moment. Nevertheless, it is another tool to navigate through this addon, but it is slightly odd that the TV content is not included.
Bayanihan TV Pros and Cons
Pros
The quality of streams we found to be pretty good on the whole with minimal issues with buffering. There were, however, more links not working than we would expect from a new addon like this, which is something the developer perhaps should be taking a look. Navigating your away around this addon is pretty straightforward too. It is nicely designed and avoids using many of the additional bells and whistles that can overcomplicate some addons.
The list of available links is displayed as thumbnails rather than a list which is a nice change from many others unofficial Kodi addons. However, it does mean users are deprived of much of the information they need to make an informed choice about which link to choose. Only the name of the source is given, meaning those not familiar with the sources basically have to choose at random and hope for the best. This is something the developer needs to give a rethink too.
Cons
Some links also seem to require you to sign up with other services and then pair these with the Bayanihan TV addon before they will work. This is both frustrating and annoying for users not least because they have no way of knowing that is the case until they have clicked on a link. The developer would do well to indicate where this is the case so that users who have signed up can continue to use the links and others can avoid them.
But the main issue with this addon is the minimal amount of content currently available. To be fair to the developer, it is a new addon and perhaps more content will come in the weeks and months ahead. But there are just 21 movies and 21 episodes of TV shows available and even the most ardent follower of Philippino culture will soon tire of those. The content that is available is good. There just needs to be more of it.
Bayanihan TV Kodi addon conclusions
The Bayanihan TV Kodi addon is a great idea for an addon that doesn't quite hit the mark yet but may do in the near future. There is definitely a big audience out there for Philippino content, so targeting it is a shrewd move. But what really lets this addon down at the moment is the lack of available content. Add more links and it will quickly become a pretty decent addon. It will not be perfect. It still runs quite slowly and lacks the information many users want about the content. There are also too many broken links for a new addon. But for Philippino's, it is still one of the only addons dedicated to content from your country. And for that reason alone, it is still worth your while downloading it.
How did you find the Bayanihan TV Kodi addon to use? Did you experience any problems or issues we haven't mentioned here? How did you enjoy the content they have available? What else would you like to see added to this addon? We always welcome your thoughts and comments, so why not share them with us using the comments box below?