We are reader supported and may earn a commission when you buy through links on our site.
Learn more
Watching Red Bull TV on Kodi With The Red Bull TV Add-on
Red Bull TV is a digital video service featuring programming from the world of Red Bull in live global events and an extensive selection of sports, music and lifestyle entertainment. It is available as a web service at www.redbull.tv or as a channel on many popular media player devices such as Amazon Fire TV, Apple TV, XBox 360, many smart TVs and more. The Red Bull TV add-on for Kodi brings the Red Bull TV experience straight to your Kodi installation.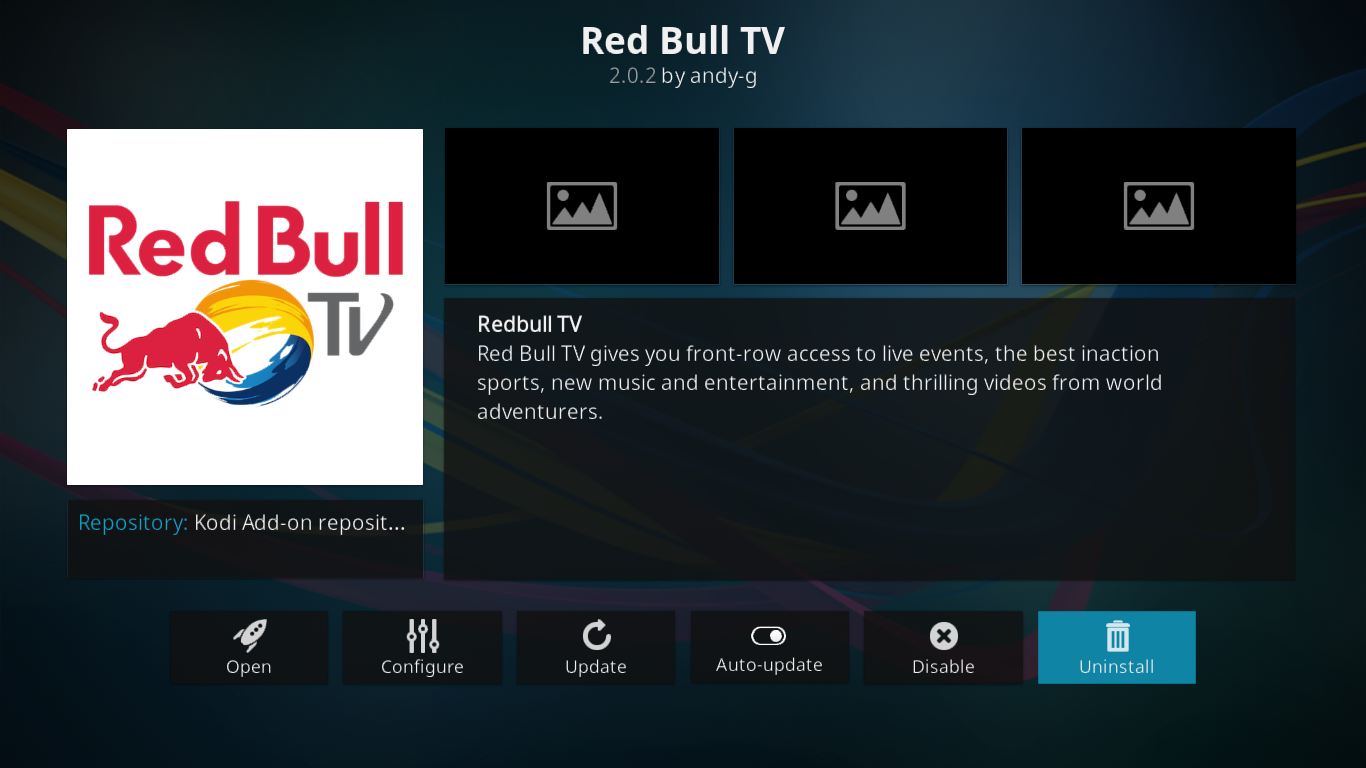 Today, we'll begin by showing you step-by-step how to install the Red Bull TV add-on on Kodi. Even if you've never installed a Kodi add-on before, our detailed instructions will make that an easy task. Once we have the add-on installed, we will take you on a guided tour of its main features. This is a big add-on with lots of content. We might not be able to cover it all but we'll make sure we address the essential. And before we conclude, we'll tell you what it is that we love the most about this add-on.
30-days money back guarantee
Protect Yourself While Using Kodi, Use a VPN
Internet Service Providers may be monitoring their clients' online activities for breach of terms and conditions. They may wrongfully think you're doing something illegal even though you're streaming totally legal content. And when they do, they can react by sending you infringement notices, throttling down your bandwidth or even interrupting your service. We all want to avoid these annoyances.
A VPN protects you by encrypting all data in and out of your computer using strong algorithms that make it virtually impossible to crack. Your ISP–or anyone intercepting your data–won't be able to see where you're going or what you're doing online.
But with so many VPN providers to choose from, choosing the best one can be a challenge. There are several factors to consider when choosing your VPN supplier. Among the most important, a fast connection speed will avoid buffering, a no-logging policy will further protect your privacy, no usage restrictions will let you access any content at full speed and software for multiple platforms will ensure you're protected no matter what device you use.
The Best VPN For Kodi Users: IPVanish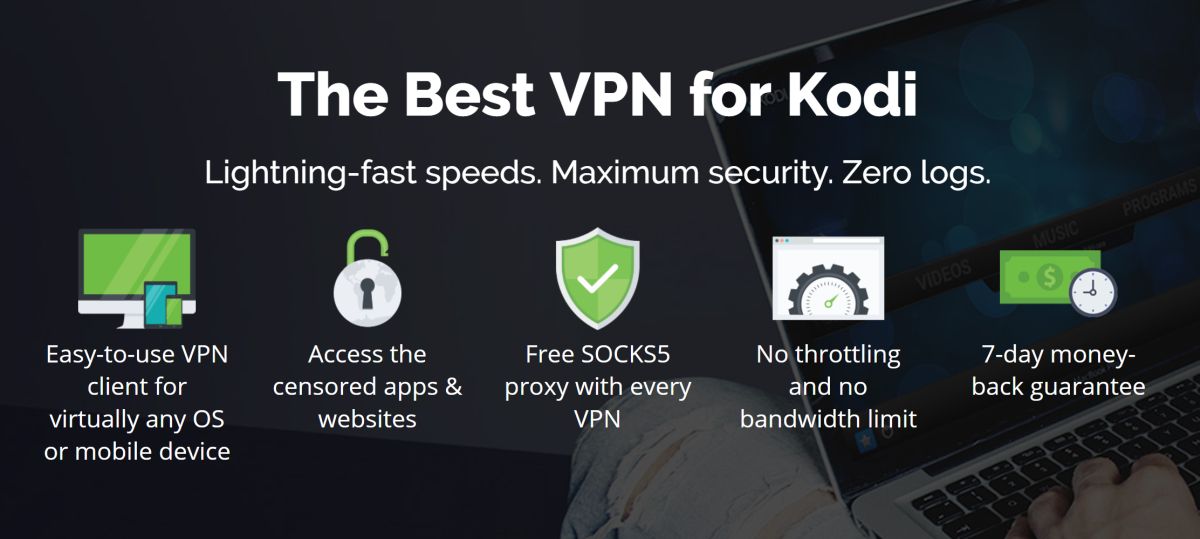 After testing many–if not all–VPN providers against our criteria, the one we recommend for Kodi users is IPVanish. With hundreds of servers worldwide, no speed cap or throttling, unlimited bandwidth, unrestricted traffic, a strict no-logging policy and client software available for most platforms, IPVanish truly delivers impressive performance and value.
*** IPVanish offers a 7-day money back guarantee which means you have a week to test it risk-free. Please note that Addictive Tips readers can save a massive 60% here on the IPVanish annual plan, taking the monthly price down to only $4.87/mo.
What Is Red Bull TV?
Who doesn't know Red Bull, the immensely popular energy drink created in 1987 by Austrian entrepreneur Dietrich Mateschitz? Instead of using a more "traditional" approach to mass marketing, Red Bull generates brand awareness–even creating a seductive "brand myth"–through proprietary extreme sport event series such as Red Bull Cliff Diving World Series, Red Bull Air Race, Red Bull Crashed Ice and stand-out stunts such as the Stratos space diving project.
As self-described, "Red Bull TV is a digital video service that features inspirational programming from the world of Red Bull in live global events and an extensive selection of sports, music and lifestyle entertainment". Red Bull TV attracts viewers of all kinds and takes audiences up close and behind the scenes to reveal the real-life stories and fascinating personalities of a diverse range of people facing life's toughest challenges.
Red Bull TV is available through the Red Bull TV app, available on iOS, Android and Windows Phone mobile devices. It is also available on several media player platforms such as Amazon Fire TV (U.S.), Apple TV, Chromecast, Kindle Fire, Xbox 360 and several Smart TVs.
What's Available On Red Bull TV?
In a few words: A lot of extreme sports. Extreme sports is what Red Bull is famous for and this is what you'll primarily find. But it doesn't stop there. Red Bull is very present in pretty much every entertainment activity that attracts their target market segment. Red Bull TV also has entertainment content and music such as coverage of the Lollapalooza music festivals. We'll reveal more of what's available as we take you on a guided tour of the add-on in just a few moments.
Red Bull TV Add-on Installation
The Red Bull TV add-on is an "official" Kodi add-on. This means a few things. First, its installation will be easy as there are no external repositories to install. You won't even need to add a media source in the Kodi file manager. It also means that the add-on will be fully supported by the Kodi support team in the unlikely event that you'd run into issues. And finally, it also means that the add-on's content is fully legit.
If you simply follow our detailed and illustrated installation steps, you'll be up-and-running in just a few minutes. Let's begin!
From the Kodi home screen, click Add-ons on the main menu on the left side of the screen.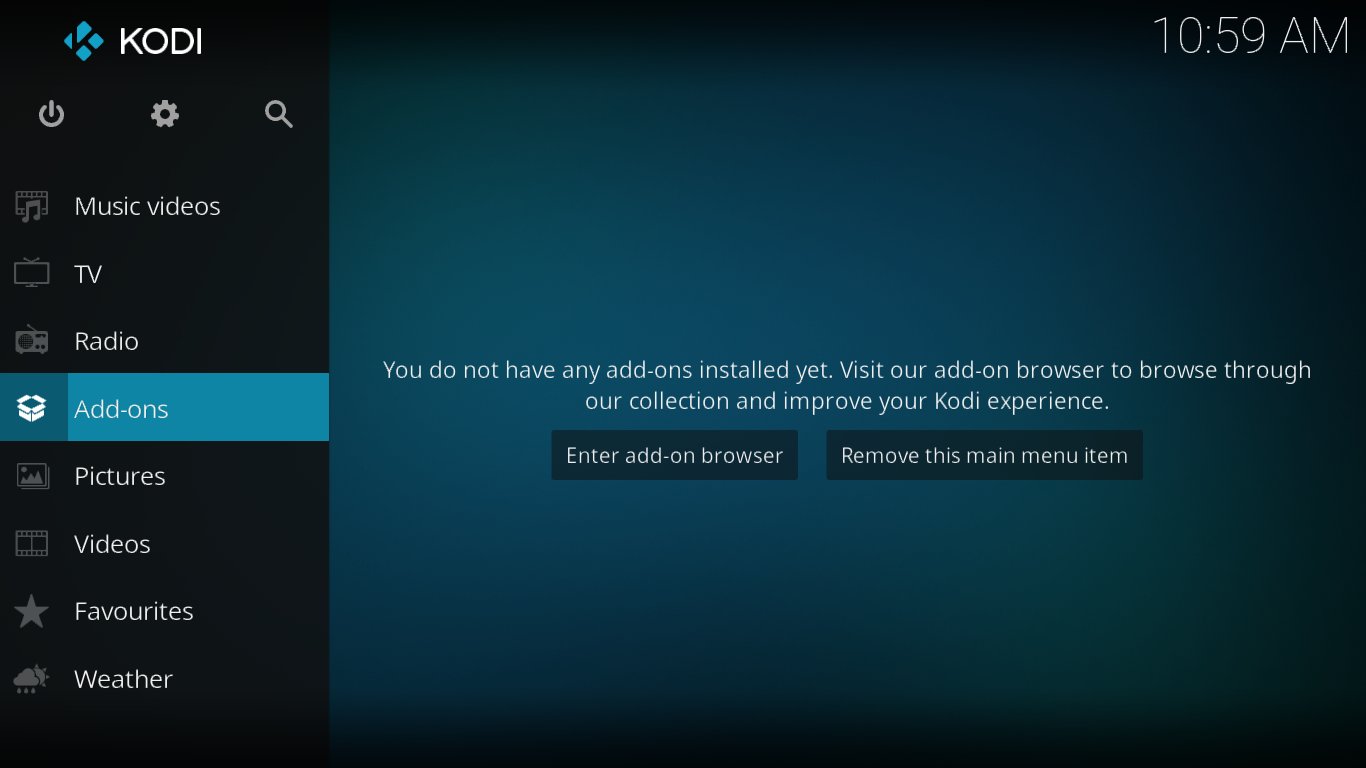 Then, from the Add-ons screen, click the Add-on browser icon. It's the little open box at the top left of your screen.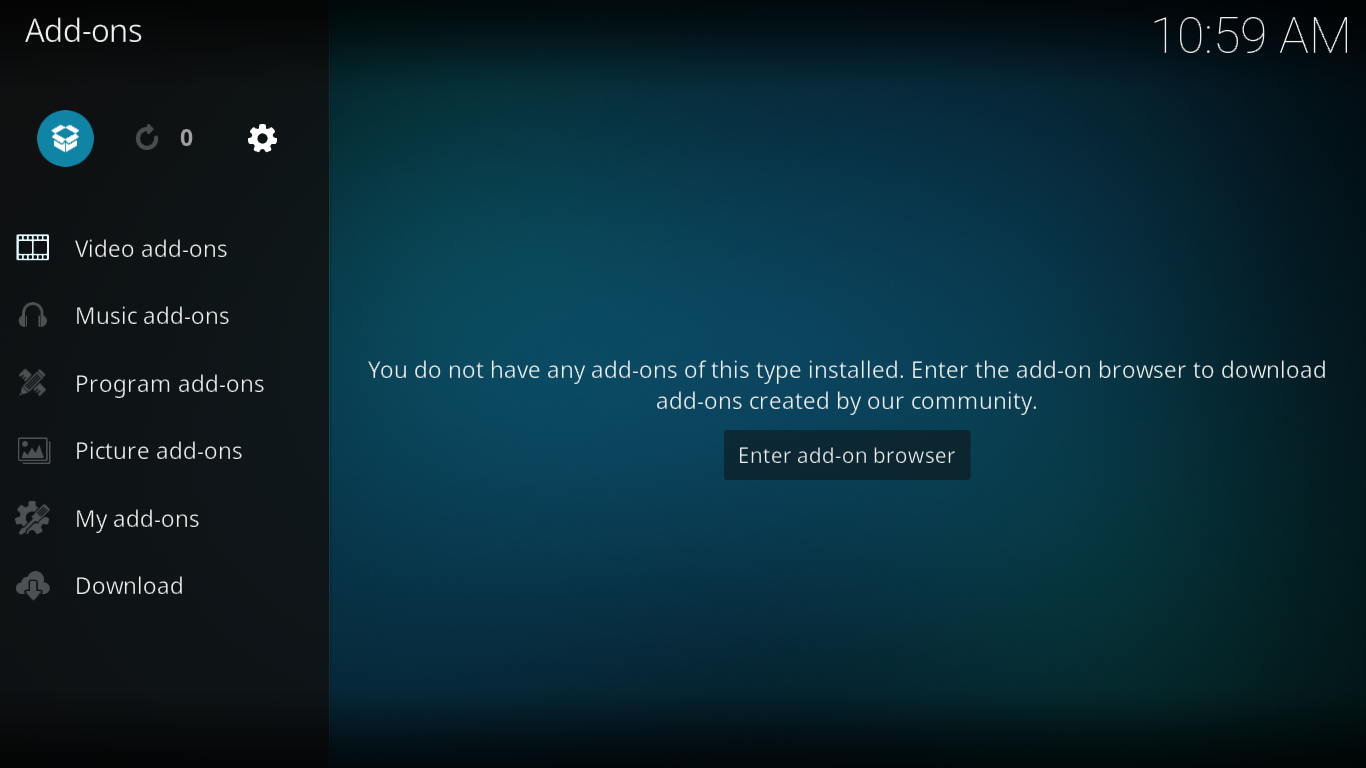 From the Add-on browser screen, click Install from Repository.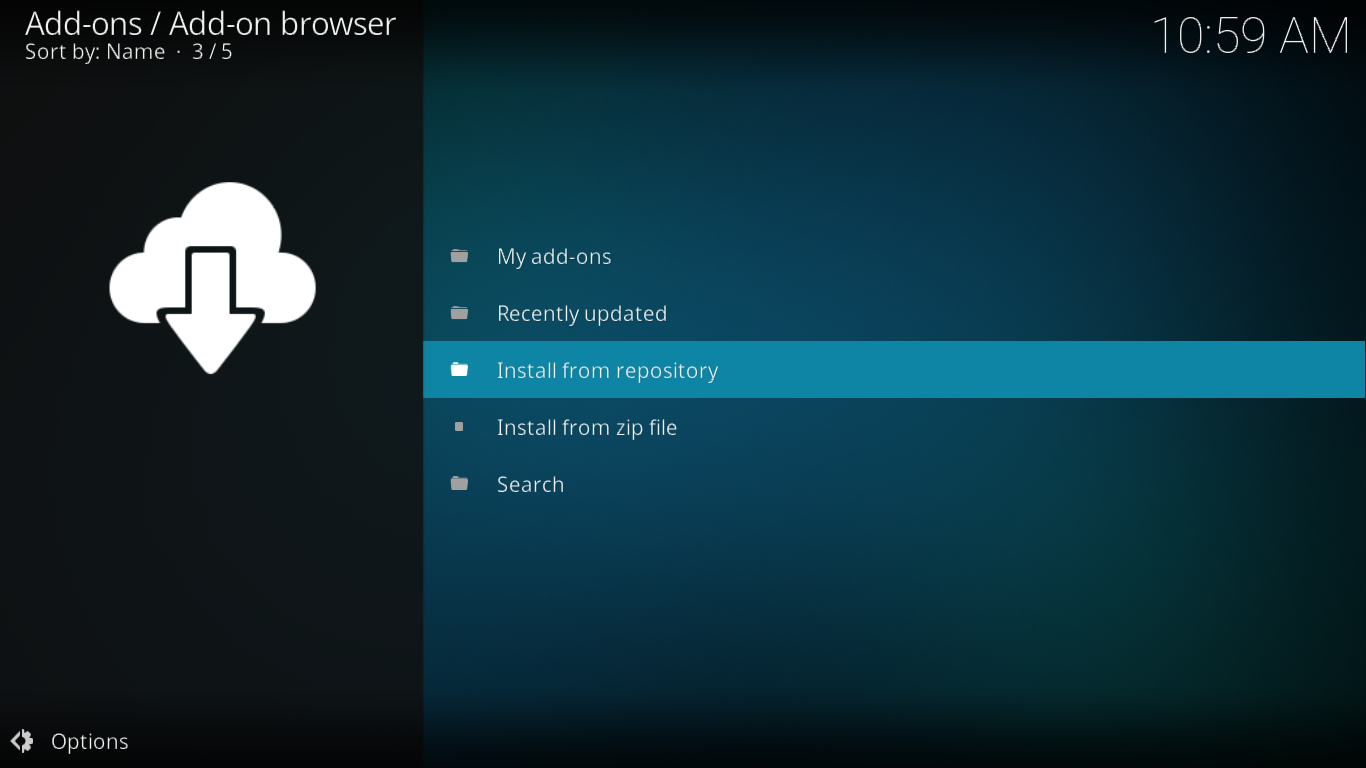 Note: If you've previously installed third-party add-ons from a repository, you'll need to pick the repository before moving to the next step. Make sure you click Kodi Add-on Repository.
Click Video add-ons and then find the Red Bull TV add-on in the list and click it. The list is alphabetized so finding it just requires that you scroll down.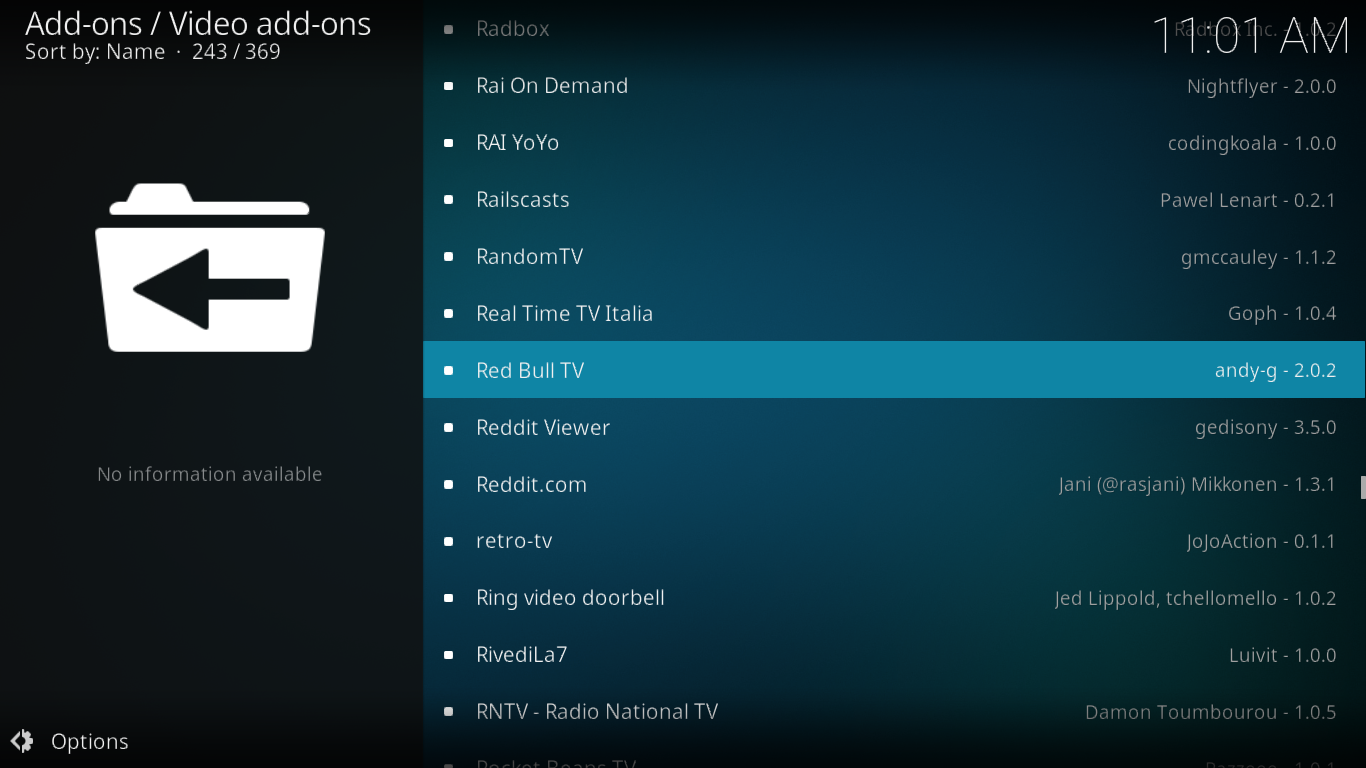 The Red Bull TV installation screen will be displayed. Click the Install button at the bottom right to launch the add-on's installation.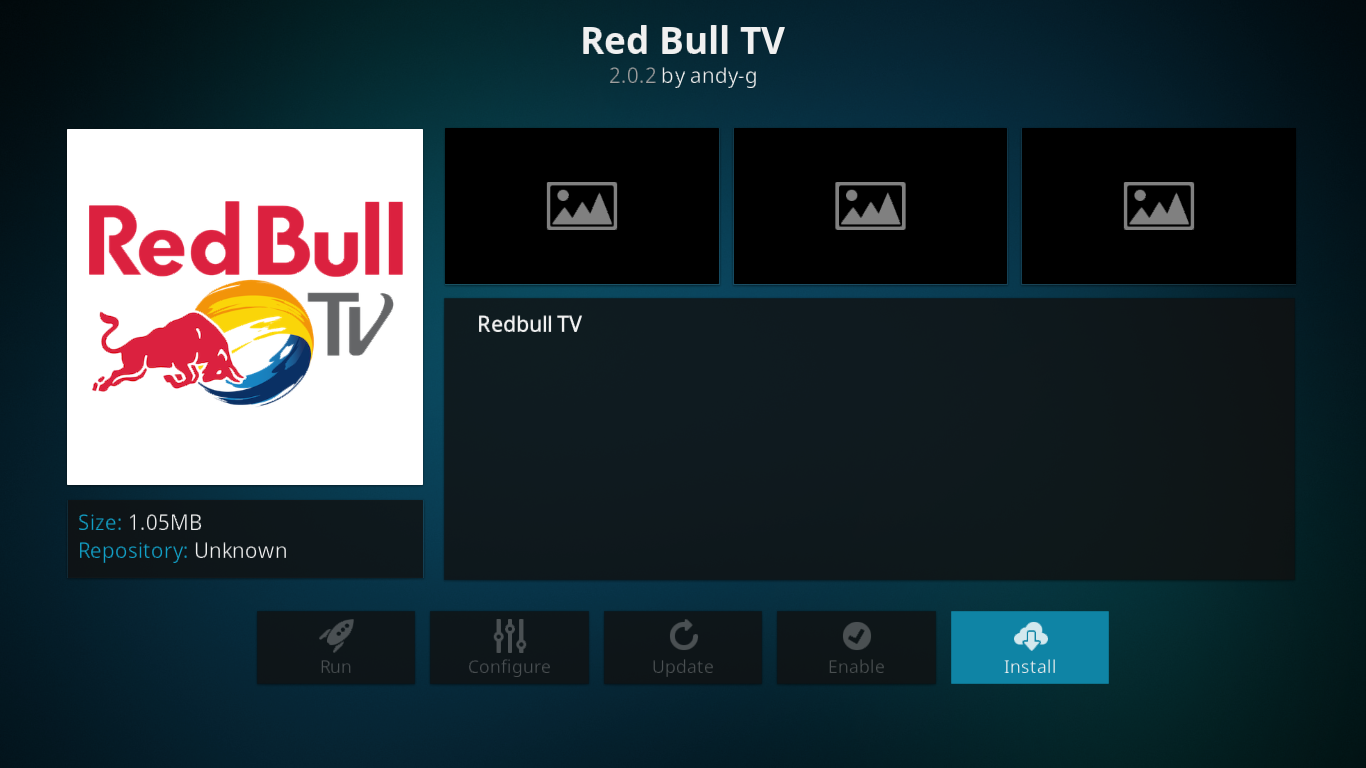 Once the installation is complete, a confirmation message will pop up at the top right of the screen.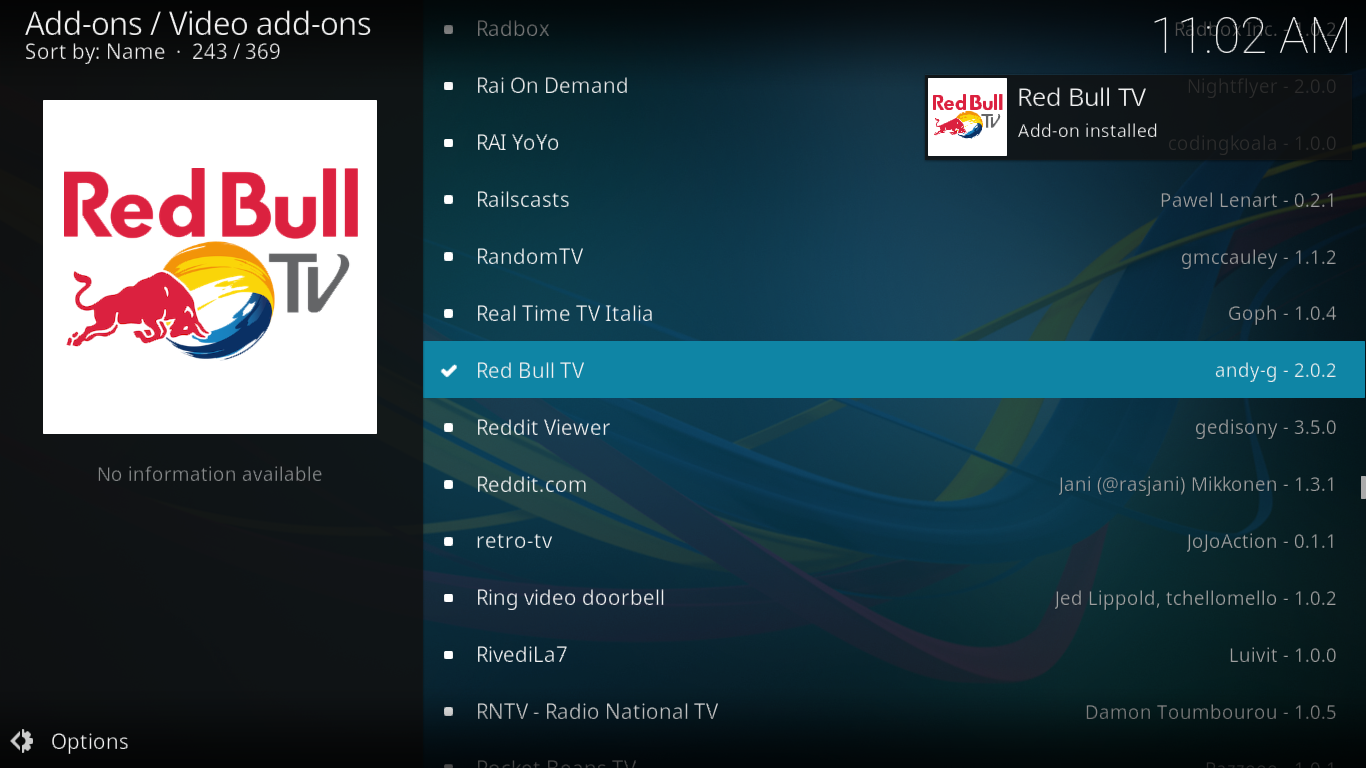 That's all there is to it. The Red Bull TV add-on is now installed and ready to use.
A Guided Tour Of The Red Bull TV Add-on
The Red Bull TV add-on main menu is very simple with only five item. However, the section names are not exactly meaningful. At first sight, the difference between the first three options, Discover, TV, and Channels is not clear. We'll try to figure it out together. As for the Calendar option, there are several events listed but not a single date. Strange calendar, isn't it? The only section that appears to be doing what one would think is Search.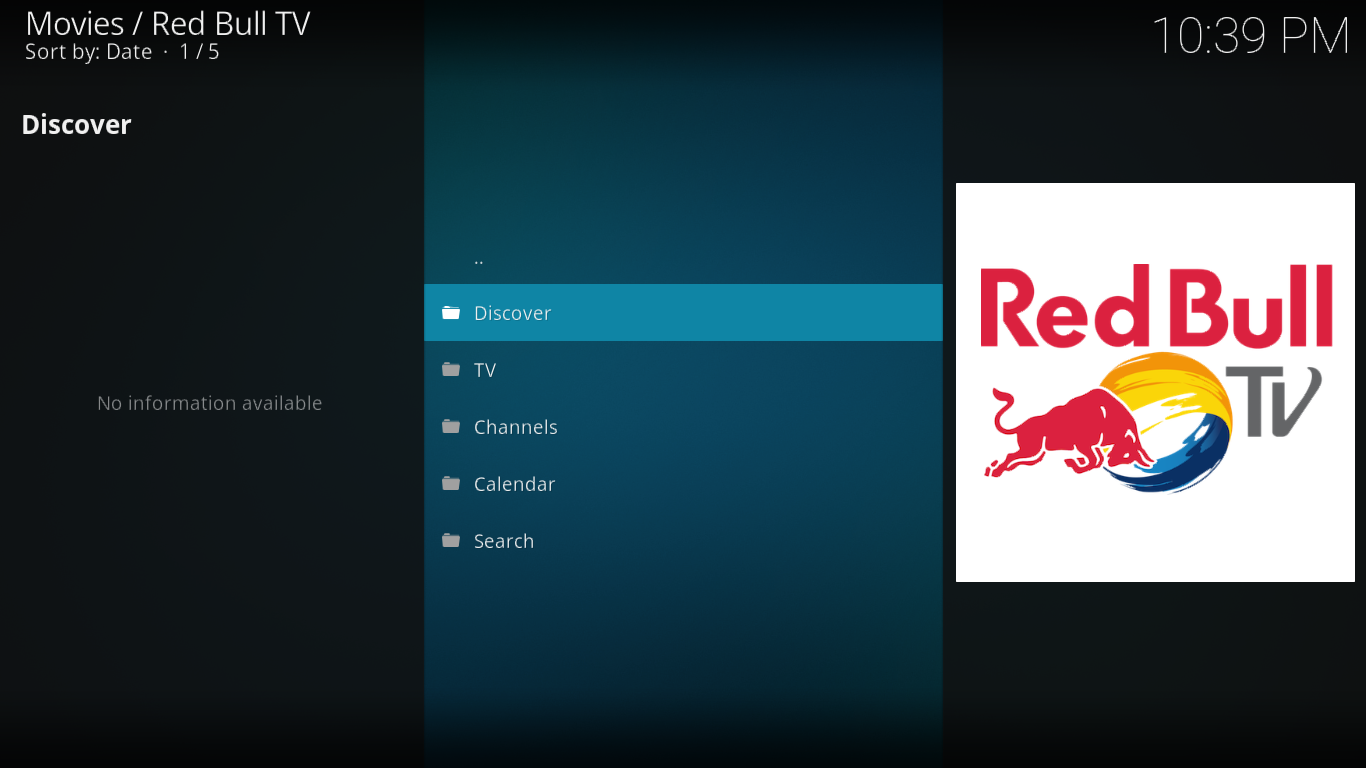 Let's try to examine in deeper details what each section is all about.
Discover
This first section is where you'd go when you're in discovery mode. The section has a lengthy 11-item menu, each packed full of extreme content.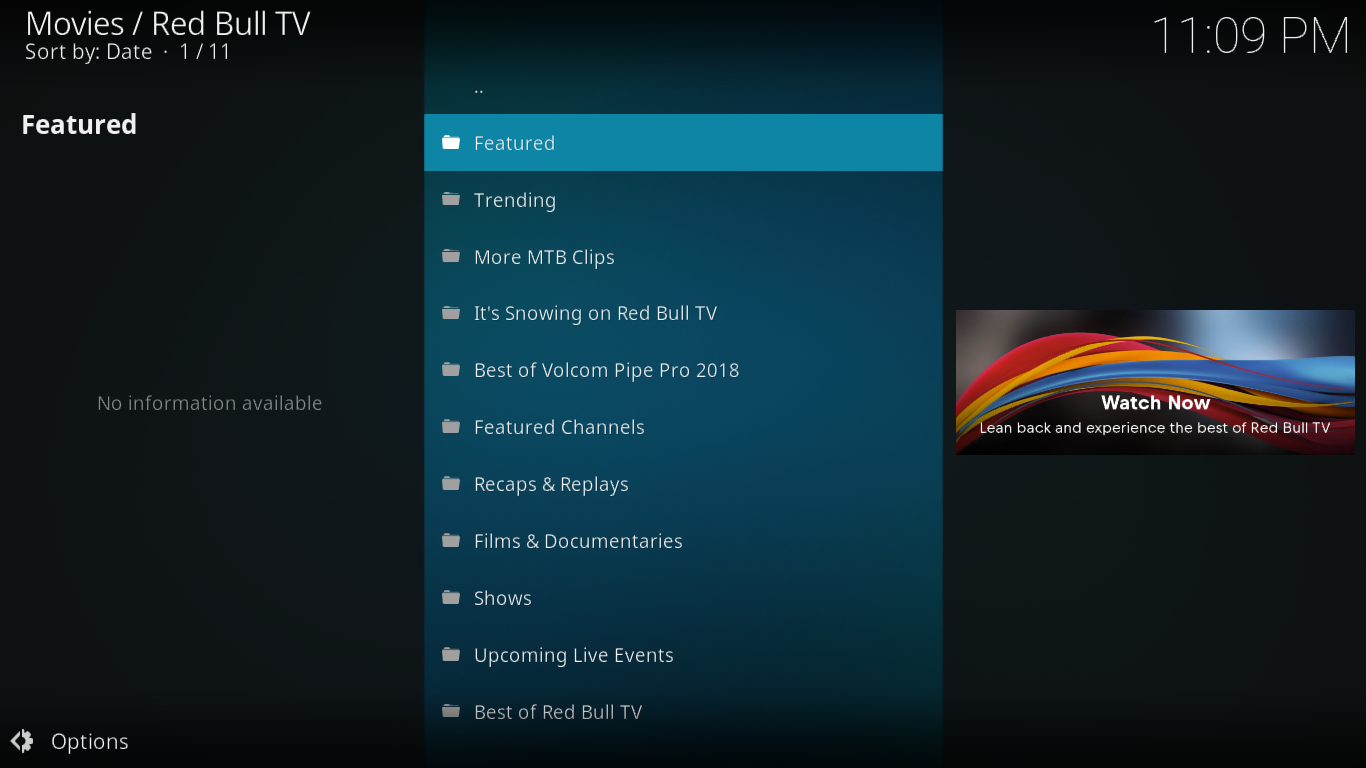 The Features section has content from Red Bull TV's most important events. There's a mix of rally, snow sports, mountain bike, surfing and ice cross downhill. The first item in this section, Watch Now, will connect you to Red Bull TV's live IPTV feed.
The Trending section has a motley mix of content. It has Red Bull Crashed Ice recaps, some skiing, some music, some human interest stories. There's even an orange fight from an episode of Games of strange.
More MTB Clips has, you guessed it, Mountain bike clips of all sorts. But this is Red Bull TV so expect some pretty extreme mountain biking.
It's snowing on Red Bull TV is all about snow sports like skiing and snowboarding but don't expect to find events coverage in there. Instead, what you'll find are documentaries about snow sports.
Best of Volcom Pipe Pro 2018 will let you watch the best from the famous surfing series.
Featured channels has fours subsections, each with various content. The sections are Winter, Bike, Ice cross downhill, and Rally.
Recaps & Replays has exactly what you'd expect and so does  Film & Documentaries.
As for Shows, this is where you go to watch episodes of all Red Bull TV shows.
The Upcoming Live Events section has a list of them but no dates. Clicking any event will reveal several videos including previews and advertisings that show the event's date.
Last but not least, Best of Red Bull TV will let you watch the best extreme sports content.
TV
This section is very different from the previous in its format. Instead of a bunch of subsections, this one has only a single list.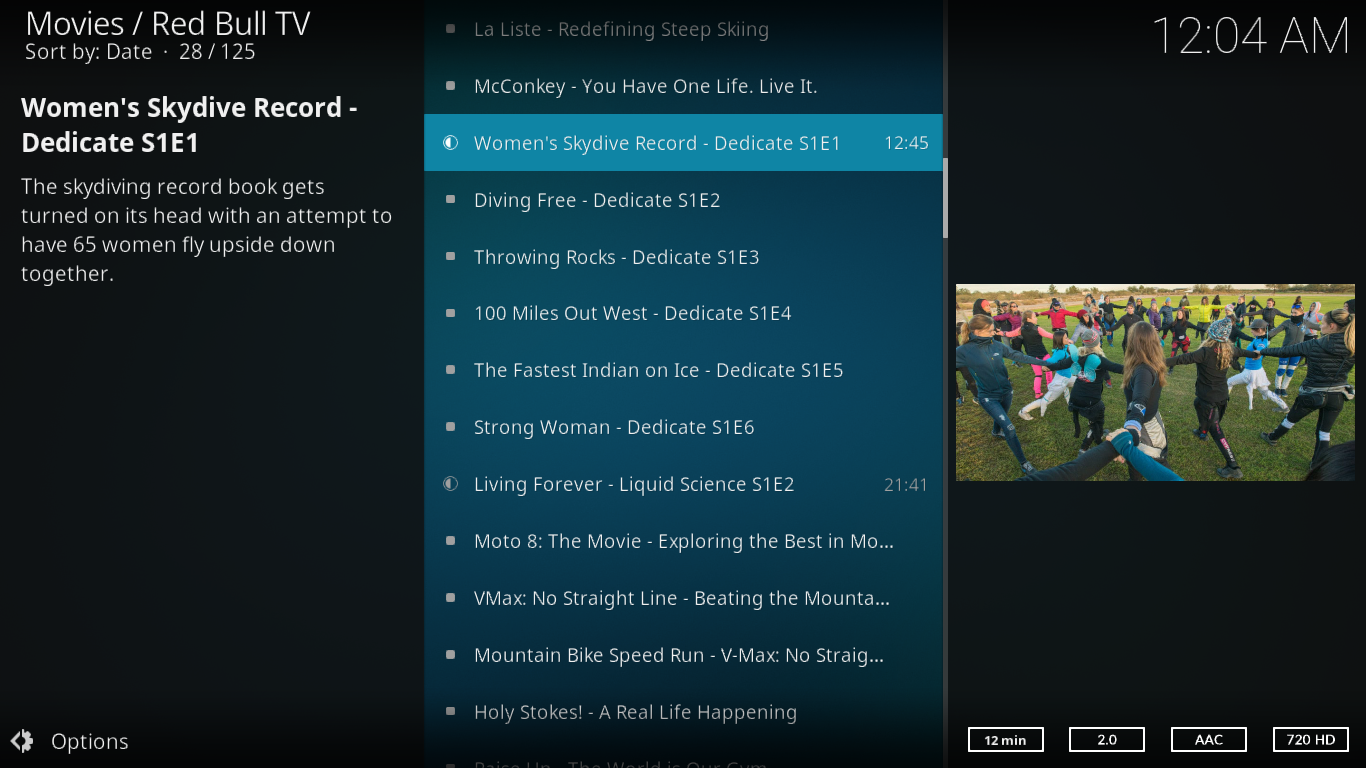 With over 100 items, it is a big list. They are all recent TV shows from Red Bull TV, available on-demand. Like the previous section, the content is quite varied and goes from extreme sports to science. The only constant between all programs is their great quality.
Channels
Next is the Channels section. This is the section where the content is best organized. As much as the Discover section was kind of messy and all-over-the-place, this one is not. The section has three subsections, Format, Featured Channels, and All channels.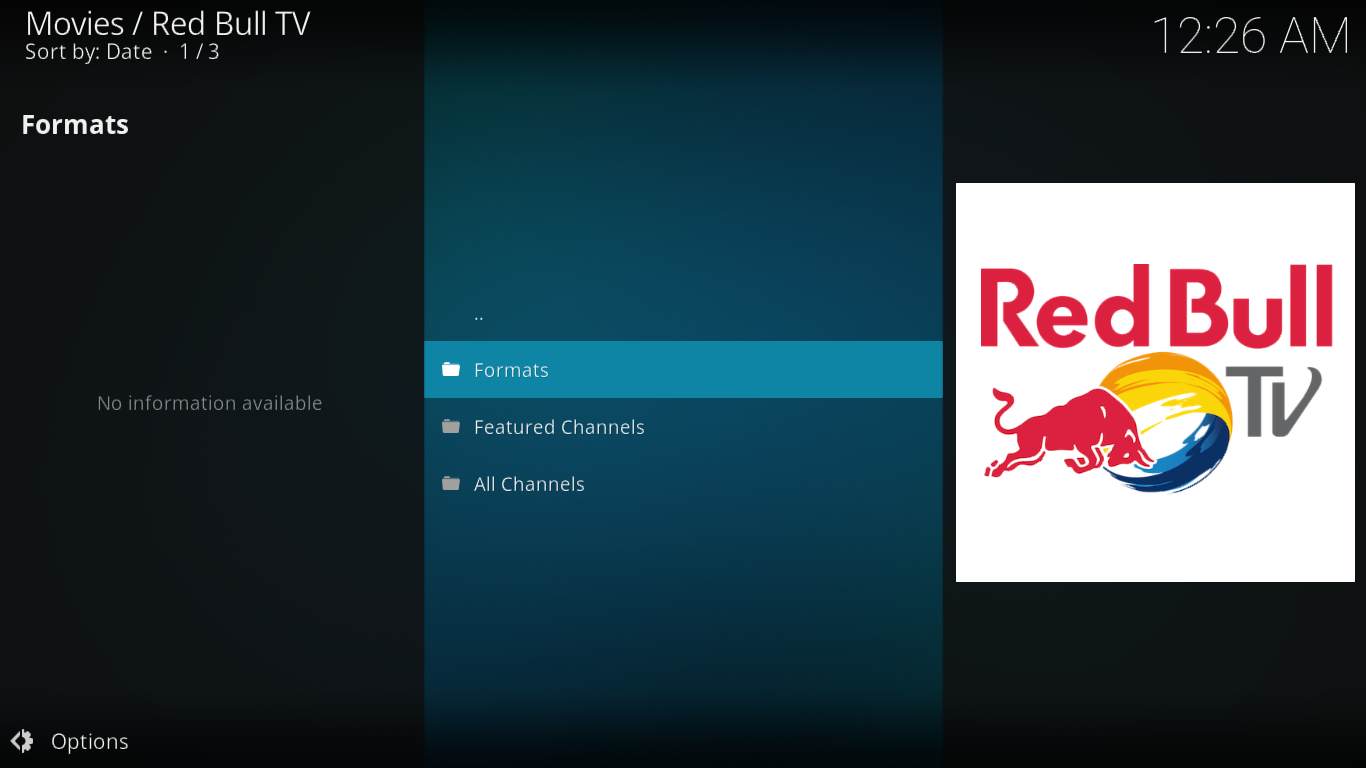 Format organizes content by their type, you can choose between Events, Shows, Films, and Clips. Events are broadcasts of full events. They are further organized by sport. Shows are TV Show episodes from Red Bull TV. Films well, they're films and Clips are excerpts from various events, music videos, course previews and trailers.
Let's skip to All Channels. This is where content is organized by sport or type of event. There are over 20 categories to choose from such as biking, climbing, ice cross downhill, formula one, festivals or music.
And if you don't want to go through the list of all the channels, the Featured Channels section will only list the most popular, winter, bike, ice cross downhill, and rally.
Calendar
As we've already indicated, this is one of the only calendars ever to be without a single date. There are three subsections but the first one, Featured Events, did not return any content when we tried it.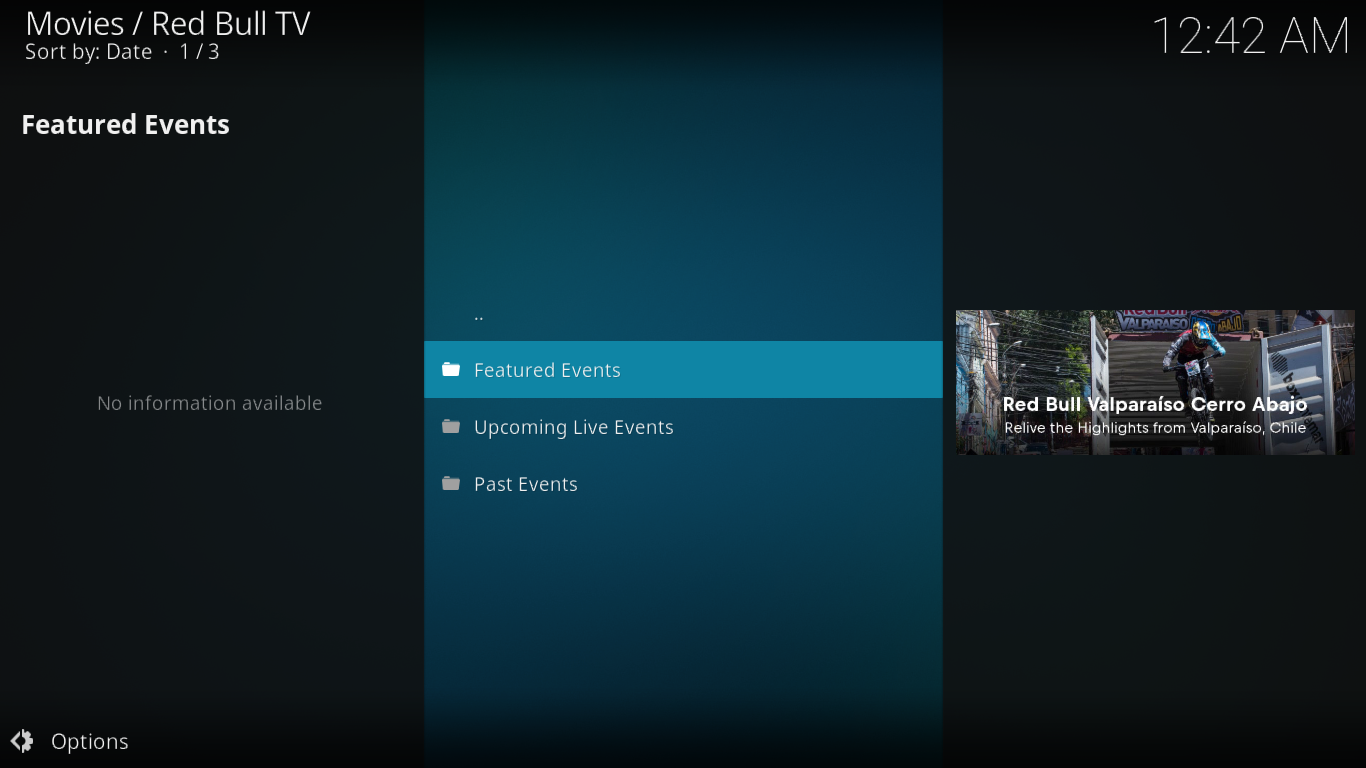 The second section, Upcoming Live Events, has a list of almost 20 events. Clicking any event will reveal several options. One of them is called schedule but it didn't work when we tested the add-on. Some events will have some previews, ads, or trailers that will indicate the event's date(s) but perhaps dates and times could have been added to either the title or the description of each event.
Finally, Past Events has a similar twenty-something item list of events with no dates shown whatsoever. As one would expect, clicking any event lets you watch it.
Search
There's not much to say about the Red Bull add-on search feature other that it works. Its operation is identical to any other addon. You click Search, enter our search terms and the add-on shows you a list of items containing your search term.
What We Love The Most About The Red Bull TV Add-on
There are a few things we really loved about the Red Bull add-on. There are also a few things we didn't but we've already mentioned them as we encountered them.
On the positive side, we absolutely loved the fact that this add-on and its content is freely available to anyone, anywhere. We were also quite impressed by the variety of content the add-on has to offer. Although the organization of the Discover section leaves somewhat to be desired, this very disorganization does a lot to help you discover new content. And if you like more organized content, the Channels section will give you just that.
Also worth noting is the quality of the content. Not only in terms of resolution and definition but also in terms of the content's cinematography. It is clear that Red Bull Media House, who produces most content, makes high-quality, very polished films.
And finally, we loved that we could watch all this great content in high quality in the absence of annoying advertising.
In Conclusion
Despite a few quirks such as the dateless calendar, the Red Bull add-on is truly a great addition to any extreme sports fan lineup. It will keep you busy for hours with excellent on-demand content as well as live IPTV. And it doesn't only have sports. Red Bull also has a strong presence in the music industry and it can be seen in this add-on.
We'd love to know what you thought of this add-on. Why don't you come back here after you've given it a try and share your experience with us using the comments below?