We are reader supported and may earn a commission when you buy through links on our site.
Learn more
How To Watch Marvel's Runaways Online and With Kodi
One of the surprising TV show hits of late 2017 has been Marvel's Runaways, a show telling the story of a group of unusual young people who discover that their parents are members of an evil murderous cult. Bringing together disparate genres of teen drama, superhero action, and occult mystery, the show has proved a hit with both young people and older fans of the comics upon which the show is based.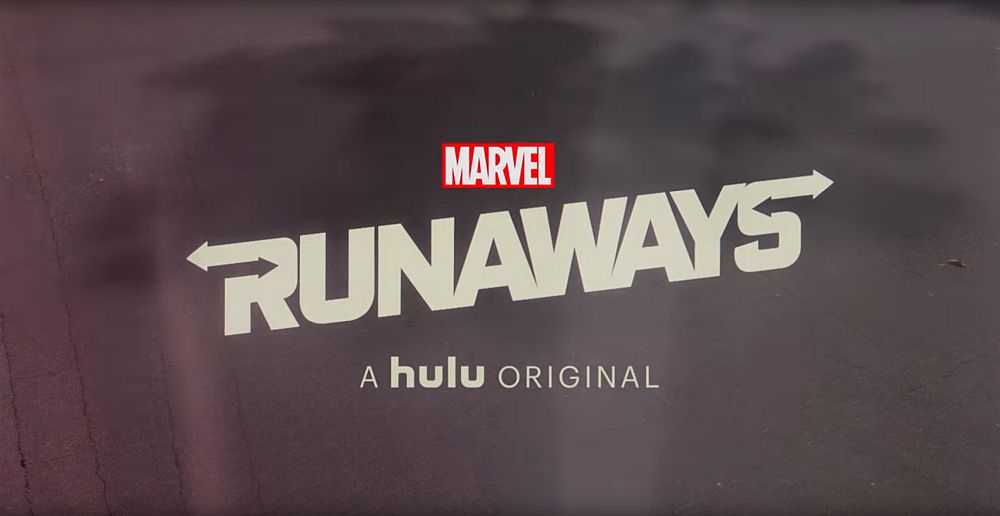 If you're a superhero fan and you want to watch something that's a bit outside the usual model of Marvel heroes, or if you like young adult dramas with a supernatural twist, then this show is one to check out. The first half of the series has already aired, so you have some time to catch up before the second half of the series airs in early 2018.
The show is available to watch primarily on Hulu. But this can make it difficult for international fans or those without a Hulu subscription who want to watch. Today, we'll be showing you a variety of ways to see how to watch Marvel's Runaways online.
What is the best VPN for online movies?
Subscribe to one of the VPNs in this guide.
We highly recommend ExpressVPN (save 49% here), but you'll also find two more world-class VPN services that will work great.
Download and install the VPN's client software.
Connect to a VPN server to unlock the geo-location blocks.
Now you can enjoy unrestricted and private access online.
30-days money back guarantee
How To Watch Runaways On Hulu
The official way to watch Runaways is on Hulu, the subscription based streaming service. Hulu is similar to Netflix, but it has a different selection of shows and movies to watch. And like Netflix, Hulu have also began creating their own original shows like the popular The Handmaid's Tale. Runaways is one of these original shows too, so for now the only place that you can officially watch the show is on the Hulu website.
Unfortunately though, Hulu is currently only available within the US, a in a limited version in Japan. If you live outside these two countries, then you won't be able to use the service to watch Runaways or any other show.
The good news is that it is possible to use Hulu from outside of the US. What you need is a VPN which allows you to fake your internet location so it appears as if you are browsing from the US. Then you can go to the Hulu website and sign up for the service (you'll need to give a zip code, but you can use any zip code such as 90210) and as long as your VPN is connected to the US, you'll be able to watch any of the shows available.
This works because a VPN encrypts all of the data that your device sends over the internet and directs this data towards a server located in another country – in this case, in the US. When the data reaches the server it is decrypted and sent on to its original location. This makes it appear to any websites that you visit as if you are browsing them from wherever the server is located.
Below we'll recommend some VPNs that you can use to watch Hulu. We made a decision on which VPNs to recommend based firstly on whether Hulu works with then, and then on four other key factors:
Support for many different operating systems
Lots of servers in many different countries
A no logging policy to protect your privacy

ExpressVPN is perfect for streaming video, thanks to its fast connection speeds and large server network, and it has always worked with Hulu. The server network covers 145 cities in 94 countries, making it easy for you to find a server in the US so that you can use Hulu.
You can install ExpressVPN on a variety of different platforms, like both newer and olderer versions of Windows (Windows RT, Windows XP, Widows Vista, and Windows 7, 8, and 10), as well as Mac OS, Linux, and Android. The connections use strong 256-bit AES encryption and the no logging policy will protect your privacy.
Pros
Unblocks US Netflix, BBC iPlayer, Hulu and Amazon Prime
Super fast, reliable connection
Torrenting/P2P allowed
Keeps no logs of personal data
Great customer service via chat.
Cons
Expensive month-to-month plan.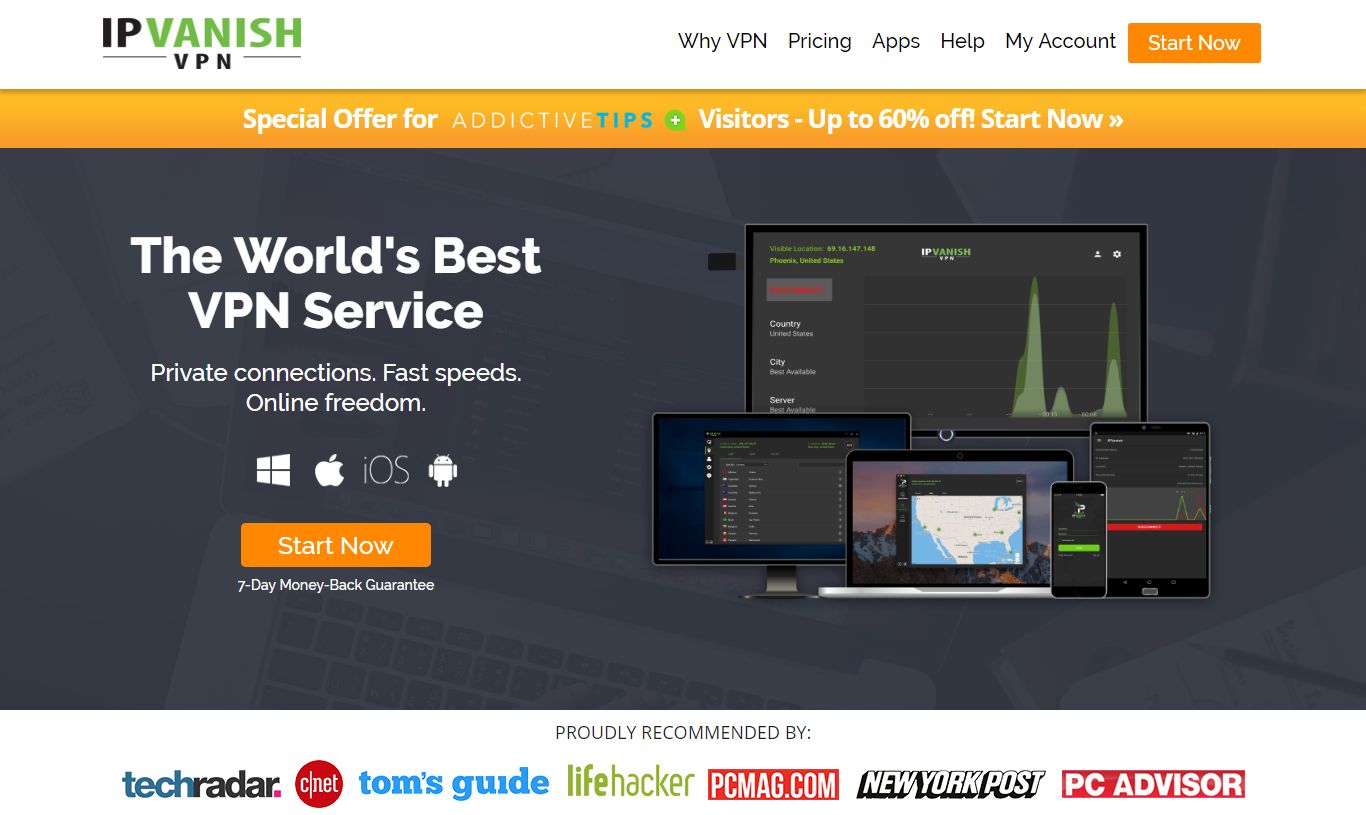 Another VPN that is blazing fast and works well with Hulu is IPVanish. Their connections are consistently speedy and are perfect for watching video on devices of all kinds. The security uses strong 256-bit encryption and a no logging policy, and the server network of more than 1000 servers means plenty of options.
The connections work just fine for accessing Hulu, and the software supports Windows, Mac, iOS, and Android.
We have an exclusive deal on IPVanish services for Addictive Tips readers: get a 60% discount on the yearly plan, bringing the price down to just $4.87 per month. There's also a seven day money back guarantee so you can buy in confidence.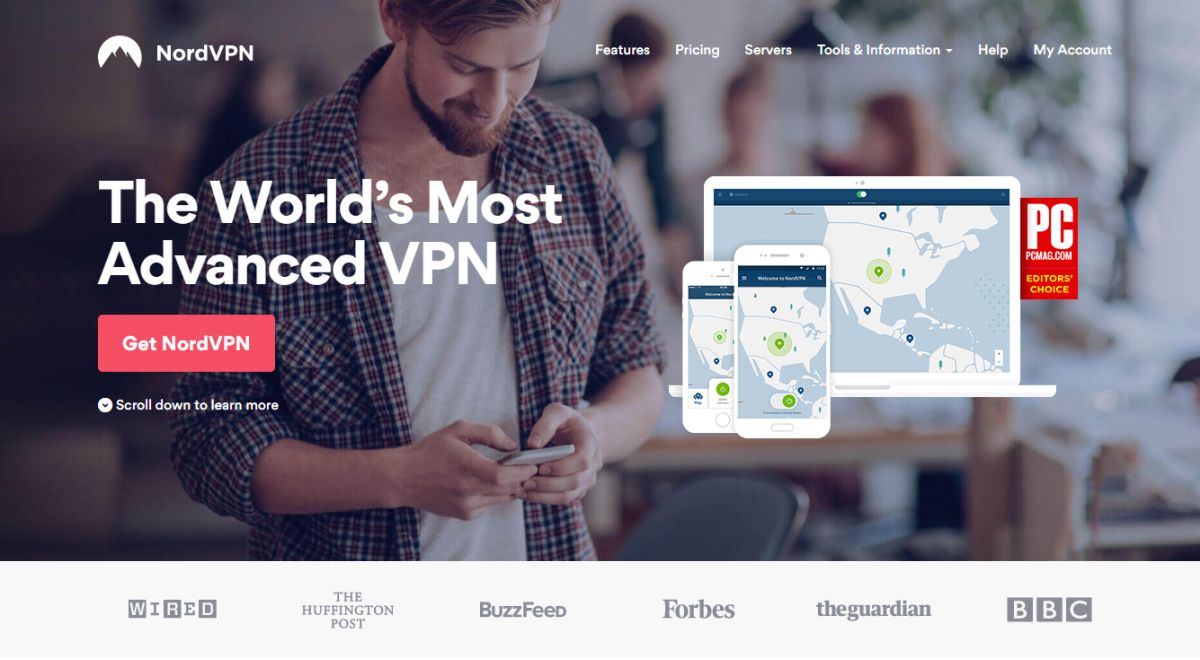 If privacy is a big concern for you, then one of the safest VPN providers you can choose is NordVPN. The service uses a high level of strong encryption and has a no logging policy, and it's a favourite provider of ours for getting around regional restrictions thanks to its massive network of 1070 servers in 60 countries.
The NordVPN servers work well with Hulu, and although most people can use the service with no problem, if necessary there is a special SmartPlay feature which facilitates access to any problematic sites. Our one complaint about the service is that the connection speeds could be faster, but by trying a few different servers you'll usually find one that is fast enough for video streaming.
Pros
SPECIAL OFFER: 2-yr plan (68% off - link below)
Mind-boggling number of servers
DNS leak protection, kill switch
Extra-secure Double VPN for data encryption
24/7 Customer Service.
Cons
Can't specify City or Province in App.
How To Watch Runaways On Kodi
Alternatively, if you don't have a Hulu account then you can use add-ons for Kodi to watch Runaways. Kodi is a free, open source media centre software which you can install onto a big range of devices. The software is useful for organising and viewing any media files that you already have on your hard drive. But that's not all – because the software is open source, anyone can write add-ons for it to extend its functionalities in new ways.
We'll show you two add-ons for Kodi which you can use to stream the latest TV shows including Runaways, plus watch other shows and movies too.
You Should Get A VPN For Using Kodi
Before we get to the details of the add-ons, we should note that it's important for you to use a VPN if you're going to use add-ons for streaming content. Add-ons which let you stream copyrighted content are illegal in some countries and if you're caught using them then you could find yourself in legal trouble or faced with a stiff fine.
A VPN protects you by encrypting all of the data that you send over the internet, making it impossible for your ISP, law enforcement, or anyone else to track your internet usage. There will be no way for an outside person to see what sites you have been visiting or whether you have been streaming any particular content.
For its fast connections and easy to use service, the VPN we recommend for Kodi users is IPVanish. Once you have a VPN in place, we can move on to installing and using the Kodi add-ons to watch Runaways.
Watch With Elysium
This add-on is a haven for nerds, allowing you to watch all of the latest shows in genres like drama, action, scifi, and superheroes. You can also use it to watch popular movies and there's a special section for Marvel films so you can keep up with all the latest Marvel goodness. Here's how to install the add-on:
How To Install The Elysium Add-On For Kodi
Begin on your Kodi home screen
Locate the settings icon that looks like a cog and click it
Go to File Manager
Click on Add source
Click where it says <None>
Type in this URL, making sure to copy it exactly: https://noobsandnerds.com/portal/
Give the source a name, such as noobsandnerds
Click OK
Return to your home screen
Click on Add-ons
Click on the icon that looks like an open box
Click on Install from zip file
Click on noobsandnerds, then on noobsandnerds Repo (2.3.0).zip
Wait a moment. Once installation is complete, a notification will appear
Click on Install from repository
Click on noobsandnerds Repository
Click on Video add-ons
Find Elysium and click on it
You'll see a screen describing the add-on. From the menu at the bottom, click on Install
How To Use The Elysium Add-On For Kodi
Once Elysium has been installed onto your Kodi system, you can use it to watch Runaways:
Start on your Kodi homepage
Go to Add-ons
Go to Video add-ons
Click on Elysium
Go to Search, then to TV Shows
Type runaways into the text box and press enter
A list of results will appear, with Marvel's Runaways at the top of the list. Click on the title
Now click on Season 1
Clicking the title of an episode will show you a list of available streams
Click on a stream and the video will start to play
Watch With Covenant
There's a different add-on that you can also use to watch shows like Runaways. Covenant is a bit bigger than Elysium in terms of the range of content available, and it often has new episodes posted almost as soon as they air on TV. So if you want to watch new content as soon as possible, this add-on is worth a try.
How To Install The Covenant Add-On For Kodi
Begin at your Kodi home screen
Find the cog-shaped settings icon and click it, then go to File Manager
Go to Add source
Click on the box where it says <None>
Type in this URL: https://archive.org/download/repository.xvbmc (You need to type it exactly, including the https://, to get it to work)
Name the source, with a name such as xvbmc
Click OK
Go back to the home screen
Click on Add-ons
Click on the icon that looks like an open box
Click on Install from zip file
Click on xvmbc, then on xvbmc-4.2.0.zip
Wait for a moment. Once the source has been installed, you'll see a notification
Click on Install from repository
Click on XvBMC (Add-ons) REPOsitory
Click on Video add-ons
Find Covenant and click it
You'll see a screen with information about the add-on. Click on Install in the menu at the bottom
Wait for a moment. You'll get another notification once the add-on has been installed
How To Use The Covenant Add-On For Kodi
When you have installed the add-on, it's simple to find the show that you want to watch:
Begin on your Kodi homepage
Go to Add-ons
Go to Video add-ons
Click on Covenant
Go to Search, then to TV Shows
Type runaways into the text box and press enter
You'll see Marvel's Runaways near the top of the results list. Click on the title, then on Season 1
Click the title of any episode to see a list of streams
Conclusion
Runaways is a fun show with a diverse cast and an interesting new spin on the superhero genre. It's been very well received by critics, audiences, and fans of the comics on which it is based. If you're looking for a new show that is a bit fun but with some depth to it too, then this is one that's worth checking out.
Officially, the show is only available to watch on US-only streaming service Hulu. Fortunately, you can still access Hulu from elsewhere in the US by using a VPN, and we've recommended some providers that work well with Hulu.
If you can't afford a Hulu subscription, you can also watch the show for free with add-ons for Kodi like Elysium and Covenant. The step by step instructions we've provided should have you watching in no time.
Are you enjoying Runaways? How are you watching the show – through Hulu or through some other means? Let us know your thoughts in the comments below.