Bookmarx Is A Faster Way To Select & Create Folders When Saving Bookmarks In Chrome
The shortcut for bookmarking websites on all browsers is meant to make a quick job of it, and organization is sacrificed in its name. Websites are bookmarked to the the Bookmarks Bar or to the last folder that a bookmark was saved to. There is no way for you to quickly choose – with our keyboard, for instance – where a bookmark goes. Browsers themsleves aren't really trying to fix this but Chrome users can try Bookmarx. It is an excellent Chrome extension that will change how you bookmark websites. It's something like a command line tool that allows you to select and create folders for saving bookmarks to. It uses simple keyboard commands to move between folders, autocompletes folder names and also provides suggestions for folders within a folder.
You won't need to tinker with Bookmarx's settings much, but you might want to visit the 'Help' tab to check out which shortcuts control what. We'll break them down for you here too.
If you keep the default settings, you will be able to call the extension with the Ctrl+D shortcut, or the Ctrl+X shortcut added by the extension. For those of you thinking Ctrl+X is reserved for cutting text or images, it doesn't work on web pages since you can't cut text or images from them. It will impact your experience if you're using a text editor in your browser, though.
When the shortcut is typed, a thin bar with a text field appears in the center of the page. Type the name of the folder you want to save the bookmark to, e.g. Bookmarks Bar, and it will appear as a suggestion, along with other folders that match the keywords you've entered. Select a folder and hit enter. Next, to move to a sub-folder, type its name in the bar and it too will be listed along with all other matches.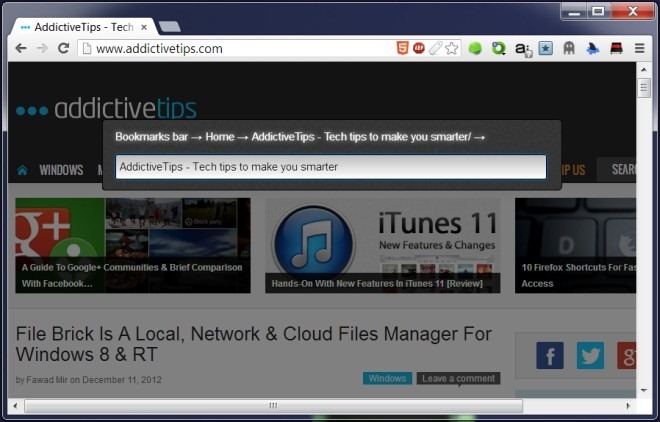 To go up a level in folders, hit Ctrl+Backspace. The Tab will automatically add the page's current title as the name for the bookmark.
To create a folder, type its name in the bar and hit Ctrl+Enter. There is no way to delete a folder using the extension once it's been created, however, you can still go up a level and save your bookmark to a different folder. Hit Escape to exit the extension.
Bookmarx's settings let you choose if you want to override the Crtrl+D shortcut that is the browser's default key for saving a bookmark. You can also disable the Ctrl+X shortcut if it is interfering with things like email or other websites that involve text entry.

On a productivity level of 1-10, I'd have to give it an 11. It is amazing and very convenient to use.
Install Bookmarx From Chrome Web Store