Hands-On With The New Yahoo! Mail App For Windows 8, iOS & Android
Not long ago, Yahoo! was the most popular email service and search engine on the internet. Almost everyone had a Yahoo! ID and most of us relied on Yahoo! messenger for staying in touch with our friends and family. Though later on, times changed and other services took over the number one spot in the online communication industry. However, it doesn't mean that Yahoo! has completely gone off the scene. Yesterday, Yahoo! released new apps for Windows 8 (and RT), iOS and Android that boast neat, modern user interface elements along with features that make it easy to use Yahoo's email services. You can learn more about features of the new Yahoo! Mail app for all these platforms after the jump.
Let's first take a look at the new Windows 8 Modern UI app. When you launch the app for the first time, it will ask for your permission to run in the background. Pressing OK will enable you to receive notifications for new emails and that will save you the hassle of having to open the app and refresh the inbox after every few minutes to keep a check on new emails. Note that the app is also capable of showing your status and notifications on the Lock Screen.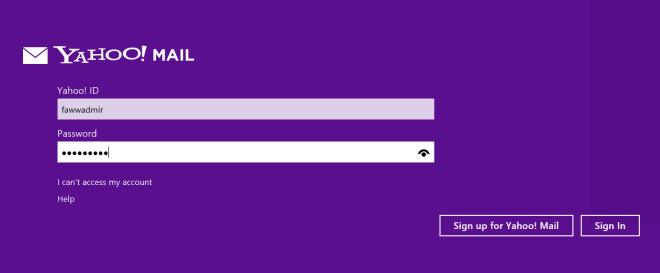 Whenever you launch the app, you will be taken to your Inbox by default  The left side provides you quicky controls for navigating between different folders such as Inbox, Drafts, Sent, Spam and Trash, while the contents of the selected folders are displayed in the middle. Selecting an email will allow you to view its contents in the right half of the screen. While you are reading an email, you can choose common email related functions such as Reply, Reply All, Forward, Delete Message, Mark Message As Spam and Compose, from the top-right.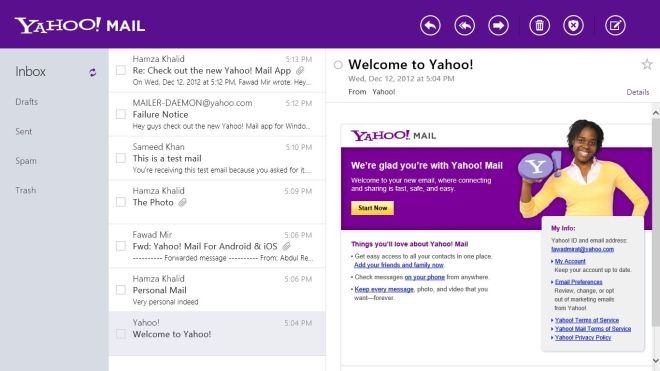 Selecting more than one message brings up the app bar, letting you perform functions such as Move to Trash, Mark as Spam, Mark as Unread and Star.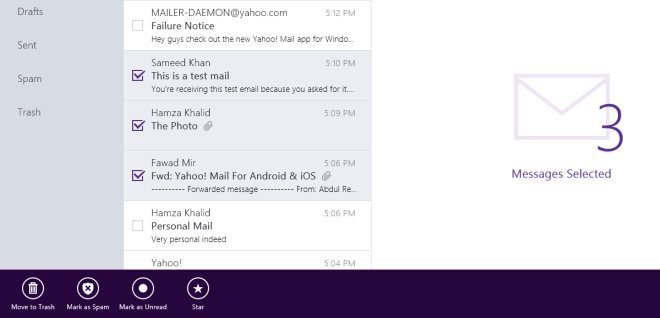 Press Win + Q or swipe from the right and select Search to bring up the Search Charms to easily find all emails related to a specific keyword or phrase.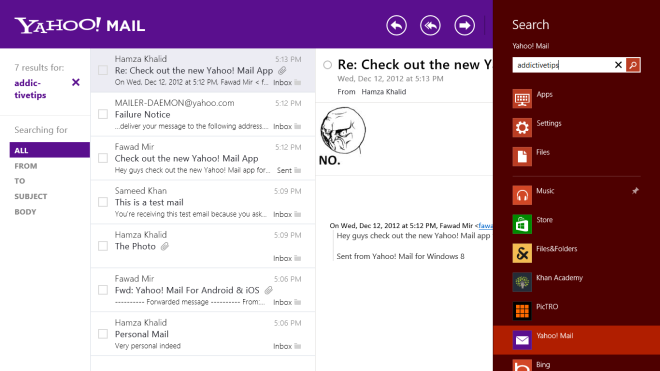 Selecting the Compose button takes you to a new page where you can specify the recipient's email address, add CC and BCC, write the message and include attachments before hitting send.

The Win + I combination or swiping from right and selecting Settings allows you to enable, disable or change your email signature.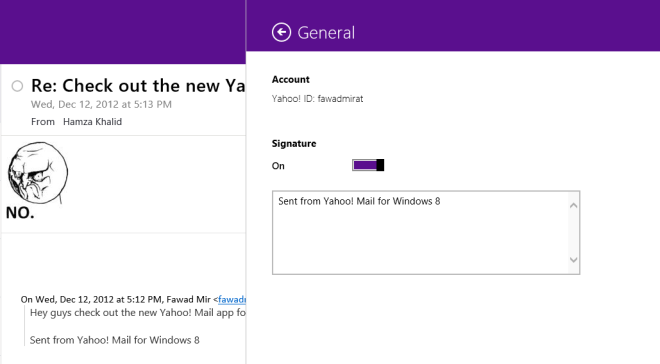 The changes are not just confined to the desktop client; the official Yahoo Mail! client for both Android and iOS has also received a massive interface overhaul, along with addition of several nifty features. The mobile apps sport an uncluttered, Holo-ish interface with a light, easy-on-the-eyes background and Yahoo!'s signature purple theme color visible in various UI elements. A dedicated sidebar helps navigating to the required Yahoo! Mail content – Inbox, Spam, Trash, Sent, Contacts, Drafts, Outbox and Folders etc. – a breeze, whereas context-sensitive action bars provide you with quick controls to perform the required action with ease. While reading your emails, you can now take advantage of the pinch-to-zoom gesture to expand them for better readability, especially when it comes to the font size.
Other feature shared in common by the Android and iOS apps include universal search to look for required mail content by sender, recipient, subject and attachments. Moreover, you can use the pull-to-refresh gesture to manually update a folder's content. You may also benefit from the infinite scrolling option to quickly navigate to the required mail that was received/sent several months or even years ago. When composing messages, you can select multiple recipients, add CC/BCC, and attach a new or already saved image. All your image attachments can be previewed at the top of the message body.
Goodies exclusive to the iOS variant include sideways swiping on an item to perform various actions such as add to favorites, mark as read or spam, move to a different folder, or send to trash. Push notifications have also been made more reliable, and SSL security now comes enabled by default. Special focus has been placed on battery performance improvement, and the app is now believed to be more stable than ever before. The Android app's mail composition segment is further beefed up with several options including font size selection, emoticons, bold, italic & underline text effects, and the option to select custom color for your text.
Download Yahoo! Mail For Windows 8 & RT
Download Yahoo! Mail For Android
Update: The app is now optimized for Android tablets and the iPad as well.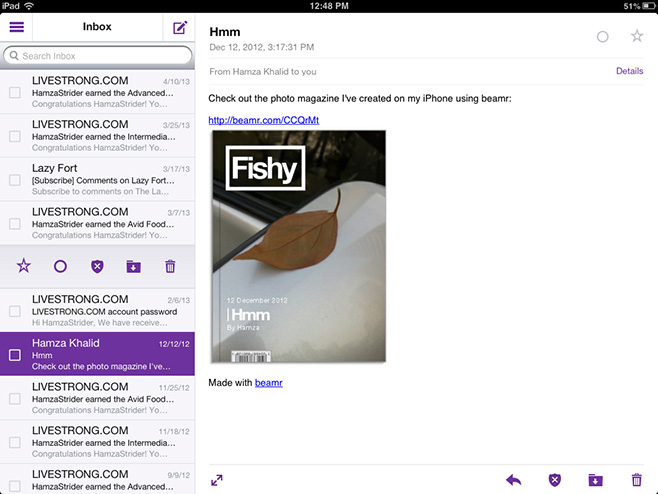 Fawad Mir and Abdul Rehman contributed to this post.