Quickly Set Timers With Custom Reminder Text From Chrome Omnibox
They say time is money, so the more you learn to manage it, the better because whether you like it or not, time's implacable progress cannot be stopped. Chances are strong that, at some part in your life, you've thought of having access to some sci-fi way to stop time at will. But at the end of the day it's up to you to prioritize your activities to get the most out of your time. Fortunately, there's no shortage of timer apps on web, desktop and mobile platforms. Some are a bit complex, while others focus on being intuitive and easy to use, just as Omnibox Timer. It's an incredibly simple extension for Google Chrome that allows you to set a timer for different situations such as a coffee break, picking up an old friend from the airport, or a meeting with an important client.
Since its a Chrome extension, you will need to download and install it directly from Chrome Web Store. When we said Omnibox Timer is easy to use, we did really mean it. In fact, it's so simple that you wouldn't need to launch a program or tinker around with some intricate buttons; everything is done from Chrome's address bar.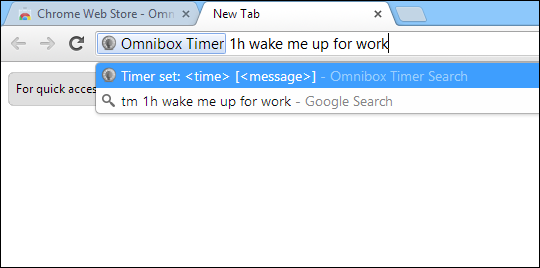 To set up a new timer,  simply type 'tm' (without the quotations) in the address bar, followed by hitting the tab key. This will invoke the Omnibox Timer app, allowing you to add your time from there on. Time intervals can be set in hours (h), minutes (m) and seconds (s). You can also type a custom message regarding the timer itself. For example, if you want to be notified about calling your mom after 2 hours, simply type '2h call mom' (without the quotation marks) and hit enter; Omnibox Timer will instantly start that timer.
When the time is up, Omnibox Timer displays a popup notification near the system tray area, accompanied by a mellow-sounding male voice speaking 'Timer done!' to you. The notification stays in the bottom-right area until you click on it.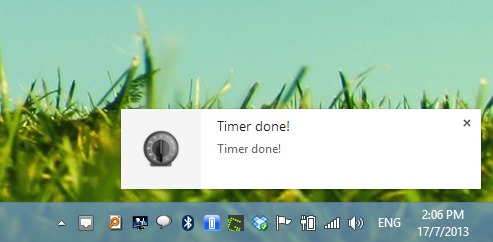 You can also click the app's notification icon to execute quiet mode for 1 hour or 1 day from the context menu that pops up. Omnibox Timer is really all about usability and minimalism, and keyboard junkies are bound to fall in love with it. You can download it for free via the download link below.
Install Omnibox Timer from Chrome Web Store
[via Lifehacker]