Food & Drink: The Windows 8.1 Recipe App With Hands-Free Control
Windows 8 currently features apps for buying music, reading financial news, staying up to date with sporting events, and a general app for reading news. Windows 8.1 brings with it yet another niche app, Food & Drink, that is more than just a digital cookbook. Food & Drink allows you to search for recipes from supported food channels. In addition to helping you find recipes, the app also lets you sort them into 'Collections'. You can add the ingredients of any recipe to a shopping list, add notes to recipes, use the meal planner to plan meals and your shopping for each day of the week, and even add hand-written recipes to it by taking a snapshot of them from within the app itself. To top things off, there is also a hands-free mode that utilizes your computer's camera to let you navigate between different pages of a recipe with body gestures, without even touching the device.
Food & Drink features a recipe on its start page, a search bar, and options for adding recipes, viewing your shopping list as well as managing your meals and collections. Collections are like folders for keeping your recipes organized.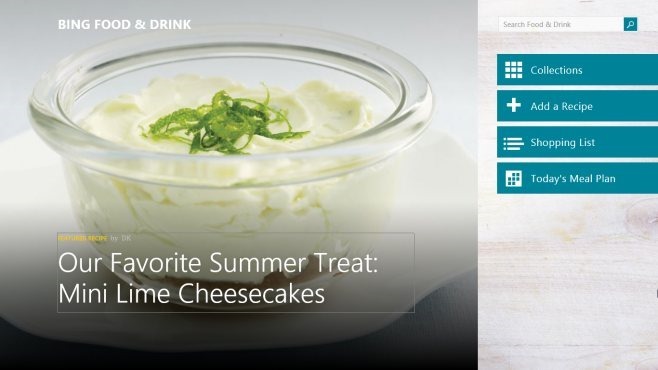 To add a collection, click 'Collections' followed by the large plus sign. Name the collection whatever you want and click 'Save'.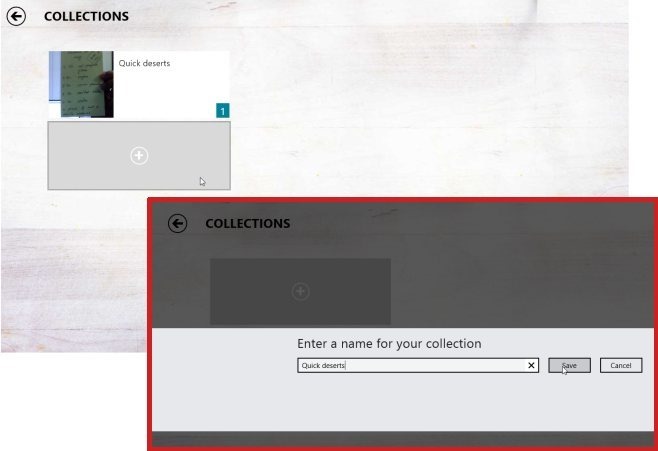 You can add a recipe by taking a a snapshot of one you might have written down in an old fashioned recipe book, from an already existing image of said recipe that you might have scanned, or by searching for them from within the app. To add a recipe from an image, click 'Add a recipe' on the home screen and choose how you would like to add it i.e. take a picture or use an existing one.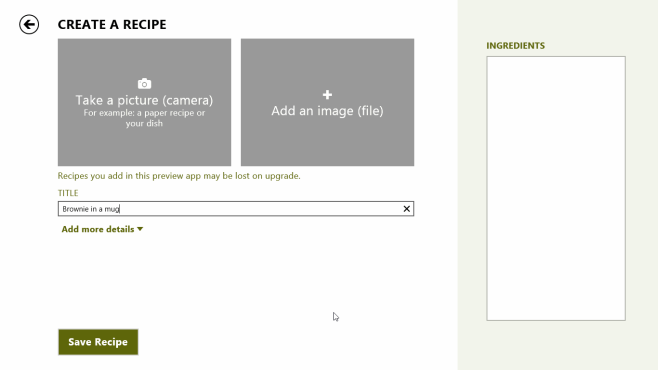 You can add a title for the recipe, select a category, enter a prep time as well as the total time it takes to cook the dish, add ingredients, and enter how many people it can serve, along with a mention of the source i.e. where you found this recipe. The ingredients you enter can be added to your shopping list when you plan to make a certain dish.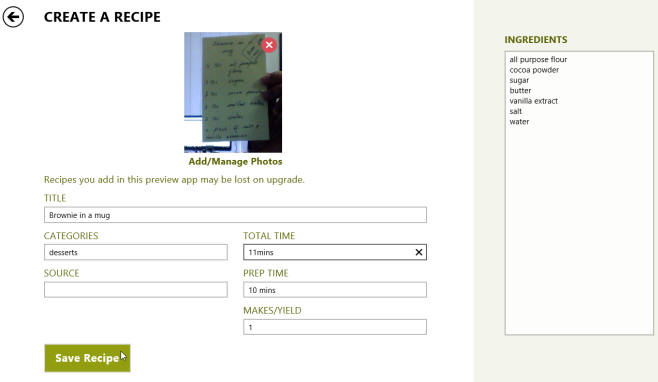 You can use the top app bar or the search bar to look for recipes. Recipes can be narrowed down by type.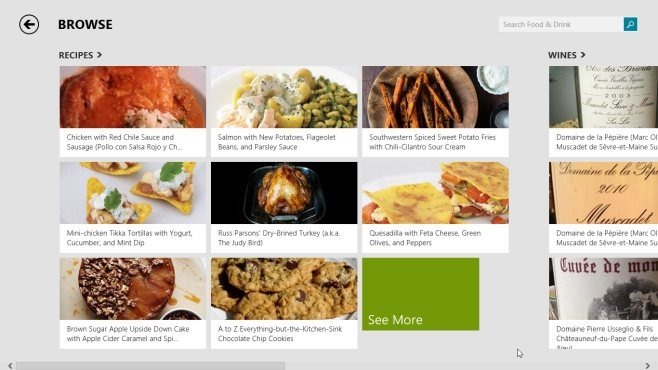 The recipes can be added to a collection, and their ingredients can be added to you meal planner and shopping list. Swipe to see all ingredients and cooking instructions for the recipe.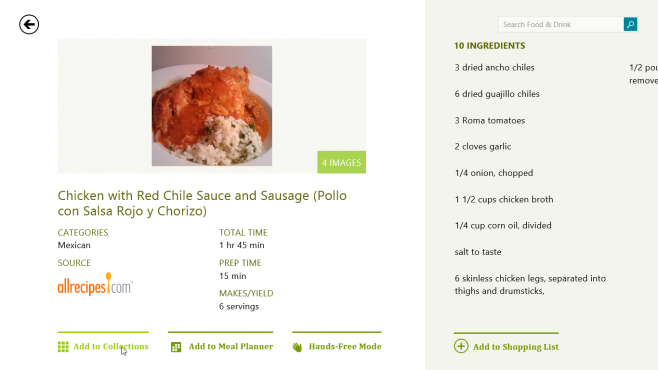 The app features a hands-free control option that can be enabled when viewing a recipe using the 'Hands-Free Mode' button. In this mode, all you have to do is move your hand or any object large enough to obstruct the camera, slowly waving it in from one side of the camera and out from the other. The direction of the wave should be the same as the direction you would swipe in, i.e. the app moves to the next page for a right-to-left wave and to the previous one for a wave in the opposite direction.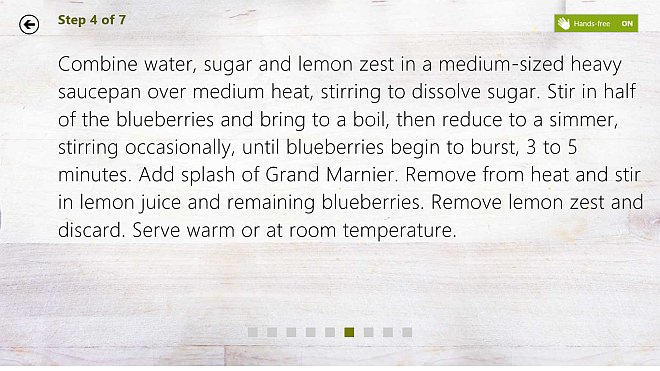 The feature might not work all that well – and sometimes, not at all – with the webcams on older laptops but with enough care, it should work quite flawlessly on the devices that it does work on. The trick is to have enough light and to move your hand slowly enough for the camera to register the movement. We tested the feature quite successfully with the front-facing camera of the Surface RT, but it didn't seem to work well (and at times, work at all) on our two-years old HP ProBook laptop.
The meal planner allows you to save recipes to make for each day of the week. There's no calendar in the app, so you have to work week by week. If you add a recipe to a particular day and also add its ingredients to your shopping list, the number of items that you need to buy show up on the app's home screen. The meals you plan on making for the current day show up on the app's home screen as well.
Food & Drink features ads, but they are very unobtrusive and the app itself is quite feature-rich. It's more than just a cook book, though the shopping list feature is somewhat limited until Microsoft adds an option to sync your list to a mobile device that you're likely to have with you when you go shopping.