Download Complete Cheats, Walkthroughs, Saved Games, And Patches Of Any Game
Hot Game Cheater is a free cheats utility that has complete cheats, walkthroughs, saved games, patches, ringtones, etc of any game that has been released so far in every gaming console.
It has cheats for PC, Dreamcast, Gameboy Advance, Gameboy Color, Gamecube, Nintendo DS, Nintendo64, Wii, Playstation 1 , Playstation 2 , Playstation 3, Sony PSP, Sega, Super Nintendo, Xbox, and Xbox 360 games.
Run Hot  Game Cheater, choose the gaming console of your choice and select the game whose cheats you want to find out.
The graphic screen of girls might look weird to some people, but you can ignore it. You don't need an internet connection to find the cheats anymore, this utility works great offline. So next time you are looking for some cheats, you won't need to browse tons of websites. Apart from Game cheats, this utility has three extra features:
Game Walkthroughs
Games Music, MDI, Ringtones
Games Trainers / Saved Games
One thing that surprised me through was that it contains few cheats for online games too. I found a cheat for a Facebook game called Bowling Buddies. Go to PC Games, click F, and there it is.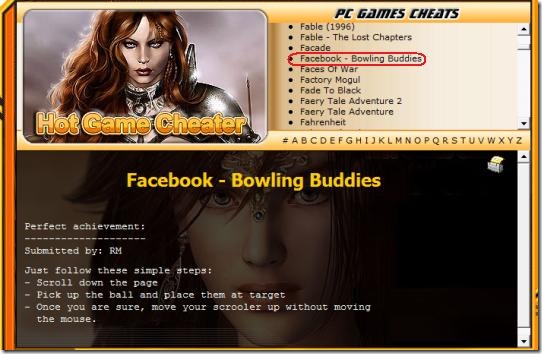 This program works in Windows only. Enjoy Cheating! 😉