Download Websites Including All Pages & Files Using Fresh WebSuction
Saving web pages of a website individually doesn't always help webmasters and developers compare a fresh version of web content, UI elements, references, links, with previous versions of websites, as it's quite tiresome task to manually link pages, adjust index and master pages, etc., in order to use an offline website without any issues for comparing purposes. If you for instance modify web design / content on live web server, you may need a tool which can download your website by pulling all the contained pages, data, referral material, uploaded files, images, etc., for offline viewing. Fresh Websuction includes a comprehensive list of features to download website on your system. It comes with filter options which allows you to download only specified files. For example, you can choose to download only images, audio and video files, and archived files or all HTML, ASPX, PHP, JOS, XML files on your system.
Fresh Websuction is capable of downloading up to 50 files filtered through user-defined conditions on any local location. It provides a simple configuration wizard which guides you through the process of downloading website.  In first step, enter complete URL followed by project name. The Next step asks you to limit pages to download by entering Level limit, which can be defined as a number of links away from the first page to most deep page in the website. Enter the level limit value according to your requirements and click Next.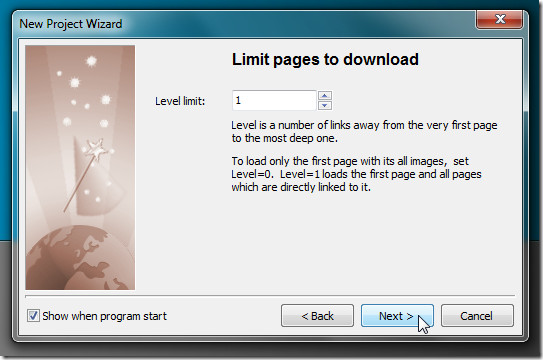 In third step, you have option to download all files linked with starting page or filter file formats to download only required files on your system.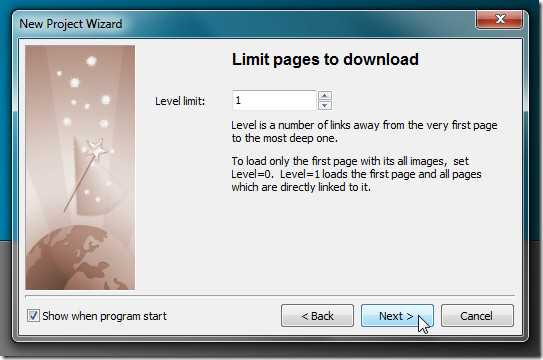 In this step, specify how files are to be saved on your system. It presents options to load only within the starting URL, load from starting server, or choose to load from any location.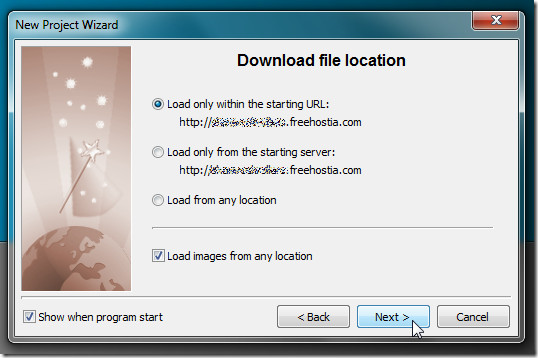 After the wizard ends, it will open main interface where you can download files, do analysis over downloaded files, set filters, change application's generic and downloading options. Once project is added to Project Content navigation bar in left sidebar, click Download on toolbar to start the process.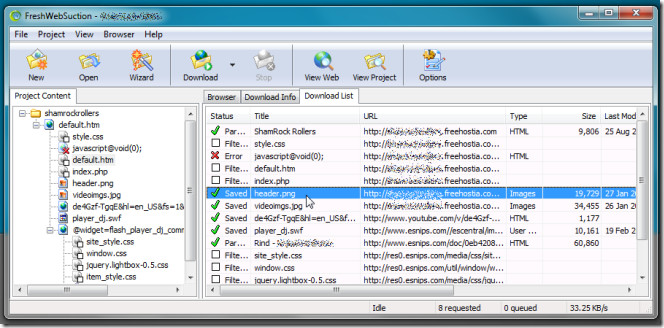 The application runs multiple threads simultaneously to boost web site downloading speed. The Browser tab in main window lets you open specified website whereas in Download Info and Download List tabs, you can view Thread info and list of downloaded files, respectively.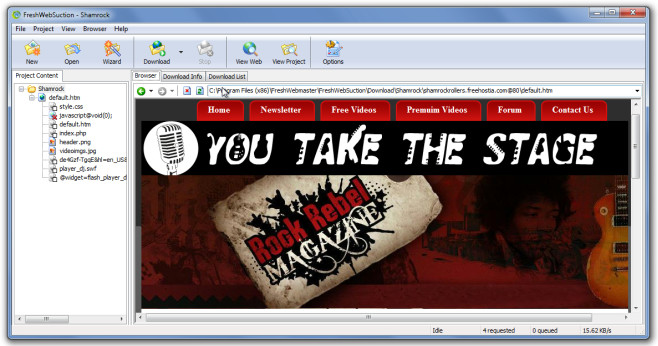 By default, it saves downloaded content of websites in C:\Program Files\FreshWebmaster\FreshWebSuction\Download folder but target location can be changed from Files and Directories tab in Options window.
The New button on toolbar is for creating new website downloading projects. It includes all the options available in wizard with 2 complementary features to includes and exclude URL filters to download only specified types of files and schedule download web content at defined intervals.
Fresh WebSuction can prove to be handy in situations where you need to download an entire archive from a specific website without having to manually do it. It runs on Windows XP, Windows Vista, and Windows 7.