Microsoft Teams Camera Not Working, Doesn't Get Detected (FIXED)
If you have found yourself using Microsoft Teams but unable to get it to recognize your webcam, this is an article you need to read. In this guide, we will explain why this common problem happens and offer you four possible solutions to the problem that should get Microsoft Teams up and running properly again.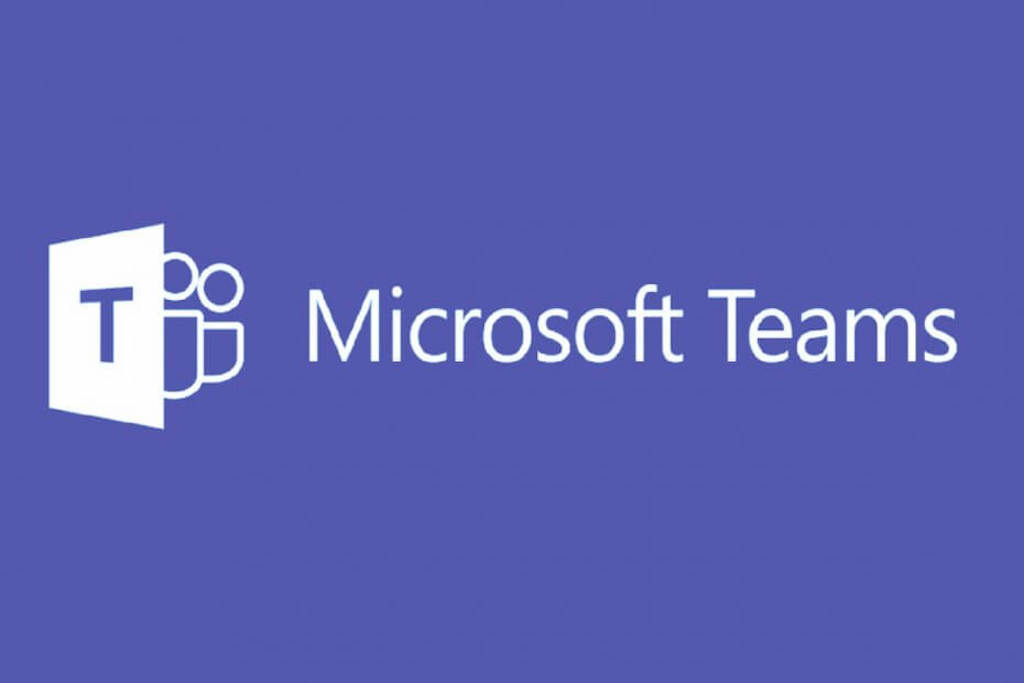 Microsoft Teams has proved to be a revelation in recent weeks as more and more people have found themselves working from home. Since the coronavirus lockdown began to be enforced around the world, Microsoft Teams has added more than 12 million daily users taking its total to 44 million users around the world. Along with Zoom, Slack, and Google Hangouts, it has become one of the go-to sites for business video-conferencing and team meetings.
But this spike in user numbers has caused a few problems for users as it has added additional pressure to Microsoft Teams infrastructure that it wasn't fully prepared for. One of the most common issues that readers have been reporting is an error message reporting that Microsoft Teams cannot detect your webcam.
If this error has been causing you problems and affecting your remote working plans, don't panic. In this guide, we are going to detail a number of different ways to fix the problem and allow you to continue to work with colleagues and clients on Microsoft Teams throughout the coronavirus lockdown and beyond.
Microsoft Teams Camera Error (WORKING FIXES)
As with all relatively young software, Microsoft Teams has had a number of issues since it was launched. These have actually been relatively few and far between and Microsoft has managed to fix the majority of them fairly quickly.
But a few persist and one which readers have raised with us regularly has been Microsoft Teams failing to recognize their webcams.
This problem has been a particular issue when joining or participating in video conferences. Several users have reported their image freezing during conference calls while others report that they have been unable to get an image to appear at all.
Most users have still been able to hear the meeting, but when everyone else is using a video connection, they ideally want to as well.
It is not an issue that Microsoft has managed to offer an adequate response to yet and the increase in users of Microsoft Teams seems to have exacerbated the issue still further.
Fortunately, there are a number of workarounds that can help you to resolve the Microsoft Teams webcam recognition issue and in this guide, we are going to outline those for you.
1. Check Microsoft Teams has permission to use your webcam
When you download Microsoft Teams onto your Windows PC, you will have been asked to provide it with permission to access various hardware components including your webcam and your microphone.
If you are a privacy-conscious individual or just cautious about what you do online, you might have chosen not to give Microsoft Teams permission to use your webcam. It is also possible that these permissions have managed to get changed accidentally while you have been using Microsoft Teams.
Either way, the first thing to check is that Microsoft Teams has permission to use your webcam, and you can do this by following these simple steps:
Press the Windows Key + I
Click on Privacy
Select Camera
Make sure that the toggle labeled Allow apps to access your camera is activated. It should be set to the right.
Underneath this, under the heading Choose which Microsoft Store Apps can access your camera, make sure the toggle next to Microsoft Teams is also activated.
If this toggle already appears to be activated, switch it off, leave for a few moments, and then switch back on again.
Save your settings changes and then reopen Microsoft Teams again.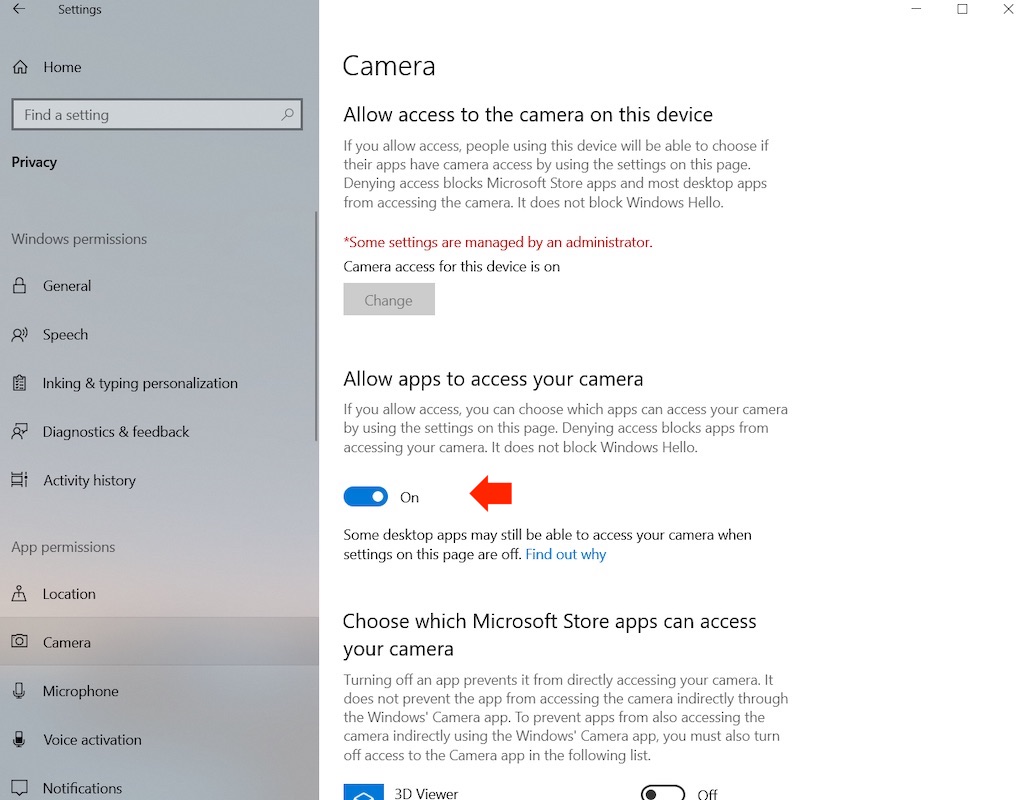 If permissions was the problem, you should now find that your webcam is working fine with Microsoft Teams.
2. Update drivers
If your webcam drivers are out of date, this could be causing Microsoft Teams to be unable to recognize your webcam. To fix this problem, all you have to do is update the drivers on your device.
There are a number of different ways you can do this. If you have an external webcam, you could try uninstalling and then reinstalling the hardware. This will force your device to download the latest version of the webcam's software from the internet and with that will come the most recent drivers.
You can also update all of the drivers on your Windows laptop. There are four different ways to do this:
A lot of major device manufacturers will push out driver updates to Windows laptops directly through Microsoft's Windows Update feature. To download these, all you have to do is ensure that you have downloaded all the latest Windows Update's onto your device.
This is simply to do and should be a regular part of your device maintenance. If you don't already know how to use Windows Update to download the latest updates, all you have to do is follow these simple steps:
Go to the Settings app.
Click on Updates and Security.
Click on Check for Updates
If your webcam drivers are not pushed out through Windows Update, the simplest way to check they are up-to-date is to use the Device Manager. If you want to check all device drivers, you will have to plow through a list of hardware checking each one manually. This is a time-consuming but often worthwhile task.
However, to solve the Microsoft Teams webcam recognition issue, you just have to check the drivers on your webcam. To do this, you will need to:
Go to Search
Type in devicemng
Look down the list of hardware for your webcam and then right-click on it.
Choose Update Driver Software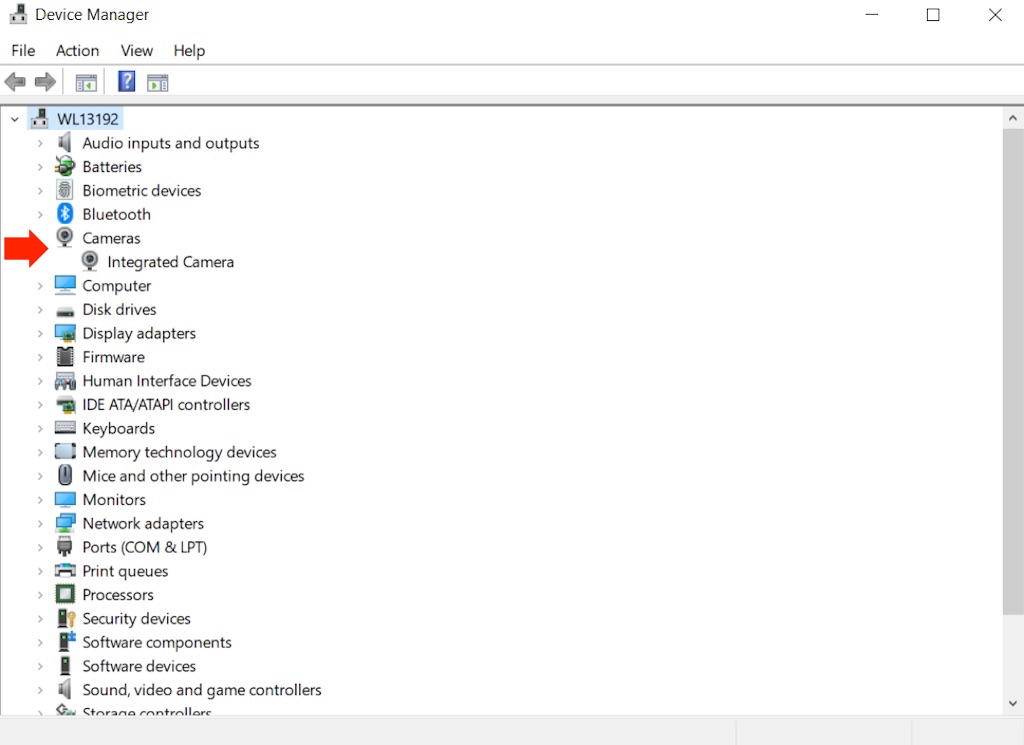 If a newer version of the driver is available, it will then be automatically downloaded onto your device. Once that download has completed, simply restart Microsoft Teams and your webcam issue should be fixed.
Visit the Manufacturers website
Your webcam manufacturer will also post any driver updates onto their website. If you visit this site and find the right product, you should be able to download and install the driver directly from the website onto your device.
Use a dedicated driver update tool
There are also a number of different tools out there that have been specifically designed to help Windows users keep their drivers up to date.
Products like TweakBit's Driver Updater or IObit Driver Booster make keeping all of your drivers up-to-date simple and safe.
Just run one of these tools and download all the latest drivers for your device. Then reload Microsoft Teams and your webcam issues should be resolved.
3. Run a Troubleshooter
If you have been using your Windows device for any length of time, the chances are you have encountered their troubleshooter tools before. These useful features help Windows users to resolve technical issues with software and hardware that are usually beyond their capabilities.
If you have checked permissions and updated your drivers but are still having problems getting your Microsoft Teams to recognize your webcam, the next step is to run Microsoft's Hardware and Devices troubleshooter. To do this, you will need to:
Click on Start
Click on Settings
Select Updates and Security
Select Troubleshooter
The Troubleshooter tool will then run automatically and should pick up on any technical issues with your webcam that might be preventing Microsoft Teams from recognizing it.
Just follow the onscreen instructions to resolve any issues it detects and then open Microsoft Teams again. If this was the cause of your problems, your webcam should now be recognized.
4. Re-register your webcam
If you have a built-in webcam, you might not be able to uninstall it in the same way as an external webcam, but you can re-register it on your laptop.
This effectively involves telling your Windows Laptop to forget about the webcam and then recognize it again. It is quite a simple process. All you have to do is:
Click Windows + X
Go to Device Manager
Search under Imaging devices until you find your webcam.
Right-click on your camera device and select Uninstall
Click OK when you are asked for confirmation
Then select Action
Click on Scan for hardware changes
Your Windows laptop should now search and find your webcam once again. You will then need to Reboot your device in order to save the changes.
Once the reboot has completed, open up Microsoft Teams again and your issue should have been resolved.
Webcam performance on Microsoft Teams
These four fixes should resolve the vast majority of issues Microsoft Teams users are having with webcam recognition. But there are some other issues that could be adversely affecting the performance of your webcam on Microsoft Teams video calls.
Does Microsoft Teams work with your webcam
The first and biggest is whether your webcam will actually work with Microsoft Teams. The majority of manufacturers and models will, but there are some exceptions especially with older models.
Microsoft does actually recommend users stick to a device manufactured by one of their certified partners. While there is a commercial factor in this recommendation, it is a way of ensuring that your webcam shouldn't have problems when being used in a Microsoft Teams video conference.
To find out which webcam manufacturers are certified partners of Microsoft, go to Microsoft's support page and scroll down to the cameras section.
There are a number of local factors that can impact the quality of the picture your webcam is able to produce for your Microsoft Teams video conference.
This includes things like light, background issues, and how far you are sitting from your camera.
Most modern webcams come with a whole host of different features and settings. If you have been fiddling with these, you could have inadvertently changed something that is affecting your image.
Your local Wi-Fi signal strength
If the Wi-Fi connection you are using is not strong enough, this can cause connectivity issues that will affect the quality of your video image. Streaming live video is fairly data-intensive and if your Wi-Fi strength is not sufficient, the image can easily slow down or freeze.
Before you have a video conference on Microsoft Teams, try and switch off any other non-essential connections that might be using up your Wi-Fi capacity.
Kick your kids off their X-Box and make them play in the garden for a while and tell your partner to stop streaming movies and box sets on Netflix for a while. This can make all the difference and improve the quality of your video no-end.
What is Microsoft Teams?
Microsoft Teams is Microsoft's teamwork hub. It is their effort to challenge the likes of Slack and Google Hangout and offer Office 365 subscribers a platform to work remotely and engage with colleagues and clients.
It only launched last year but has really hit the ground running. While Microsoft would certainly not have wished for the coronavirus outbreak, there is no doubt that the crisis and the lockdown that has followed has helped Microsoft Teams to build a large userbase fast.
Microsoft Teams offers its users a number of features. These include a chat platform where users can create different Team groups. Much like other instant messaging platforms, on Microsoft Teams, users can share messages, document, audio, and visual content quickly and easily.
Microsoft Teams also allow users to set up meetings and manage event details. These meetings can be held virtually, with VOIP services offering users the chance to host audio or video meetings with multiple attendees online.
Microsoft Teams also features a number of features specifically aimed at teachers and those working in academia. This includes features that let teachers distribute, provide feedback, and grade student assignments as well as set quizzes and other assignments.
Summary
Microsoft Teams has rapidly become a hugely popular remote working and video conferencing tool despite only launching last year. But it has not been without its teething problems and these have been exacerbating by the rapid growth of users that has been caused by the coronavirus lockdown.
The most common issue appears to be with Microsoft Teams struggling to recognize some webcams. In this guide, we have explained some of the features of this issue and also outlined four possible fixes.
Our feedback and testing suggest that these fixes will solve the problem for the overwhelming majority of users. We have also detailed a few other issues that could be affecting the quality of your webcam's performance on a Microsoft Teams video conference.
Have you become a new convert to Microsoft Teams in recent weeks and months? Have your had problems with the software not recognizing your webcam? Did our recommended fixes help to resolve the problem? Have you found any alternative solutions that we haven't covered in this guide?
It is always helpful to hear about reader's own experiences and get your feedback on the content of these guides. Please do share your thoughts with us using the comment box below.