Backup, Restore & Manage Your Fonts Collection With Seekways Font Cabinet
Fonts are like candy: the more you have, the more you want. But, as the-day-after-Halloween hoarders will testify, the proper way to flatter your sweet-tooth is to first organize, manage and store your treats, and thus it is for fonts as well. Seekways Font Cabinet is a great font management system that lets users backup individual fonts or their computer's entire collection to a specified location. The software very obligingly serves as a font installer, too; in a single click you can start using those eye-catching typefaces you downloaded from the internet but just couldn't figure how to add to your system.
Note: Users need to be alert while installing Seekways Font cabinet. The setup process will recommend you try nagware apps and browser toolbars like 'Delta Toolbar', 'SweetIM', or 'Optimizer Pro'. We recommend you skip their installation by unchecking them and clicking 'Skip' and 'Cancel' when prompted to install them.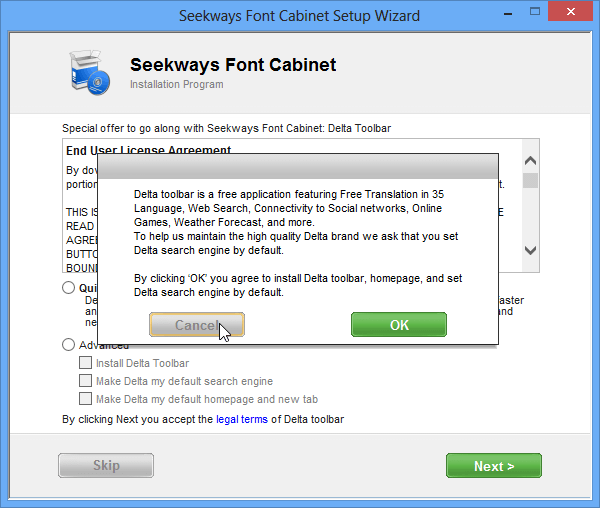 When you're through setup, launch the application. Seekways Font Cabinet's user interface is polished clean, almost to a fault.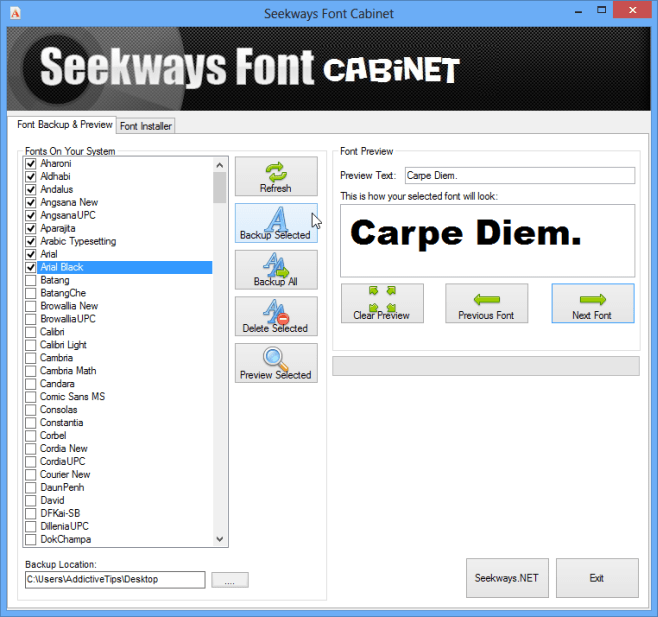 We start in the 'Font Backup and Preview' tab by default. As the title suggests, this panel and its features are meant to help you create backup files for all the various typefaces available on your system; the complete list is present in a scrollable window to the left. To preview a font, select it, type a few test words in the 'Preview Text' field on the right, and hit the 'Preview Selected' button. The 'Previous Font' and 'Next Font' scroll buttons enable you to preview the list one typeface at a time.
When you've decided about your favorite fonts, it's time to save them. Double-click the relevant checkboxes and specify a suitable location to store your backups, via the 'Backup Location' field at the bottom. Click 'Backup Selected', and you'll have a neat collection of *.fon files at the indicated location. If you can't decide which fonts you really like, you can 'Backup All' of them to your PC for now.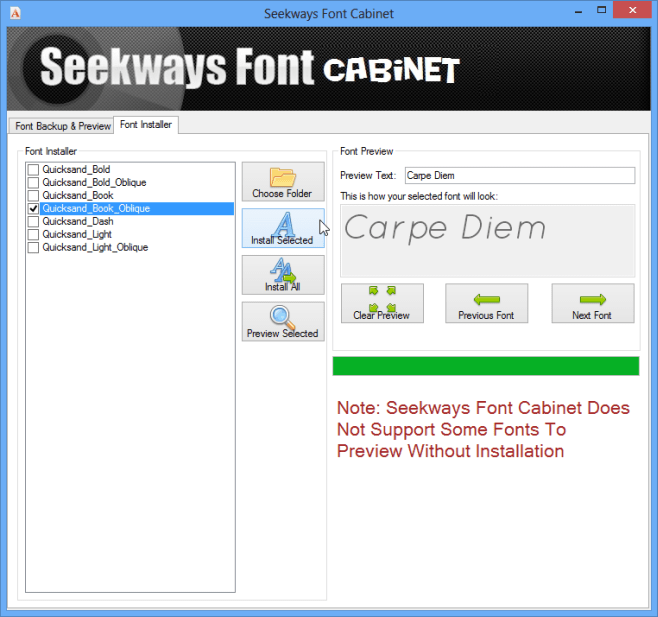 Installing fonts to your Windows fonts folder has never been a simpler task. This manager enables you to install a font simply by selecting it from a list. You can download any number of fonts from the web and then load them in the program via the 'Choose Folder' button. As with the already installed fonts, the app will let you preview your selections and add them to your collection in no time at all.
Seekways Font Cabinet is available for Windows 7 and 8. It was tested on Windows 8 Pro, 64-bit.
Download Seekways Font Cabinet