All-In-One Galaxy Note II Toolkit Makes It Easy To Root, Unroot & Flash Recovery
Samsung's phones are amongst the most popular ones in the Android developer community, since the company regularly releases source code for their devices to allow for easier hacking and development. As a result, there are easy-to-use hacking tools available for most of their lineup. The Galaxy Note II is no exception. There are all-in-one toolkits available that root, flash custom recoveries and perform many other advanced tasks in just a click or two. In addition to the international GSM/LTE version (GT-N7100, GT-N7105) and T-Mobile (SGH-T889) variant, there is one now available for the Sprint US variant (SPH-L900).
Developed by mskip from XDA-Developers, the "Galaxy Note2 Toolkit" is a very powerful piece of software for managing your Galaxy Note II. It automatically installs USB drivers for your device, lets you gain root access so you can use powerful root-enabled apps, flash ClockworkMod Recovery or TWRP Recovery, reflash Stock recovery and more. The full list of features is as follows:
Backup and Restore all apps, user data and data stored in internal storage
Backup your SD card to your PC
Perform NANDROID backup and save the file to your PC
Install Busybox
Root on official Samsung ROM
Root on any ROM via ClockworkMod using SuperSU or Superuser
Flash Stock Recovery and extract + flash Stock ROM to retain manufacturer warranty
Flash insecure boot.img
Flash stock boot.img
Create TAR file to flash ROM via ODIN in one click
Pull cache.img, convert to flashable ZIP for ClockworkMod Recovery
Transfer files from PC to phone and vice versa
Change file permissions
Dump LogCat and BugReport files to PC
Reboot to ADB mode
The all-in-one toolkit has been tested on International GSM, T-Mobile & Sprint, but the developer says that it will work on US Cellular (SCH-R950) and Rogers/AT7T (SGH-L317M) variants as well.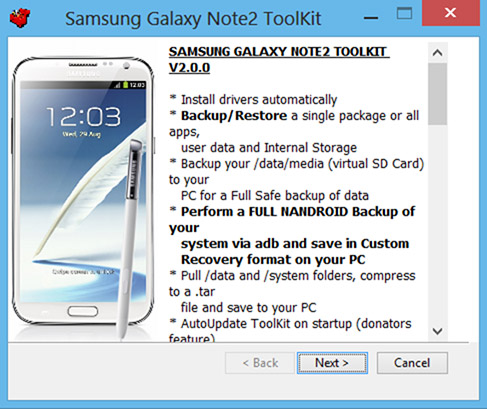 After the mixed response from the technology blogosphere due to its too-big-to-be-a-smartphone, too-small-for-a-tablet size, the Galaxy Note series of smartphones have become a strategically important product for Samsung. Over 10 million units of the original Galaxy Note were sold till August, 2012 and over 3 million units of the Galaxy Note II have been sold in just over a month since launch.
The all-in-one toolkit can be downloaded from the link provided below. Be sure to visit the official thread on XDA from the "via" link below for updates from the developer and link to donations page.
Download Galaxy Note2 Toolkit (Mediafire Link)
[via XDA Developers]