We are reader supported and may earn a commission when you buy through links on our site.
Learn more
Best B450 Motherboards (Mini ITX, Micro ATX and ATX) in 2021
If you want to enjoy the latest AMD AM4 processors but are focused more on value and performance than feature overload, then finding the best B450 motherboards is probably of great importance to you.
Micro ATX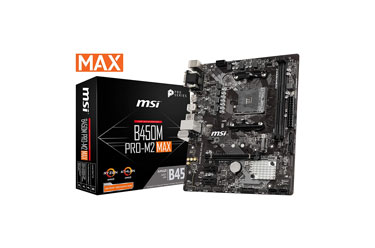 AMD's B450 motherboards offer overclocking capabilities on almost all their processors at a much lower price than competing Intel options, where high-end Z-series motherboards and K-series processors are the minimum requirements for CPU overclocking. Not every enthusiast can afford to spend an extra hundred bucks or two for features like these, and that's where AMD dominates.
What are the best B450 motherboards?
But enough about Intel, and everything else. Let's dive into our top five picks for AMD B450 motherboards, ranging from Mini ITX all the way to full ATX boards.
Best Mini ATX B450 Motherboards
SATA Ports: 4 | M.2 Slots: 1 Gen3 NVMe | RAM Slots: 2 | Max RAM Speed: 3466 MHz | PCIe Slots: 1 x16, Gen 3 | Wireless Tech: AC Wi-Fi and Bluetooth 4.2 | Lighting: N/A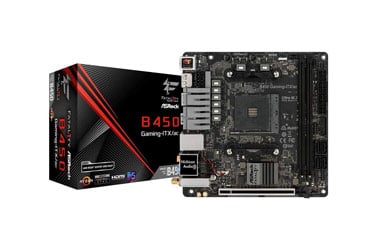 The ASRock B450 Gaming ITX/AC is our pick for best Mini ITX B450 motherboard. There are a few different reasons, but first let's address the "AC" in the name.
One issue with getting Mini ITX motherboards is that they only have room for a single PCI Express slot. This means that your choices for expansion are fairly limited, and most won't want to use that slot for anything but a proper graphics card. While USB ports are still available for expansion, many won't want to permanently take up a USB port with a Wi-Fi adapter, either, especially for an ideally on-the-go portable PC build.
That's where this motherboard shines. It offers built-in Wi-Fi and Bluetooth, which greatly reduces the need for any additional expansion slots. This is especially useful for those getting a Mini ITX PC build for portability's sake, and saves them the trouble of carrying around an extra peripheral for Internet connectivity.
Wireless capabilities aside, this is pretty much exactly what you'd expect from a B450 motherboard. Respectably high RAM speed capacity, overclocking capabilities, and high-speed NVMe are all present here. ITX does come with a few downsides- namely a more cramped building experience and less SATA/RAM slots- but these can easily be built around.
This is also one of the more expensive boards on this list, but that comes with the territory of Mini ITX boards and Mini ITX cases in general, so we aren't docking a point for that. If you want a mini ITX B450 board, this is definitely your best bet.
Verdict: Best Mini ITX B450 motherboard
Best Micro ATX B450 Motherboards
SATA Ports: 4 | M.2 Slots: 1 Gen3 NVMe | RAM Slots: 2 | Max RAM Speed: 3200 MHz | PCIe Slots: 2 (x16, 1 Gen3, 1 Gen2) | Wireless Tech: N/A | Lighting: N/A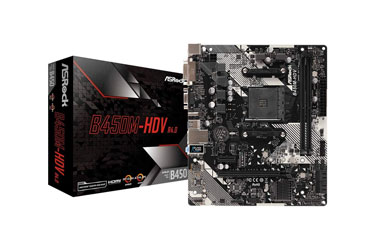 The ASRock B450M-HDV is our pick for the best budget Micro ATX B450 motherboard. In addition to being one of the cheapest B450 MATX motherboards on the market, it's also one of the better-specced of those boards in terms of maximum RAM speeds. With a 3200 MHz RAM overclock, you shouldn't have an issue pushing Ryzen 3 and last-gen Ryzen 5 processors to their proper levels of performance.
With the step up to a Micro ATX board, you now also get to enjoy the easier building experience and enhanced expansion capabilities that come with a Micro ATX case.
Additionally, many users report that this board is shipping with support for third-gen Ryzen processors out of the box, despite it being manufactured prior to that launch. A "Ready for Ryzen 3000" sticker should be on the box when it arrives- if it isn't, either send it back to the manufacturer to get an updated version, or request a BIOs update kit to get the job done. You shouldn't need to do this, though.
With the out-of-box Ryzen 3000 support, great pricing, and decent all-around specs for a B450 board, we're hard-pressed to find something to complain about with this one. It doesn't have much in the way of any extras, but you really shouldn't be expecting those at this price range. If what you want is a solid, functional B450 Micro ATX motherboard for a low price…this should more than suffice.
Verdict: The best budget Micro ATX B450 motherboard
SATA Ports: 4 | M.2 Slots: 1 Gen3 NVMe | RAM Slots: 2 | Max RAM Speed: 3466 MHz | PCIe Slots: 1 Gen 3 x16, 2 Gen3 x1 | Wireless Tech: N/A | Lighting: N/A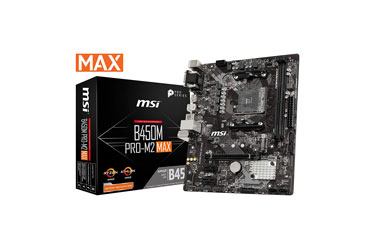 The MSI B450M PRO-M2 MAX is our pick for the best overall Micro ATX B450 motherboard. For not too much more than our budget pick, you get a nice ramp-up in max supported RAM speeds, an improvement in VRM quality for better overclocking, and higher overall build quality. There's also some steel reinforcement added to the main PCI Express x16 card slot, meant to protect from GPU bending and sag over time. (GPU sag is a harmless phenomenon, though, so you don't really need to worry too much about that.)
Like before, we're hard-pressed to complain about this board. It's pretty well-priced for what it offers, and shouldn't bottleneck any Ryzen 5 or even 7 processor you slap into it, within reason. While you don't have X570 levels of VRMs and RAM speeds with this board, no B450 motherboard has those things, and we don't think it'd be fair to dock points for features that are unreasonable to expect in this price range.
Verdict: The best overall Micro ATX B450 motherboard
Best ATX B450 Motherboards
SATA Ports: 6 | M.2 Slots: 1 NVMe Gen 3 x4, 1 NVMe Gen 3 x2 | RAM Slots: 4 | Max RAM Speed: 3200 MHz | PCIe Slots: 2 Gen 3 x16, 4 Gen 2 x1 | Wireless Tech: N/A | Lighting: N/A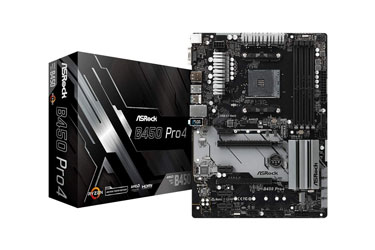 The ASRock B450 Pro4 is our pick for best budget B450 motherboard.
Of particular interest with this board over all the others on this list is that it offers dual NVMe M.2 slots, but with a catch. One of those slots is limited to half speed, which means that any NVMe SSD used in that slot will be capped to roughly ~1500 MB/s total bandwidth. While that's still much faster than SATA, it is a downgrade. Even if it weren't NVMe at all, the extra M.2 slot would still be nice to have, though.
That aside, the move up to an ATX case and motherboard gets you a lot more expansion than is possible with the previous entries on this list. For not much more than our ATX motherboards, you get essentially twice the PCI Express and RAM slots. If you want to run Quad-Channel RAM (which should also help your Ryzen CPU performance) and install more PCI expansion cards, then this board is a great option for doing so without breaking the bank.
As of January 2020, most users are reporting that this board is shipping with 3rd Gen Ryzen compatibility out of the box, but the product page has yet to be updated to indicate this. If you're fine with potentially having to do the BIOs update yourself, then getting this board shouldn't be a problem. If you're willing to pay more for peace of mind, though, opting for our #5 pick will guarantee that and provide some more features.
Verdict: The best budget ATX B450 motherboard
SATA Ports: 6 | M.2 Slots: 1 NVMe Gen 3 | RAM Slots: 4 | Max RAM Speed: 4133 MHz | PCIe Slots: 1 Gen3 x16, 1 Gen2 x16, 3 PCIe x1 | Wireless Tech: N/A | Lighting: RGB Rear Glow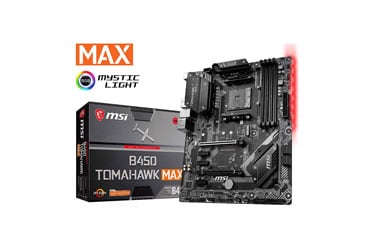 Our pick for best ATX B450 motherboard — and many others' pick, for that matter- is the MSI B450 Tomahawk Max. This B450 board was manufactured after the 3rd Gen Ryzen launch, so any of the boards you buy are guaranteed to support 3rd Gen Ryzen processors, no matter how long they've been held in stock.
Unlike other B450 motherboards, this one isn't content with the basic descriptor of "it can overclock and it has decent RAM speeds, now give us your money". MSI went all out with this B450 board, pushing its max memory speeds into low X570 levels with a maximum speed of 4133 MHz. This is genuinely stellar RAM speed headroom, and that makes this board great for Ryzen 5 and Ryzen 7 processors. (We'd still recommend doing X570 for Ryzen 9, though.)
In addition to the stellar RAM speed, you have a lot of other across-the-board improvements. Overall build quality is much higher, including a heatsink for the chipset and solid VRMs. Pushing a 4 GHz overclock on your Ryzen 5 3600X shouldn't be an issue with this board, especially if your cooler and RAM can keep up.
Other little extras, like 2 more SATA ports, RGB lighting, and high-quality onboard audio, make this a compelling package. While we normally skim over USB-related stuff, this board also offers USB 3.2 Gen 2 support with both a Type-A and Type-C port on the back, where all the other boards on this list are limited to Gen 1. For those who use external USB storage, that makes this an even more compelling pick over the others.
All this combined with its sub-$120 price makes this our top pick, no question. The pricing is more than fair, and the feature set on offer is the best you can ask for in this price range, if not better.
Verdict: The best ATX B450 motherboard
FAQ and Choosing The Right B450 Motherboard For You
Now that we've covered all of our top picks, we're going to give you all the information you need to know to make an informed buying decision.
What is AMD B450?
First and foremost, let's explain what AMD B450 even is for those of you who aren't sure or stumbled on this article by accident.
"B450" refers to the chipset model. The motherboard chipset determines what CPUs your motherboard is compatible with, what RAM speeds your motherboard can achieve, overclocking capability, and all kinds of other nerdy stuff.
There are three main tiers of AM4 motherboard chipsets:
A320 – Bare minimum, no OC features or real extras.
B450 – Mid-range occasionally flirting with high-end, adds overclocking and higher RAM speeds.
X470/X570 – The high-end, with X570 having mostly phased out X470. Improves VRMs for higher CPU overclocks, and overall build quality for even higher RAM speeds, faster PCIe/NVMe, and other extras,
B450 is the ideal for most users, who aren't going to be pushing crazy overclocks but just want a balanced motherboard for a balanced price.
Motherboard Size and Expandability
Motherboard size corresponds directly to the amount of expansion a motherboard can handle, but as the years have gone on…these have become less important to most users. Pitch a motherboard with a single PCI Express slot to an enthusiast in the 90s and you would've been looked at like you were insane, because features we now see as basic- including networking and sound- all required PCI Express expansion back then.
Nowadays, features like those are built right into the motherboard, and optionals like Wi-Fi and Bluetooth can easily be achieved with a simple plug into a USB port. Many PC users only need a single PCI Express slot for their graphics card, nowadays.
That being said, there are still many reasons to opt for a larger motherboard, including multi-GPU configurations, quad-channel RAM setups, and multi-NVMe storage setups. Overall pricing seems to be balanced mostly in favor of Micro ATX as well, with Mini ITX and ATX both trending more expensive for the same features due to the smaller size and more raw capacity, respectively.
Difference between SATA and NVMe Bandwidth
There are two main storage standards: SATA and NVMe.
SATA is used by 2.5 and 3.5 inch drives, usually SSDs and HDDs, respectively. Its effective speed is limited to roughly ~600 MB/s, usually manifesting around 550 MB/s read for the highest-end SATA SSDs.
NVMe drives use PCI Express bandwidth, and for PCI Express Gen 3, that's a theoretical 4000 MB/s maximum. (Most high-end NVMe Gen 3 drives top out much lower than this- around 3000 MB/s. Even so, that's still a significant improvement over SATA!)
Where things get a little tricky is with the M.2 form factor. Many motherboards have M.2 slots that only support SATA speeds, and some M.2 drives themselves only support SATA speeds despite looking physically identical to much-faster M.2 NVMe drives. Be sure to double-check both motherboard and M.2 drive specs if you're shopping for ultra-fast SSD storage!
How Ryzen relies on RAM
Reading through this article, you may notice a higher-than-normal level of focus on RAM.
This is because Ryzen processors, in particular, can be heavily bottlenecked by low RAM speeds and greatly benefit from higher RAM speeds. Intel CPUs aren't as heavily impacted in this regard because they're built differently, but for any serious Ryzen enthusiast this is a big deal, especially if you're buying Ryzen 5 or better processors.
For that reason, we've included maximum RAM speed ratings with each of our motherboard picks. While diving into all the specifics of Ryzen and RAM is a bit out of the scope of this particular article, we've included this information so users can make truly informed buying decisions. We aren't in the business of suckering our readers.
Parting Words
…and that's it!
If you have any lingering questions you don't feel were properly addressed by this article, please leave a comment in the comments section below so that we can help you. Otherwise, we hope you enjoyed this article and our picks, and we hope you've learned everything you need to know!
Good luck with your new B450 motherboard, and have a blast with your PC!