We are reader supported and may earn a commission when you buy through links on our site.
Learn more
Best GPU For VR in 2021 (Reviews + Buying Guide)
What is the best GPU for VR gaming? That's the question we're looking to answer today.
We've narrowed down the available options on the market to three great GPUs for three different price ranges. Whether you just want the cheapest VR-capable GPU possible or a beefy monster suitable for VR into the future, we have you covered.
After we cover each of our GPU recommendations, we're also going to provide a buying guide, just in case you aren't sure which of our picks is the best one for you.
Best GPU For VR: Our Top 3 Picks
Architecture: AMD Polaris | Clock Speed: Up to 1565 MHz | VRAM: 8GB GDDR5 | Width: 2-Slot | Length: 270 mm | Ports: 3 DP, 1 HDMI, 1 DVI-D | Recommended Headsets: HTC Vive, Oculus Rift Headsets, Budget VR Headsets | Recommended Wattage: 550 Watts
The AMD RX 590 is our pick for best budget VR GPU. While it's actually a souped-up RX 580, it still boasts superb performance-per-dollar for its price range. It's a bit bulky and power-hungry for its price and performance level, but as long as your system can fit a 270 mm GPU and you have a 500+ W power supply, we doubt that you'll have any issues.
For your basic VR experiences, this is more than enough GPU horsepower. Higher-end experiences may vary (especially as time goes on and games become more demanding), but even a killer app like Half-Life: Alyx should run perfectly fine with this GPU and an HTC Vive or Oculus Rift headset.
Next-gen VR experiences- especially those that employ real-time ray-tracing- may not be appropriate for this card, however. (Especially since this card doesn't support ray-tracing.) If you want to future-proof your VR setup a little bit, we'd recommend taking a look at our next two options.
If this isn't available, a GTX 1660 Super is a great alternative if you're willing to pay a little more.
Verdict: Best Budget VR GPU
Architecture: Nvidia Turing | Clock Speed: Up to 1665 MHz | VRAM: 8GB GDDR6 | Width: 2-Slot | Length: 232 mm | Ports: 3 DP, 1 HDMI | Recommended Headsets: Valve Index, High-End VR Headsets | Recommended Wattage: 550 Watts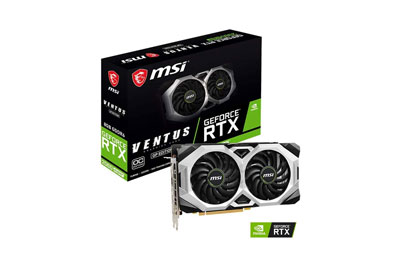 For most people, we think that the Nvidia RTX 2060 Super is going to be the best overall VR GPU. It boasts more than enough raw power for any VR game currently on the market, and future-proofs itself a little bit by offering the same real-time ray-tracing features that the next-gen consoles will.
It's considerably more powerful than the 1660 Super or RX 590 listed above- about 30%-40% more, actually– and will also be suited for next-gen non-VR gaming experiences, which we can't say for the RX 590. In order to get all that extra performance and futureproofing features, however, you'll have to pay a lot of extra money- about twice as much, actually. While we'd say that's a price worth paying for futureproofing, for today's gaming experiences, it may not be necessary.
Verdict: Best VR GPU
Is this RTX 2060 Super card not available? Try the EVGA model instead, but note that it's 270 mm.
Architecture: Nvidia Turing | Clock Speed: Up to 1860 MHz | VRAM: 8GB GDDR6 | Width: 3-Slot (2.5-Slot) | Length: 290 mm | Ports: 3 DP, 3 HDMI, 1 USB-C | Recommended Headsets: Valve Index, High-End VR Headsets | Recommended Wattage: 650 Watts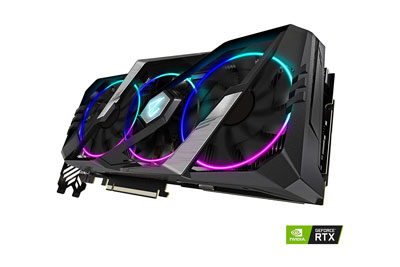 Last but certainly not least is the Nvidia RTX 2080 Super. Compared to the previous pick, it offers yet another ~30% bump in performance compared to the 2060 Super. It's also much more expensive for that performance bump, but if you're familiar with PC technology you probably expected that part already. While spending this much money on a graphics card may seem impractical to some of you, this is the real high-end, futureproofing pick for VR gaming.
The combination of real-time ray-tracing features, DLSS, and raw GPU horsepower will make this suitable for AAA and VR games for years to come. This card is in a punching weight far beyond what today's VR games actually require, but that puts it in a very good position for the foreseeable future. This is a truly next-gen graphics card for next-gen gaming experiences, and if that's what you want, then the RTX 2080 Super is the right graphics card for you.
Verdict: Best High-End VR GPU
Is this RTX 2080 Super card not available? Try the EVGA model instead, but note that it's 270 mm.
What Do You Need In A VR GPU?
A lot of people think that since VR is this crazy, cutting-edge new technology, that the GPU requirements are fairly high.
Fortunately for those of us who can't afford an i9 9900K and RTX 2080 Ti, this isn't true!
Many VR games are made to have lighter graphical requirements than full-blown AAA titles. Even AAA VR titles like Half-Life: Alyx are intelligently optimized in order to ensure they can run well on lower-end cards than the biggest, baddest GPUs on the market.
Most of today's VR headsets are actually running at somewhere around the equivalent of a PC's 1440p resolution, if a bit higher. Combine this with features like SteamVR resolution scaling, the optimization of VR games for lower-end GPUs, and the fact that most VR games are low-budget indies, and you'll find that even a sub-$200 GPU can do the trick with many VR games.
We've discussed each of our picks in more detail in their respective selections above, but rest assured: we're confident that even an RX 590 provides more than enough horsepower for today's VR games.
Recommended VR Headsets For These GPUs
Note: The price range is based on what's currently available on Amazon at current market rates. Quest and Rift S are meant to have the same MSRP, but actual prices are higher due to external circumstances at the time of writing.
The Oculus Headsets, at the time of writing, make superb picks for VR gaming.
The Oculus Quest and Oculus Rift S are mostly the same, but the Quest is meant to operate independently from the PC, and actually operates at a lower refresh rate- 72 Hz, rather than the 80 Hz on the Rift S. It's a marginal difference, but still a notable one. The ability to use the Quest with a PC was a bit of a last-minute addition through software, and requires an additional investment in a capable link cable, removing the main benefit of a truly wireless VR experience. The Quest also has a slightly higher resolution than the Rift S, but the actual difference in perceived visual quality should be basically non-existent.
Either of these VR headsets are great picks for VR gaming, but we'd recommend the Quest to most people, especially since it can operate independently from your PC. The Rift S has more accurate tracking, though, and slightly more fluid motion- once they're back at their identical MSRPs, we'd recommend going with whichever sounds better to you. For now, the Quest is cheaper, even with the cost of an added link cable.
The Valve Index is the de facto high-end VR headset right now. While it's much higher in price and requires external base stations in order to function properly, you get a lot of great extras in return. (Just one example: you get Half-Life Alyx for free with the headset!). While the raw resolution is only marginally higher than with the above Oculus headsets, Valve employs a different type of underlying display that provides a far better-perceived resolution than other options. This results in the removal of the "screen-door" effect that plagues many VR headsets. Additionally, the Index controllers attach to your hands completely and track your individual fingers, and the headset can support up to 144 Hz, offering a sense of fluidity and motion that's nearly true-to-life. (Provided your graphics card can keep up- running VR games at 144 Hz will require a much higher-end GPU than is needed with the above Rift headsets.)
As long as you can afford it, the Valve Index will provide the best VR gaming experience you can get on the market right now.
Understanding VR Performance Tiers
While we've provided three GPU picks, you may be left wondering how these correspond to the performance of available VR headsets.
Tier 1: Rift @ 70-80 Hz / Recommended for RX 590
This is the baseline level of performance that most VR games will be optimized for. With cutting-edge titles in the future, you may be expected to lower resolution scale to achieve a playable experience, but even the latest cutting-edge games, like Half-Life Alyx, should be perfectly playable with this configuration.
Tier 2: Valve Index or HTC Vive @ 90 Hz / Recommended for RX 590 or RTX 2060 Super
This is a slight bump up in fidelity, especially if you opt for the Valve Index. The RX 590 should still suffice here for most scenarios, but we'd recommend bumping up your GPU spec for an improved experience.
Tier 3: Valve Index @ 144 Hz/Other High-End Headsets / Recommended for RTX 2060 Super or RTX 2080 Super
This is a major bump up in fidelity, and we'd consider the RTX 2060 Super a baseline for a good experience here. 144 Hz will require roughly 50% more raw GPU power compared to 80 Hz, and you aren't going to be able to make that happen with modern VR games on an RX 590. Even an RTX 2060 Super may experience issues when playing particularly high-fidelity games. If you want the best possible VR gaming performance, then we highly recommend the RTX 2080 Super (or 2080 Ti) at the time of writing this article.
What kind of non-VR gaming experiences can I expect with these GPUs?
RX 590
The RX 590 is a souped-up RX 580, and its strengths lie in pretty much the same places. That means modern 1080p games at 80+ FPS and Ultra settings, and 1440p gaming at 60+ FPS and High-To-Max settings, sometimes lower.
Once games developed for the true next generation of consoles come out, settings changes and etc may become more necessary, even at lower resolutions, but this should still be a perfectly fine graphics card for the foreseeable future.
RTX 2060 Super
The RTX 2060 Super is a fair bump up from the RX 590, boasting more power than you'll ever need in a modern 1080p game, and built for 1440p gaming at max settings and 60+ FPS. Additionally, it also enjoys the benefit of real-time ray-tracing.
While enabling real-time ray-tracing will require you to reduce resolution or other graphical settings in order to maintain good performance- something that DLSS will offset in supported games, but still- it also ensures that your graphics experience will maintain parity with next-gen gaming experiences, which will be built around ray-tracing technology as a baseline.
For a GPU that's decently futureproofed but still doesn't break the bank too much, the RTX 2060 Super is a great choice.
RTX 2080 Super
The RTX 2080 Super is yet another major leap upward, built primarily for 1440p gaming at high framerates and 4K gaming at 60+ FPS. Like the RTX 2060 Super above, it supports real-time ray-tracing, but comes with much more raw power. This makes it even more suitable as a graphics card for next-generation gaming. Your experience with this card should remain on the cutting-edge for quite some time.
While the performance-per-dollar isn't as great as with our cheaper options, this is definitely a card worth your money if you can afford it. If you can't and VR gaming is your primary concern, than either of our cheaper options should do the job just fine.
Physical Compatibility Specs: GPU Width and Length
In order for you to install a graphics card into your system, it's going to need to fit.
If you're using a standard Mini ITX, Micro ATX, or ATX case, then width shouldn't be an issue. You'll have more than enough PCI slots open on your chassis for any of the cards on this list.
GPU length is a more pressing concern for most users. It's more likely that a GPU's length will conflict with the inside of the chassis than a GPU's width, especially in a Mini ITX or SFF PC case. For that reason, we seriously recommend double-checking your case's maximum GPU length spec against the specs that we provide in each of our reviews above. You don't want to have to return a graphics card because it can't fit inside your chassis!
What's the USB-C connector for?
At the original time of writing this article, only the RTX 2080 Super (our high-end pick) has this connector, but we expect future generations of GPUs to also add these USB-C ports. We'll update our selections properly when that happens- maybe it already has happened
What CPU and GPU specs do I need for a good VR gaming experience?
Well, we've covered GPU specs pretty significantly in this article.
CPU-wise, VR gaming requirements are about the same as standard gaming requirements, if not a little higher. We'd recommend current-gen Ryzen 5 or Core i5 processors as a baseline, with Ryzen 7 or Core i7 processors recommended for high refresh experiences.
Like with other games, the CPU is what determines the maximum possible performance you can achieve in a VR game, regardless of resolution scale or tweaking other graphical settings.
Parting Words
And that's it!
We hope that this article taught you all you need to know about buying a GPU for VR gaming.