We are reader supported and may earn a commission when you buy through links on our site.
Learn more
The Best MMO Mouse For Serious Gamers (Buying Guide – 2021)
Massively Multiplayer Online Games (colloquially abbreviated as MMO or MMOG) are booming, in terms of adoption and overall popularity. Asides knowing the right strategy and having the skill set to excel at playing games in this genre, you also need to right tools. Yes, your MMO gaming statistics (those Fortnite kill counts and World War II Online killstreak) are just as good as your gaming mouse.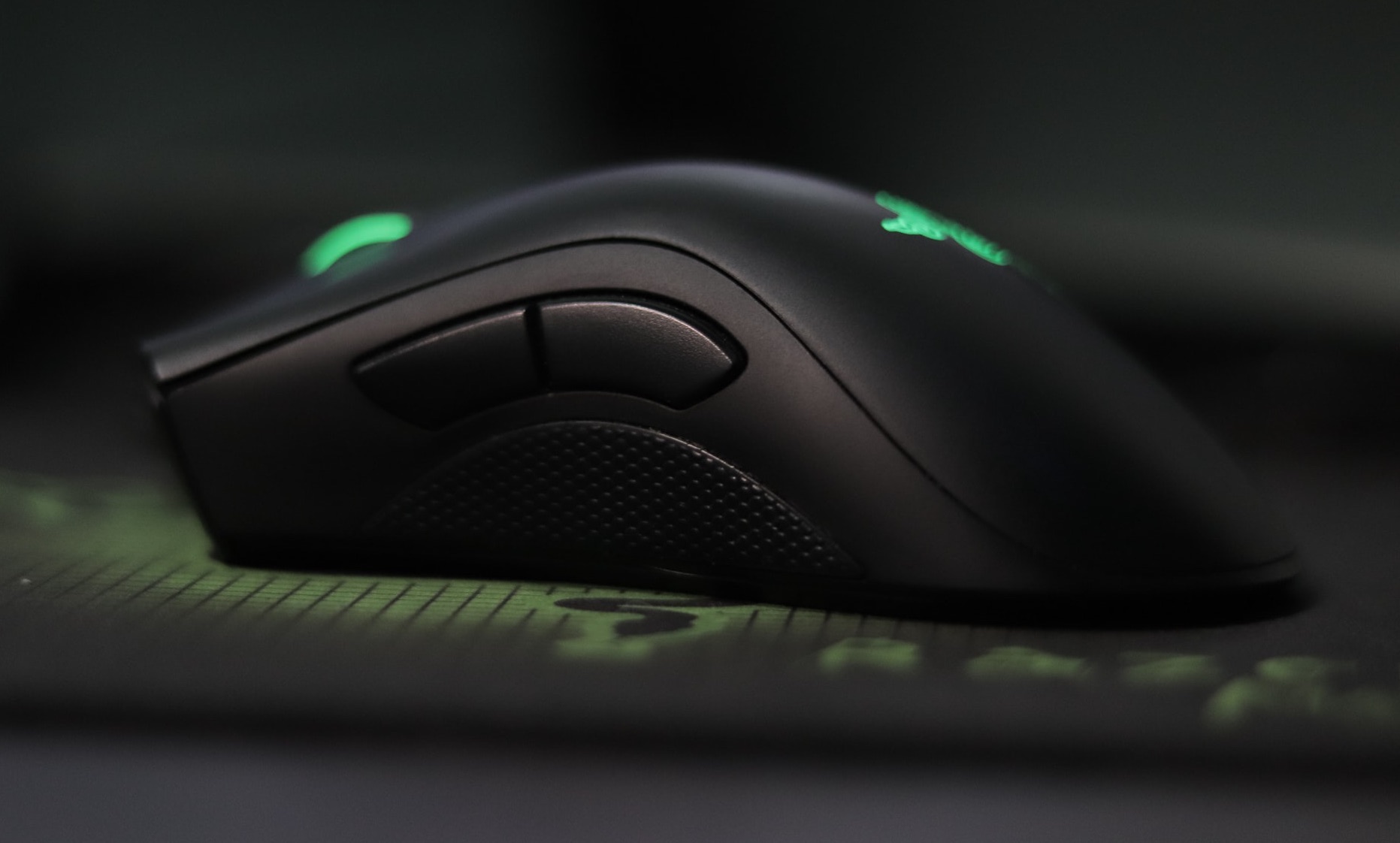 What's the best MMO mouse on the market?
MMO gaming mice typically have multiple buttons that can be reprogrammed into complex macros, keyboard keys, and other vital shortcuts to help handle repetitive gaming tasks on the fly.
Unlike the traditional 2-button mouse, an MMO mouse has at least three times more buttons, complex/advanced features, and is generally more expensive. Enumerated in this guide are six top-quality mice that would serve your MMO gaming needs.
We also included some key features to put into consideration when shopping for the best MMO mouse. Let's get right to it.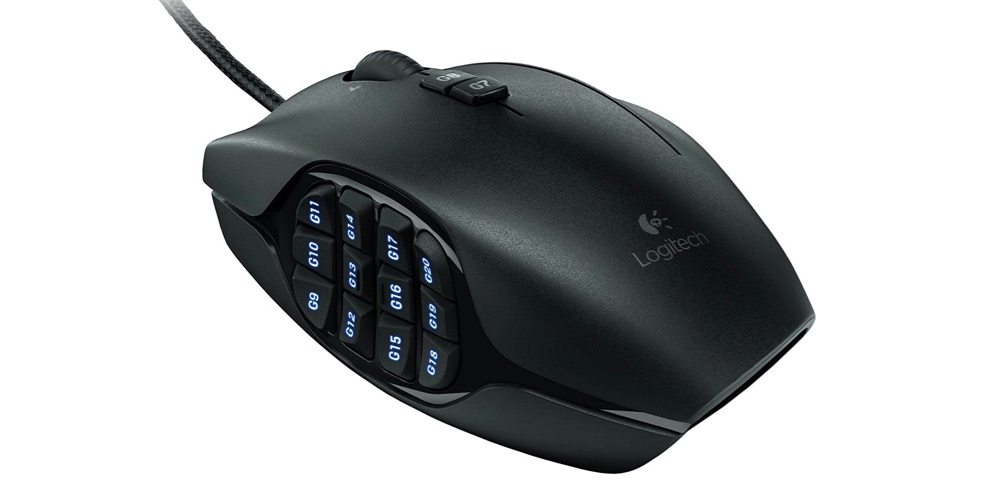 When it comes to gaming hardware, Logitech makes the best of them. If you are a Logitech fanboy in search of the best MMO mouse to purchase, the G600 is highly recommended. It is a wired gaming mouse with its cable measuring 6.5 feet (approx. 2 meters). The mouse's cable is braided with ultra-durable material that protects the in-line wires from damage due to frequent bending and folding. Asides the cable, the mouse itself is equally durable and solidly built.
The Logitech G600 might not be the prettiest MMO mouse out there, but it is easy-to-use and feels comfortable on the hands. Performance-wise, it's just as efficient. Right-handed gamers would find the 12 buttons on the dual-dish thumb panel particularly convenient and handy (pun intended). The buttons are also angled and slightly rough-textured for easy identification.
At the top, you get the standard left and right-click buttons alongside two dedicated buttons (DPI up and DPI down) for swiftly adjusting the mouse's DPI settings during usage. The G600 supports three(3) different gaming profiles that can be customized and remapped directly on your PC without having to install any third-party software. Customizations can be saved locally on the mouse or on your computer.
For each profile, you can assign functions to all buttons except the left and right buttons. Equally, the backlit keys can be assigned up to 16 million colors for each profile and whatever mode style you choose while gaming. How cool is that? To the left of the mouse is a dedicated button that Logitech calls the 'G Shift button.' Essentially, what this button does is to assign a secondary (customizable) function to each of the 12 thumb keys. This is akin to the shift button on your computer's keyboard.
Note: The Logitech G600 isn't compatible with USB hubs; it should be plugged directly to your PC's USB port.

Price and Availability
The Logitech G600 is one of the best MMO gaming mice from Logitech. It is highly reviewed and revered by users. More importantly, it comes pretty cheap. For $48.99, you can cop a unit of this gaming mouse on Amazon.
Other Key Features
Compatibility: Windows 7/8/10, macOS 10.11 or later, Chrome OS.
Shape/Form Factor: Right-handed.
Resolution: 200 – 8200 dots per inch (dpi).
Weight: 133 grams.
Max. speed: up to 160 inches per second (~4.06 meters/sec).
Pros
Two anti-friction pads on the bottom for smooth and accurate cursor movements.
Ergonomic matte black design.
Dedicated G-Shift and DPI shift buttons.
Braided and durable cable.
Customizable backlighting.
Cons
The Logitech G600 is pretty large and heavy.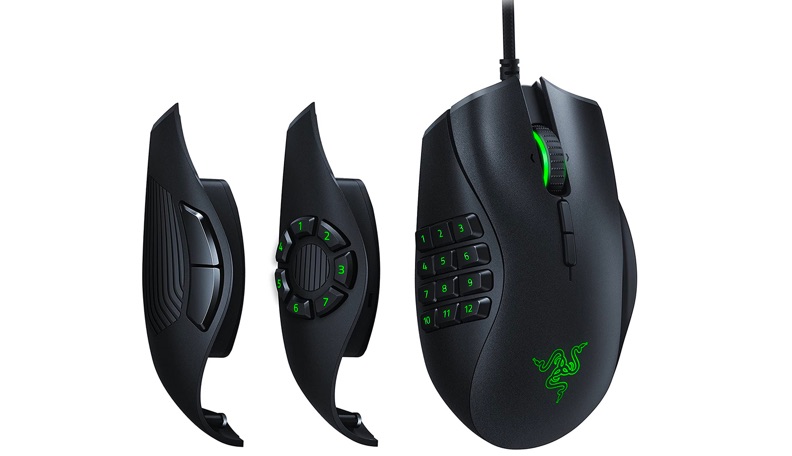 Razer is another company that manufactures some badass gaming hardware. Albeit relatively costlier than the Logitech G600, the Razer Naga Trinity is comparatively lightweight, packs more innovative features, and is worth every penny you invest in it. The standout feature of the Razer Naga Trinity is its customizability; it ships with three (3) interchangeable thumb panel. The first plate sport 12 buttons that can be programmed to your preference. The buttons are backlit but your thumb will most likely be on all the buttons with this panel. Also, there might be accidental misclicks –particularly for new users– so this panel might require some getting used to.
The second panel with a 7-button configuration is convenient to hold and more new-user-friendly. It sports a circular layout with a rubberized cushion in the middle of all the buttons. Then there's the 2-button plate with a much bigger rubber cushion. When attached, the panels are firmly held to the mouse by a magnet. They are also easily detachable and you can use the Razer Naga Trinity as a regular mouse without any thumb plate attached.
Another highlight feature of the Naga Trinity MMO mouse is the Hypershift Mode. This allows you to program a secondary function to the buttons on the mouse. The accompanying Razer Synapse software also lets you customize the Naga Trinity's sensitivity, customize lighting, assign macros and shortcuts, and do lots more. As a plus, you can hook the Razer Naga Trinity to your Xbox One console; just for basic input and game controls though, nothing complex.
The top section houses the dedicated DPI buttons, the scroll wheel, right-click and left-click buttons. These buttons take up about 50% of the top section, leaving enough room for palm rest during usage.

Price and Availability
As commonly reviewed by many users and buyers, the Razer Naga Trinity is lightweight and comfortable on the hands. The flexibility of the interchangeable thumb panel and the auto-switch feature of the Razer Synapse software are other things you'd love about this MMO gaming mouse. The Razer Naga Trinity is available on Amazon for $74.
Other Key Features
Compatibility: Windows, Mac, Xbox One
Sensor: 5G Optical Sensor
Resolution: 100 – 16,000 DPI
Shape/Form factor: Right-handed
Weight: 120 grams
Pros
Three (3) interchangeable thumb plates.
Anti-friction pads on the bottom.
Customizable RGB lighting.
Cons
Left-sided ledge adds a bit of bulk to the mouse.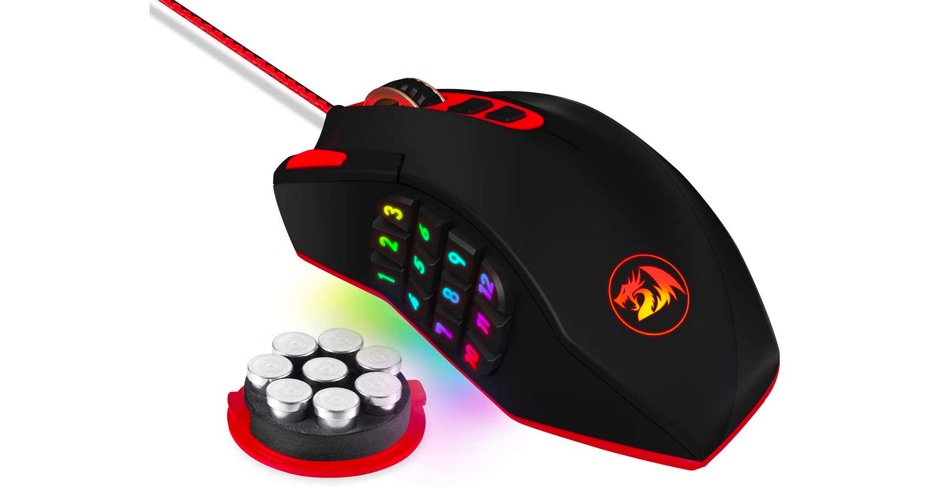 The very first thing that immediately struck my eye with the Redragon M901 is the sleek form factor. It's slim, designed for right-hand use, and manages to pack a total of 18 physical buttons – (12) dedicated MMO buttons on the thumb panel, (1) left-click button, (1) right-click button, (1) dedicated Quick Fire button, the scroll wheel, and (2) DPI adjustment buttons. Another particularly interesting add-on is the 8-piece weight tuning set. You see, Redragon understands that the M901's portability and lightweight might pose a problem for gamers accustomed to buff and heavy mice.
The tuning set fits tightly into the bottom of the mouse and can hold as many as eight (8) detachable weight-balancing metals, each weighing 2.4 grams. This will help to add some bulk to the weight of the mouse if you find it too lightweight to use.
The Redragon M901 has customizable RGB lighting and via the software, you can program each of the five (5) gaming profiles to have their individual LED color. You know, for quick and easy identification.

Price and Availability
The best part of the Redragon M901 gaming mouse is the price. You get just about the same features as other pricier products on this list for just a little over $30. It is available on Amazon for $31.99 with many buyers complimenting the mouse's ergonomics, usability, and build quality.
Other Key Features
Compatibility: Windows 7/8/10, Linux, and Mac (Limited support)
Cable length: 6-foot (~1.3 meters)
Resolution: 500 – 12400 DPI
Shape/Form factor: Right-handed
Weight: 150 grams (with the weight tuning set)
Pros
Portable and Lightweight
Quality Build
Affordable
Cons
Gamers with large hands might find this uncomfortable to use.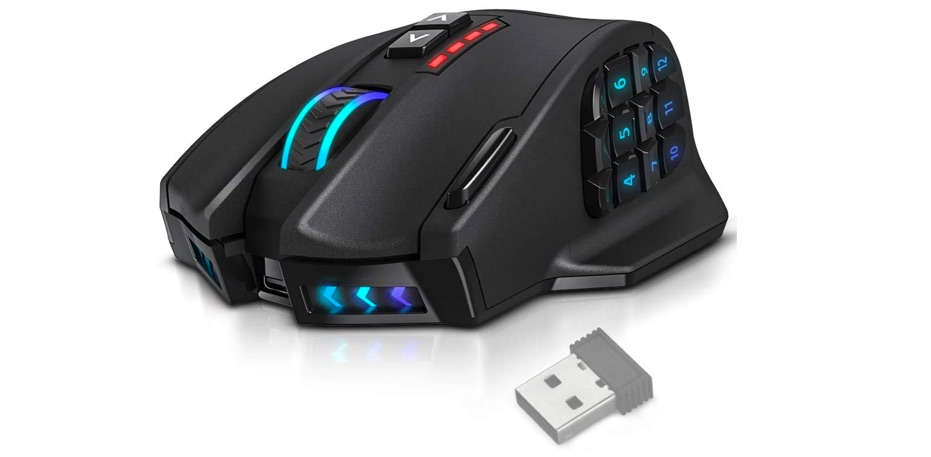 If you love your gaming table tidy and clutter-free, you should consider getting the UtechSmart Venus Pro. Most MMO mice are synonymous with cables but this one right here hands you wireless connectivity option. With this mouse, a lag-free wireless performance is guaranteed, long as the mouse is within the recommended 10-meter transmission-reception boundary. If wired connectivity is your thing, the Venus Pro ships with a braided USB-C cable. So, in the real sense, this is a Dual-Mode MMO mouse. Wired or wireless: the choice is yours.
There are 18 buttons on the mouse; two buttons (left and right-click) have fixed functionalities while 16 can be reprogrammed via the software. The 12 thumb buttons are angled for easy identification and thumb clicks. The Venus Pro's flat-resting carapace is also designed for comfortability. Resting your palm on it during long hours of gaming will result in minimal finger/wrist fatigue.
During wireless usage, you are at the mercy of the 1,000mAh battery built into the mouse. But not to worry; it is rated for uninterrupted 70-hour usage on a full charge. When depleted, it would take approximately 2 hours to get the battery fully charged up using the USB-C cable. There's no way to check the battery percentage level directly on the mouse except on the software dashboard. However, there's a low battery notification mechanism aboard. When the battery hits 20% (or lower), the mouse's RGB light will turn Red, irrespective of the active gaming profile being used.
The UtechSmart Venus Pro also sports some battery conservation mechanisms like Auto-Sleep and Auto-Shutdown Mode. These will hibernate the mouse when not in use.

Price and Availability
If the dual-connectivity and ergonomic build quality aren't enough reasons to purchase this mouse, the price should motivate you to. Not only is it one of the best MMO mice out there, but it is also one of the cheapest wireless MMO mouse money can buy you. The UtechSmart Venus Pro is available on Amazon for $49.99.
Other Key Features
Compatibility: Windows 7/8/10, Mac OS,
Cable length: 1.5 meters
Resolution: up to 16,000 DPI
Shape/Form factor: Right-handed
Weight: 11.2 ounces
Transmission distance: 10 meters
Battery capacity: 1,000 mAh
Pros
Dual Mode (i.e. wired and wireless).
Responsive and lag-free wireless connection.
Long-lasting battery.
Carrying case included in the box.
Enormous customization options.
DPI LED indicator
Cons
Might require constant recharge if you're a heavy gamer.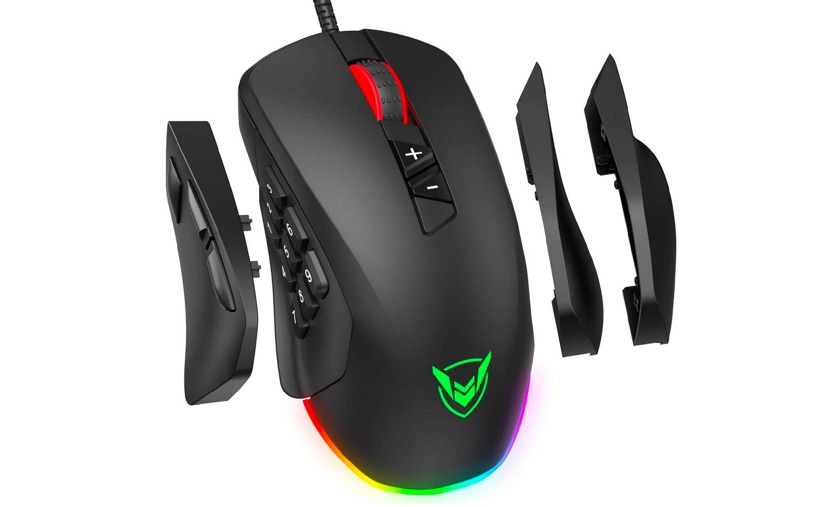 If you're on a shoestring budget, the PICTEK is the best MMO mouse we recommend. The four (4) interchangeable side plates on the right and left side is one of its key features. There are two plates that can be attached to the thumb panel: a 9-button plate and a 3-button plate – a forward, backward, and dedicated Fire button. The right-sided plates are majorly designed for ergonomic purposes. The broad plate offers a rest for your pinky finger, allowing for a comfortable palm grip. On the other hand, the smaller plate gives the mouse a slim form factor convenient for a claw-style gaming grip.
All buttons on this mouse are backlit and can be easily reprogrammed. You'd also love the RGB lighting strip along the rim of the base; it's fancy. Hate the RGB lights? You can easily turn them off using the switch at the bottom of the mouse. Despite being backlit, the thumb buttons are also conspicuous and spaced out, reducing the chances of accidental misclicks.
The companion software offers a plethora of customization options for cursor speed, sensitivity, and creation of complex macros.
Price and Availability
The PICTEK MMO mouse retails for $29 on Amazon. It is affordable and offers great value for money.
Other Key Features
Compatibility: Windows OS (XP/Vista/7/8/10), Linux OS, and Mac OS.
Cable length: 1.8 meter
Resolution: 1,200 – 24,000 DPI
Shape/Form factor: Right-handed
Weight: 9.6 ounces
Pros
Interchangeable side plates allow for comfortable usage.
Suitable for small and big hands.
Panels are easy to swap.
Appealing price point.
Cons
No dedicated ON/OFF switch.
Limited programming support for Linux and Mac.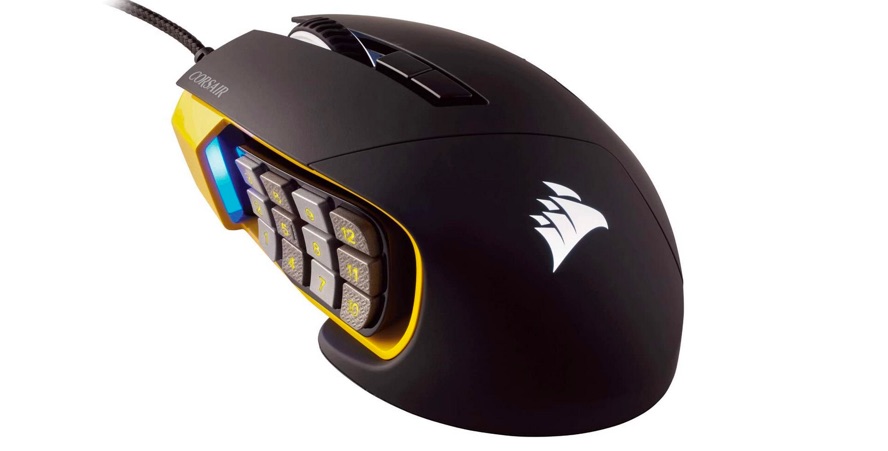 The Corsair Scimitar Pro is the most expensive mouse on this list but the features you get are worth every bit of the $80 price tag. It sports a unique slider mechanism that allows for comfortable thumb positioning during usage.
Unlike other mice with fixed key grids, the Corsair Scimitar Pro's thumb panel can be adjusted horizontally within an 8mm travel distance. To move the panel housing the 12 thumb keys, you simply have to unfasten the screw (located at the bottom of the mouse). Fasten the screw when the thumb keys are in the most comfortable position for your thumb. The keys on the second and third rows are roughly-textured for easy distinction. This is another plus.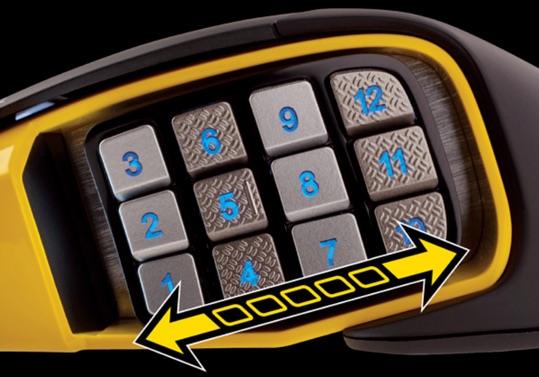 There's a textured, rubberized material on the left side of the Scimitar Pro to allow for a firm grip during usage. This can also double as a rest for your pinky. The (4) Teflon grips at the bottom serve anti-friction purposes. This mouse sports one of the best sensors in the market, the PMW 3667 with a maximum resolution of 16,000 DPI. You'd get responsive, precise, and accurate tracking and cursor movement. To add, the Scimitar Pro is also one of the very few MMO mice that supports 1 DPI increments.
All round, the Corsair Scimitar Pro is a premium mouse fully optimized for MMO gaming. The construction is solid, the design is comfortable, and the Corsair's CUE software offers a ton of simple and complex customization options.

Price and Availability
As earlier mentioned, you'd have to shell out top-dollar for this device. On Amazon, the Corsair Scimitar Pro is sold for $79.99. Asides gaming, the Scimitar Pro will also come in handy for assigning shortcuts to complex and repetitive actions in photo/video editing software, data processing tools, etc.
Other Key Features
Compatibility: Windows 7/8/10
Cable length: 1.8 meter
Resolution: up to 12,400 DPI
Shape/Form factor: Right-handed
Weight: 4.3 ounces (~122 grams)
Pros
Precise pixel-by-pixel aiming (DPI can be adjusted in increments of 1).
Adjustable thumb keys.
Textured thumb keycaps.
Software is easy-to-use.
Cons
Thumb buttons are closely-packed.
Buying an MMO Gaming Mouse: Things to Lookout For
We've listed some of the best MMO mice to buy in the market. Before you go shopping, however, there are some important factors you need to bear in mind.
1. DPI / Resolution
Typically, you'd find many manufacturers slapping numerous figures and technical jargon onto their gaming mouse. DPI is one of the few numbers you should pay attention to. For starters, DPI is an acronym that stands for 'Dots Per Linear Inch.' The DPI you set your gaming mouse to will entirely depend on the game being played.
While high DPI settings will allow for faster character movement in FPS games, you might encounter difficulties aiming the rifle reticle on your target. Conversely, lowering the DPI will foster accurate aiming but character movement might suffer.
Therefore, it is recommended that you buy a gaming mouse with a wide DPI range. You would barely need to use 10,000 DPI but having the option is a great addition. There should be dedicated DPI adjustment buttons and flexibility to set DPI increment levels via software customization.
2. Connection Type: Wired or Wireless
If you are big on cable management or you simply desire a cable-free gaming setup, there are numerous wireless MMO mice that are just as good as their wired counterparts – if not better. Asides the aesthetic appeal, there's the flexibility that comes with wireless mice. They can be conveniently used outdoors (coffee shops, cafes, etc.), on your couch, or for bedroom gaming.
However, be sure to look out for metrics like battery capacity, charge time, usage duration, transmission distance, etc. A wireless mouse should also have battery-saving mechanism and low battery notification system. Otherwise, you might have to put up with constantly monitoring battery level and occasional recharge.
Wired mice, on the other hand, are more responsive and stable. They are also generally cheaper, but not always. If you are caught in between, you can purchase a Dual-Mode gaming mouse that supports both wired and wireless connectivity. The UtechSmart Venus Pro (see #4 above) is a great example.
3. Compatibility
What device or operating system will you be gaming on? What version is the OS? Is it Windows? What version of Windows? Windows 7? Windows 8? Or 10? Is it Linux? Or you just need the gaming mouse for your Mac computer? Will you occasionally use the mouse on your console? These are some vital questions to answer before clicking that buy button. Ensure you check what platforms and devices the MMO mouse support before making your buying decision.
4. Ergonomics and Form Factor
This is where your preferred gaming hands as well as hand size come into play. Although many MMO mice are built with right-hand gamers in mind, products with left-handed and ambidextrous designs exist. You also don't want to buy a mouse that's too small or too big for your hands.
If you're unsure of your hands' size, ensure the mouse you purchase comes with detachable side plates (see the PICTEK MMO Gaming Mouse in #5 above) or adjustable thumb keys (see the Corsair Scimitar Pro in #6 above). These mice accommodate different hand sizes and allow for a comfortable gaming experience.
Conclusion
Gaming mice have tremendously evolved over the years and they get better by the day. You'd find tons of product out there but there's a lot more to MMO mice than multiple programmable buttons and RGB lighting.
Asides the aforementioned factors, you should also pay attention to comfortability, the usability of companion software, sensor accuracy/performance, and users' reviews. The selling price is also important – you have a budget, right? (Mind you, the most expensive product isn't always the best).
Go through the features of the MMO mice listed in this guide and we guarantee you'd find the right one that suits your needs.