We are reader supported and may earn a commission when you buy through links on our site.
Learn more
6 Best Monitor Arm For Improved Productivity (2021 Buying Guide)
Having your monitor fixed at an uncomfortable position that's too high or too low from your eye level could result in neck and back pain, as well as eye strain. If you often wish you could adjust your monitor to flexible viewing angles, then it's Monitor Arm o'clock.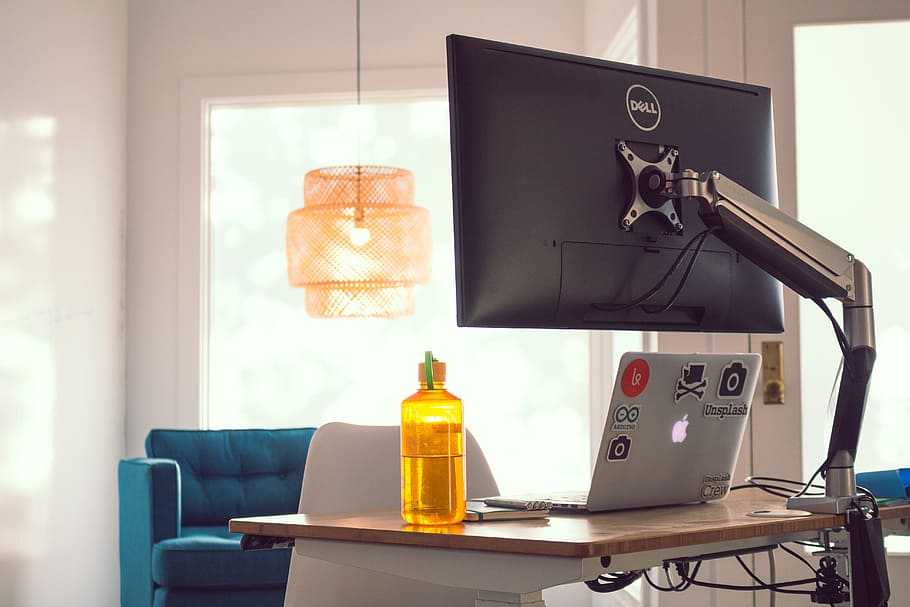 The same applies to people with a jumbled, multi-monitor work-from-home workstation looking to free up desk space and manage cable clutter. In addition to their space-saving capabilities, monitor mounts can foster productivity and efficiency.
Best Monitor Arm on the Market
In this post, we list some of the best single and multi-monitor arms, their prices, and their highlight features. There's also a cursory guide at the bottom section of this guide where we talk about things to look out for when picking up a monitor arm. Do make sure you check it out.
Now let's get down to business.
Factors to Consider Before Buying a Monitor Arm
Is this is your first time buying a monitor arm? What are some of the features to look out for? What do some of the complex terms mean? Let's walk you through a checklist of things that'll help you buy the best monitor that suits your needs.
1. Monitor Quantity
This is one of the most important determinants of the stand/mount you'd buy. Want to get two monitors off your desk to create more workspace? A dual-monitor arm is all you need. Typically, it's pretty easy to find stand/arms for multi-monitor setup with up to four screens. If you've got 5 monitors or more, you might have to construct or order a custom stand that can accommodate all your monitors.
2. Monitor Properties
The weight of your monitor(s) also plays a vital role in selecting a monitor stand. Ensure you know the maximum weight load and screen size that a monitor arm can hold. For monitor stands with multiple arms, check out the maximum weight that each arm is rated to carry and compare it with the weight of your monitors.
Size is another important pre-purchase criterion to examine. If a stand is labeled to support screen sizes between 17 — 25-inch monitor, hanging a 32-inch monitor on it is an overkill. You might damage both the arm and the monitor.
3. VESA Compatibility
You probably have seen VESA thrown around a lot in your search for monitor arms and stands. The term is an acronym that stands for Video Electronics Standards Association. It is used to indicate that a monitor stand supports the standard for mounting flat panel and curved monitors and other displays. This standard, usually measured in millimeters (mm), is the measure of the distance between the four (4) mounting holes on the back of your monitor.
The majority of modern monitors mostly have a 75mm x 75mm mounting distance or 100mm x 100mm. You can find your monitor's mounting standard on the specifications list or on the manufacturer's website. Or simply look out for the term VESA on the packaging.
With that in mind, endeavor to always check for VESA compatibility when buying a monitor arm. More specifically, 75mm x 75mm or 100mm x 100mm VESA rating.
4. Range of Motion
This is where adjustability and viewing angles come into play. What orientation will your monitor(s) be used in? And how often will you be adjusting them? Generally, as a rule of thumb, it is recommended that a monitor arm supports a wide range of motion: tilt (vertical, up and down angled adjustments), swivel (horizontal side-to-side movements), and circular rotations. These allow for flexible screen adjustments to convenient viewing angles.
5. Desk Properties
The thickness of your desk is just as important as other factors in this section. You should follow the manufacturer's recommendation as there's no fixed width or one-size-fit-all thickness for all monitor arms.
6. Add-ons
Lastly, you should also look out for monitor arms with special additions. A laptop tray, for example, is a great addition (see the Viozin 2-in-1 monitor stand in #2 above). Laptop trays on monitor arms can also double as a stand for projectors and other space-consuming devices on your workspace.
Built-in USB ports is another nifty addition you'd find on modern monitor arms. This helps with cable management by allowing users to charge devices and connect wireless devices and peripherals on the fly.
Conclusion
The products in this guide have been carefully selected to cater for a wide range of unique and individual user needs. Generally, they are of top-quality, boast of great reviews, suitable for home & office, and pretty affordable —only one product (the ErgoTron LX Desk Monitor) on this list costs a little above $100. If you've got any questions or need further clarification on buying monitor arms, drop a comment below. We'll be happy to help.