We are reader supported and may earn a commission when you buy through links on our site.
Learn more
Best RAM For Ryzen CPUs (Buying Guide) in 2021
Finding the best RAM for Ryzen CPUs may not be easy if you don't know what to look for, but fortunately we have you covered. While Ryzen CPUs are notoriously more dependent on having great RAM than Intel CPUs, ensuring that you have great RAM with your Ryzen CPU will enable the industry-leading multi-core performance that these chips are known for in comparison to their Intel counterparts.
Don't know a whole lot about RAM and etc? Don't worry- we've narrowed down the best RAM for Ryzen CPUs for you to choose from, and written a detailed buying guide to help you make an informed purchase.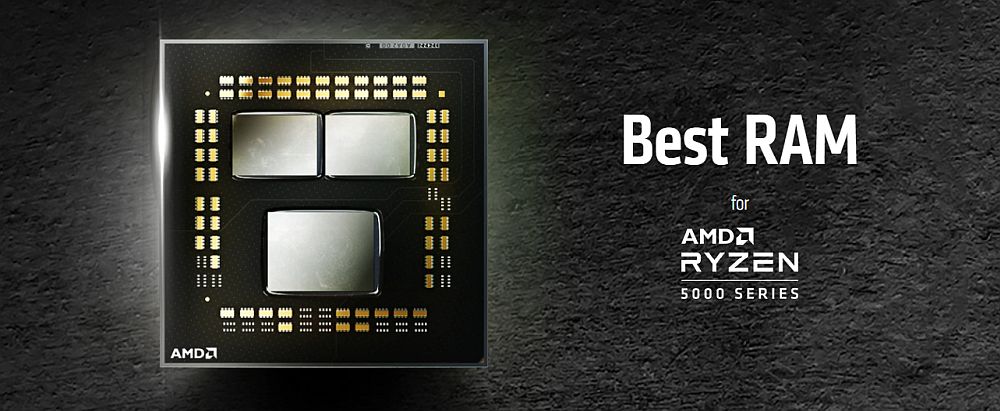 Best RAM For Ryzen CPUs
We've done the research so you don't have to; this is our list with the best RAMP for AMD Ryzen processors.
All You Need To Know About Ryzen RAM
Read through our reviews and still not sure what to pick, or skipped down here to learn the need-to-know info for an informed buying decision? Either way, we have you covered!
Why does AMD Ryzen require different RAM compared to Intel Core processors?
Infinity Fabric.
To specify, Infinity Fabric is a memory management technology in AMD CPUs and GPUs. The Infinity Fabric in an AMD CPU is what connects every part of the CPU to every other part of the CPU, and even some connections to the board and chipset. This Infinity Fabric is a key part of what makes Ryzen processors so good at handling multi-threaded workloads, and its performance can be both positively and negatively impacted by the RAM that you choose to pair it with.
What makes RAM good for Ryzen?
Infinity Fabric, but also the manufacturing process.
There are a few different ways to evaluate what kind of RAM will be good for Ryzen CPUs.
The usual points of RAM-buying advice remain true:
Speed – Higher is better
CAS Latency – Lower is better
Capacity – More is better
There are a few other factors to take into account as well. If we had written this guide a few years earlier, we would have spoken at length about Samsung B-Dies here. Samsung B-Dies were included in particular RAM kits and enabled even better performance with Ryzen CPUs, though only by small (5 percent or less) margins. Seeing as these are no longer being manufactured as of 2020 and this article is being penned in 2021, we aren't going to be including B-Die picks in this article- though with some of the higher-end options you may Happy Accident your way into one anyway.
Why does Configuration (Dual-Channel, Quad-Channel, etc) matter, and what is it?
When you install RAM onto your motherboard, you have a few different options depending on the number of available RAM slots and RAM sticks. The size of your motherboard has a big impact on this.
1 Slot Full / Any Size – Single Channel
2 Slots Full / Mini ITX – Dual Channel
4/8 Slots Full / Micro ATX & ATX – Quad Channel
When your RAM is running in Single Channel, that means you have only a single RAM stick active in your system. Single Channel RAM is limited to half of its rated speed due to the way that DDR (Double Data Rate) functions.
DDR RAM is functioning as intended when you have two identical RAM sticks running in a Dual Channel configuration. This allows the RAM to reach it's full rated speeds by synchronizing with another, identical chip.
Quad Channel further improves upon this, but only marginally- for instance, speed does not double again. It's DDR, not QDR.
In general, Dual Channel offers the greatest performance improvement, where Quad Channel only provides marginal gains in specific high-end workloads. We always recommend Dual Channel or better when buying RAM for your system.
What capacity is right for me?
RAM capacity is pretty straightforward, fortunately. We'll just break it down below for you.
Non-heavy web browsing and light productivity/gaming = 4 GB
Modern gaming and regular productivity/heavy browsing (10+ tabs in 2+ windows) = 8 GB
Heavy productivity/gaming or extreme web browsing (10+ tabs in 3+ windows) = 16 GB
Extreme heavy productivity (ie virtualization, (game)servers, and etc) = 32+ GB
Enterprise productivity = 128+ GB, to scale with needs
What speed is right for me?
RAM speed impacts Ryzen CPUs a good bit more than it impacts Intel CPUs due to the aforementioned Infinity Fabric. In general, though, we recommend aiming for 3000 MHz as a baseline for good performance with Ryzen CPUs. Higher is still better, but past the 3000 MHz range the improvements will seem fairly marginal for most users, if they can be seen at all. We don't recommend going below 3000 MHz, though, as this will cause you to lose at least a little bit of performance.
Parting Words
And that's it!
We hope that this article helped you find the right RAM for your Ryzen system and taught you a thing or two about the underlying technology. If you have any other questions or concerns, leave a comment in the comments section below and we'll get back to you as soon as possible!