We are reader supported and may earn a commission when you buy through links on our site.
Learn more
The Best Smart Thermostat for Your Home in 2021
Our home is our safe haven from the outside, and when we return to it from a hard day of work, we would like for the atmosphere to be just perfect, and one of the biggest factors that can contribute to this is the temperature.
The thermostat has become a staple in every modern-day home, and while the smart thermostat isn't all that new (the first one appeared in 2009), they too are steadily becoming the new norm of the 21st century household.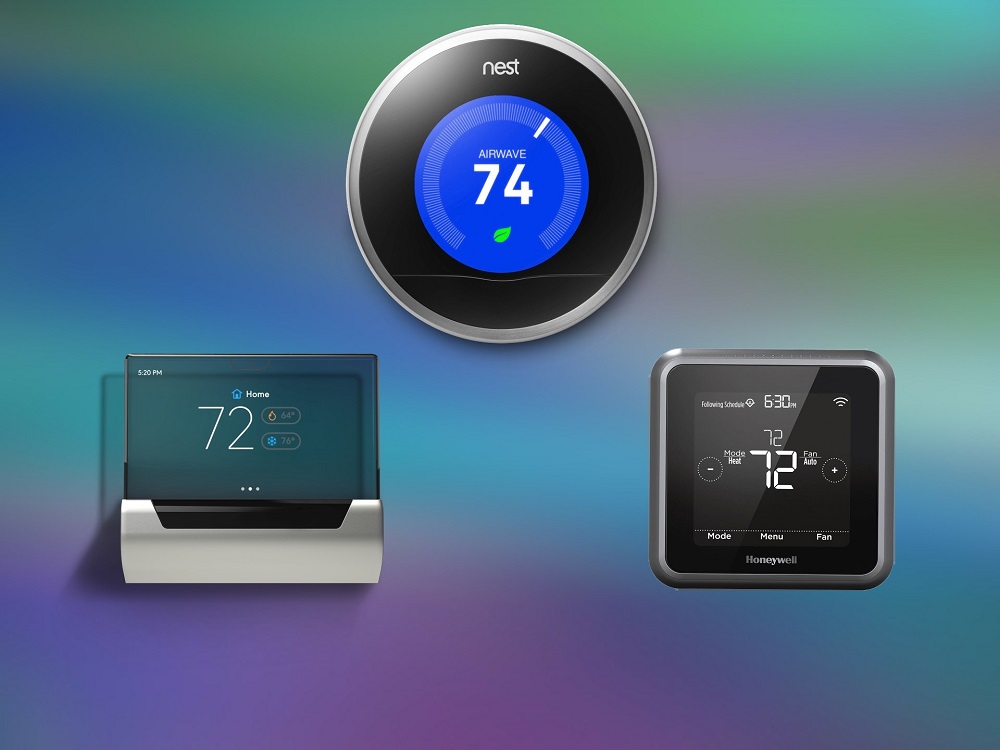 Everyone who has browsed the subject at least once knows about the Google Nest, which allows you to remotely control the heating or cooling of your household remotely, but they are no longer the only providers on the market.
How Should I Pick My Smart Thermostat?
For starters, you need to know that not all thermostats are the same, with some meant to fulfill the most basic of functions, such as heating and cooling, while others now offer more complex services, such as dehumidifying, ventilation, activation based on your location, and more.
As you know, even a non-smart thermostat is meant to reduce the heating and cooling costs of a house by regulating the inside temperature whenever it reaches certain thresholds. This means that your heating will not start during the summer heat waves, and your AC will not start during the cold winter months, and this selective behavior eventually leads to reduced utility costs that ramp up over time.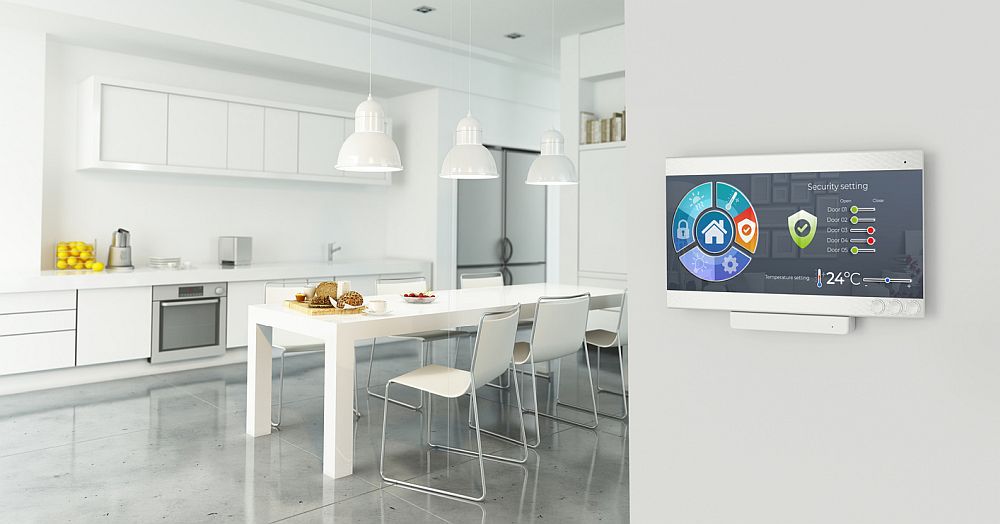 Basic smart thermostats are cheap, but they still require that you have Wi-Fi within your home in order to work and be controlled remotely, such as being controlled from a mobile device, and while some support dedicated apps for controlling them, some are even easier to use, requiring only a browser.
It goes without saying that the more features a thermostat has, the more the price goes up, even if those features have nothing to do with temperature regulation directly.
The Smarter the Device, the Higher the Price
The cost also goes up whenever a thermostat offers services that eliminate direct user input, or "smart" features. For instance, the Nest Learning Thermostat monitors your daily activity in order to figure out by itself when it should start heating or cooling your house, such as starting whenever you return home from work during the weekdays.
Thermostats with bright and colorful displays and more fancy menus cost more, while the most expensive of them have motion sensors that light up whenever you walk into a room. Some models come with remote room sensors so that it regulates the temperature throughout your entire house, not just the room where the thermostat is located.
Other thermostats support geo-fencing, which means that they monitor the location of your mobile phone so that they know precisely when you enter or leave the house.
Certain thermostat models like the Nest Learning Thermostat work with pretty much all other Nest devices in your house, such as the smoke detector or Nest cameras, while other models work with lighting systems, ACs, personal voice assistants (Google, Alexa, Siri, etc).
Speaking of voice assistants, the most expensive of voice thermostats even come with their own built-in voice assistants, and you can ask them to do things well beyond the capabilities of even a regular smart thermostat, such as playing music.
Lastly, if you're going to buy a smart thermostat, try to look for models that work with as many other smart devices as possible, since many of them can sync in one way or another for increased effectiveness.
How do I Install a Smart Thermostat?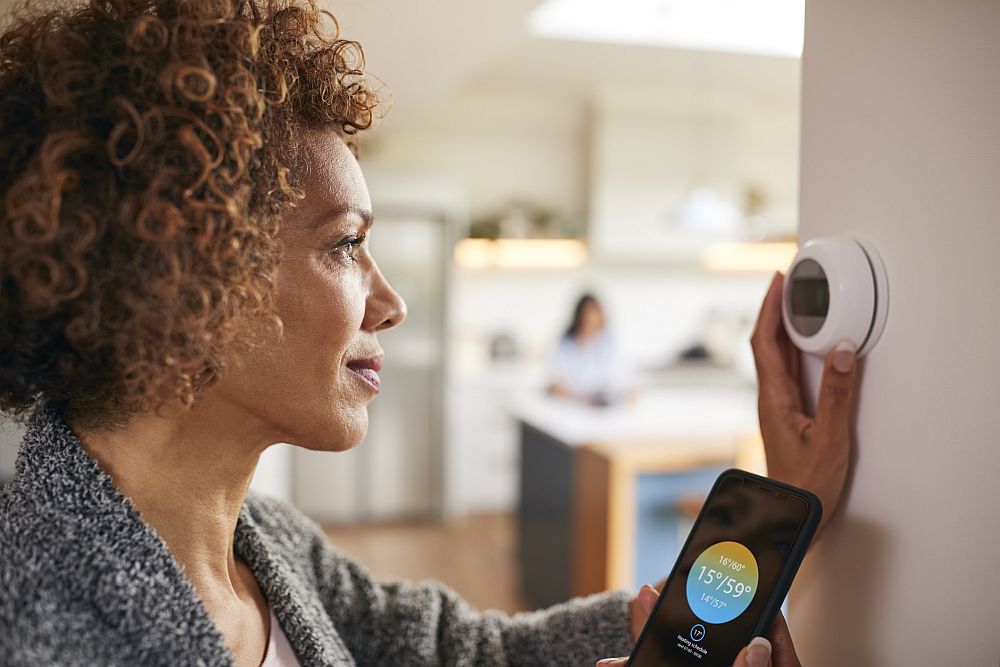 Despite being labeled as smart devices, there's nothing complicated about installing most modern-day thermostats.
However, while there isn't much that you need to know about installing the device itself, you'll still need to know some things about your home system for when you install it, such as the wiring.
In fact, one good tip when installing a new smart thermostat is taking a picture of the old one and how the wires were connected before you remove it, so as to have a good point of reference of where everything goes.
HVAC Houses
If your house has a complex multi-component HVAC system, meaning whole-house dehumidifiers, heat pumps, and ventilation systems, you'll need to make sure that you buy a thermostat that supports all of those features.
Unfortunately, such a complex system also means that you better leave the thermostat installation to a professional.
Smart Thermostat Power Supply
If you own an older house, one of the key components that you'll need to look for when installing a new thermostat is whether or not you have a C wire, which are used to supply the thermostat with power, which is something that older thermostats did not need, so there is a high chance that an older house does not have one.
Thankfully enough, you don't have to redo your house's entire wiring system just because you want a new thermostat, since many models come with extender kits that let you install a power supply yourself.
Some models like the Nest thermostats don't need a C wire installed to run, but they will steal power from the furnace control circuits to keep the internal battery charged, and while normally this wouldn't be an issue, but it has been reported that it can cause problems with certain HVAC systems, and in some rare occasions they can even end up frying your circuit board.
If you want to avoid that, the best solution would be to hire a professional to install a C wire for you, although keep in mind that it will end up costing you around $150.
Which Are the Best Smart Thermostats of 2021?
Because a thermostat holds such an important role in our everyday lives, we've decided to compile a list of the best ones available on the market today, and these entries will be selected based on multiple criteria:
Topping off our list of best smart thermostats of 2021 is the Ecobee Smart Thermostat, the 5th iteration of Ecobee's line of smart thermostats, and the most fully-equipped one to date.
It features full voice assistant support as well as multimedia support, powerful audio speakers and microphone, dual-band Wi-Fi support for both 2.4GHz and 5 GHZ networks, and more.
Design
The device measures merely 4.2 by 4.2 by 1.0 inches, and it is currently available only black, and it appears glossy because of the glass screen that covers the device's large color touch display.
Below the screen are the high-quality speakers through which the thermostat will communicate with you, and they also double as high-performance microphones that will help your commands be heard even from the opposite end of the room.
The package not only contains the thermostat itself, but also a dedicated SmartSensor that helps you control the temperature of rooms that are well outside the range of the main thermostat.
You can purchase extra remote sensors if you want, as the device can support up to 10.
Controls
The Ecobee Smart Thermostat is more in lines with a mini computer, being powered by 1.5GHz quad-core CPU, 4GB of flash memory, and 512MB of DDR4 RAM.
As for what it can do, this device doesn't just raise or lower the ambient temperature, since it comes equipped with temperature, humidity, proximity, and occupancy sensors, and advanced voice technology of which it makes use to great effect.
The Ecobee Smart Thermostat is also the most versatile when it comes to how many voice assistants it can be controlled with, including:
Amazon Alexa
Google Assistant
Samsung SmartThings
Siri
Apple's HomeKit platform, and more…
More so, you can integrate it with most other smart home devices, since it fully supports all IFTTT applets, and you can even add it to all common home automation systems, such as SmartThings, Vera, and Wink.
Another neat feature is the fact that the thermostat's speakers can be used to play music, and what makes it so great is that you can connect it to popular streaming services such as Spotify.
In fact, pretty much all of Alexa's functionalities are included in this app, so listening to music, radio, or local weather forecast will be nothing out of the ordinary.
Lastly, the Ecobee's app is also something worth mentioning, since none of the other thermostats that we've tested had an interface that was as complex, comprehensive, and yet easy-to-use at this one, and enjoyed calibrating the thermostat to meet our every need.
Verdict
There's no doubt that the Ecobee Smart Thermostat is the best one that you can buy in 2021, and we've got the specs to prove it.
While the price tag may be a bit higher than our other entries, it will be worth it several times over once you realize how efficient it is to use, how great it is to control, and how you are also basically getting an Alexa assistant as a 2-for-1 deal.
If you're looking to enrich your life with an amazing new smart home device, go ahead and buy the Ecobee Smart Thermostat with Voice Control, and if you have a big house with lots of rooms, get some extra Remote Sensors to spare.
Probably a staple name in any list of smart thermostats, the Google Nest basically launched the trend, and even after 10 years since the first model hit the market, it still holds on pretty strong.
The first perk that comes to mind with this thermostat is the fact that it is considered an entry-level device from a price and functionality point of view, being the most affordable of all Nest thermostat models.
Just like all other smart thermostats on our list, this device lets you control the temperature and cooling of your house via phone or voice, and you can even set work schedules to save energy and not start up when it isn't needed.
It alerts users whenever HVAC issues are detected, and it even supports the Nest Temperature Sensor that allows you to monitor other room's temperature and control them as well, not just the one where the Nest is housed.
Design
As far as aesthetics go, the Nest Thermostat has a very sleek design, featuring a round mirrored touch display where it can show you the ambient temperature, your target temperature, and whether it is heating or cooling down the room.
It measures 1.07 inches thick and 3.3 inches in diameter, it is made from 49% recycled plastic, and comes in 4 different colors that will suit almost any household:
Speaking of aesthetics, the Nest also comes with trim kits that help you hide whatever holes and cracks were left behind from removing the old thermostat.
Controls
You can control the device either through its own touch-screen, or via Google Home app, Google Assistant, and Amazon Alexa voice commands.
Controlling the device directly can be done through its touch bar located on the right side, since the screen is for display purposes only, and not control.
The touch bar lets you set the temperature via swiping up or down, and tapping it will launch other useful menus on the screen, such as the calendar, indoor and outdoor temperatures, and more.
The Google Home app has all of the functionality of the device's native menu, and even a few extra features, such as graphs designed to show you how the thermostat worked over a set period of time, how you can save energy , and more.
Verdict
All in all, the Google Nest has all of the features that you would expect from a good smart thermostat, from a modern design to in-depth climate controls, and given how it is so affordable, it more than deserves our top spot.
You can purchase a Nest Thermostat from Google's official stores, or you can even take advantage of the occasional Amazon sale, as sometimes they sell it even cheaper.
The next entry on our list is a smart thermostat that is compact, easy to install, is C wire compatible, and uses remote sensors (up to 20) to ensure that your entire house is heated or cooled in a uniform manner. Meet the Honeywell Home T9.
These sensors also monitor when a person enters a particular room so that it can bring the temperature in it to the same level as the room where the thermostat is located.
It's a bit more expensive than our #1 entry by about 70 dollars, although it does come packed with a few extra features which we will be discussing in greater detail below.
Design
The thermostat is very small in size, and the overall shape is that of a square with rounded edges, measuring at 4.9 by 3.7 by 0.9 inches and has a 3.3-inch (diagonal) color touch display.
Unfortunately, there isn't much variety in terms of what colors it is available in, as users will just have to stick to the T9's traditional white color scheme.
Controls
Besides the obvious temperature sensors, it also comes with humidity sensors, and it is 2.4GHz and 5GHZ compatible, allowing it to connect to all home networks currently available.
As for installing the thermostat, you'll have everything you need in the box when you order it, including:
The wireless smart room sensor
C-Wire adapter
Mounting screws
Mounting plate
Wire labels
An installation guide
Because of this complete package deal, the thermostat is marketed as being a model that anyone can install by themselves, and truth be told we found no difficulty in mounting it in place of our old thermostat.
Most importantly, the T9 is compatible with most modern-day HVAC systems.
The T9 can be controlled via touchscreen, voice (Amazon Alexa, Google Assistant, and Microsoft Cortana), or app, and it can connect to other smart home devices via IFTTT applets.
One downside to this model is that it doesn't seem to work with other Honeywell devices, such as the security cameras or water leaks or freeze detectors.
Verdict
All aspects considered, the Honeywell Home T9 Smart Thermostat is great for anyone that has a large house that needs to have its heat regulated accordingly, and the wide range of control options make it an excellent choice for users with different voice-controlled devices.
The Honeywell Home T9 Smart Thermostat can be purchased for a good price off of Amazon, although a good idea would be to keep an eye on their official website as well.
Most likely you are probably wondering why the Google Nest Learning Thermostat isn't somewhere higher on our list, especially given how Google Nest is our 2nd pick.
The answer is pretty simple: while this device does indeed come with a lot of extra features compared to its basic counterpart, the price tag is almost double.
As far as functionality goes, the main difference between the two entries is something that you can pretty much guess from the name: this device learns by itself to the point where it will require minimal human input (or even none).
Design
The Google Nest Learning Thermostat features the same core design as the regular Google Nest, with a circular shape and glass display, although it is a bit thinner at only 1.2 inches thick and 3.2 inches in diameter, with a much bigger 2.1-inch display.
The body of the thermostat is also of a much higher quality, being made from metal rather than recycled plastic, and the color schemes are also a bit different because of it:
Black
White
Stainless steel
Copper
Controls
The main highlight of this device is the Auto-Schedule feature that learns what your daily heating and cooling temperatures are, and it does this over the course of the first week of its use.
You can still adjust these settings manually later, although this feature can come in handy for those that hate to sit around and schedule their thermostats manually.
Just like the Google Nest, the learning variant uses an outer ring to control the device manually, and using it is pretty much the same (swiping up and down to regulate temperature, tapping to access menus, etc.)
The Google Nest Learning Thermostat also has more sensors inside of it compared to the basic version, and these include light, humidity and activity sensors.
As mentioned in the intro, some thermostats light up their display when you enter the room, and the Google Nest Learning Thermostat is one of them.
This makes assessing the status of a room easier, since you no longer need to go up to the thermostat per se and interact with it to see the screen.
As far as compatibility is concerned, the Google Nest Learning Thermostat works with all other Nest devices, and you can control it via Google Home, Amazon Alexa, and IFTTT applets.
Verdict
When we tested out this thermostat, our main concern was how well the Auto-Schedule worked, but we were pleasantly surprised to see that it did a great job at monitoring our exact routine and preferences.
The larger screen and Fairsight feature made reading the thermostat a lot easier, and the color schemes made the room look a whole lot more modern and in tune with the 21st century.
Thus, if you're not bothered by the much bigger price tag and consider that the extra features are more than worth it, go ahead and get the Google Nest Learning Thermostat right away.
The GLAS Smart Thermostat by Johnson Controls is a well-equipped smart home device that boasts a very unique and modern design, although this doesn't mean that it emphasizes form over function.
Although the company that created this thermostat isn't all that well-known as our other entries, it does a great job at maintaining a pleasant home atmosphere to warrant it a spot on our list.
Design
Unlike our other entries that usually feature the thermostat itself with a screen/touchscreen on it, the Glas Smart Thermostat features a translucent OLED touchscreen from which you can manage your thermostat's settings manually.
The base of the thermostat from where you mount it on the wall is silver and black, which makes it an excellent choice for almost any room.
It measures 1.18 x 5.51 x 5 inches, and the user interface is modern-looking and beautiful, with an almost Windows 10/Android/iOS vibe to it.
Controls
One of the Glas thermostat's key features is the air quality monitoring tool that works both indoors and outdoors, allowing you to know just how hot or cold it is outside, but also the quality of the air itself.
The device works with Amazon Alexa and the Google Assistant, and you can also control it, along with many other Glas thermostats via a dedicated app which is available on both Android and iOS.
Speaking of apps, the thermostat continuously receives updates, so it basically gets better over time.
Just like the Nest Learning Thermostat, the GLAS Smart Thermostat features it's out version of Auto-Schedule called Smart Scheduling, and they work in pretty much the same way, adapting to your daily life and eventually leading to lower utility bills.
As for what systems it works with, know that the GLAS Smart Thermostat works with almost all HVAC systems, and you can see exactly whether your system is compatible by visiting the GLAS website.
Verdict
The GLAS Smart Thermostat gets the most points on our list by far in the visuals department, with the translucent OLED touchscreen looking great in pretty much any room design.
More so, the fact that it monitors not just the temperature but also the quality of your ambient environment makes it a must-have for anyone living in big polluted cities.
All in all, it is a very reliable smart thermostat, it handles the temperature within your house very well, and the fact that you can program it via voice assistants or dedicated apps make it a great addition to any modern-day household user.
You can get the Glas Smart Thermostat straight from the official Johnson Controls Amazon website, or from their official website, so go ahead and make your smart home even smarter and better-looking today!
The Lux Kono is a staple product created by Lux Products, and represents a step forward in terms of smart device technology, being lightyears ahead of their previous devices.
Design
The Lux Kono is quite unique in terms of design, and while other thermostats actually look like climate control devices that you need in your house, this device looks so well you feel like it actually makes the room look better.
At 4.5 by 4.5 by 1.0 inches, it is pretty much the same size as other standard thermostats, and the faceplate is removable and comes in 6 different color schemes:
Midnight Black
Deep Blue
Hibiscus Red
Sea Green
True White
Paint-it-yourself (so you can customize it as you see fit)
One great feature is that new faceplates can be bought separately, so you don't have to worry about the thermostat no longer being in tune with your room in case you ever redecorate.
Controls
You can control the Lux Kono from the device itself using an aluminum knob, or you can opt to use Amazon's Alexa, Google Assistant or Siri to control it via voice.
It also features geo-fencing, allowing it to work by itself whenever you enter or exit a room, just as long as you're ok with sharing your location with Google Services.
The Lux Kono can also be set and managed via their dedicated app, and you can use it to set your custom heating/cooling schedule, adjust your temperature needs, turn geo-fecing on and off, and more.
Unfortunately, this is where the list of control features ends, since the Lux Kono isn't made to work with other smart home devices, nor does it come with any remote room sensing capabilities.
Another drawback is that it doesn't allow you to monitor outdoor weather conditions and humidity levels, and as you may know, these can greatly affect the way your thermostat can heat up or cool off a house.
Installing it isn't much of a big deal, although those that are completely unfamiliar with how electrical wiring works are advised to seek professional help.
It uses a C wire as a power source, but it also comes with a C wire adapter in case your house doesn't have one.
Verdict
All things considered, the Lux Kono is a well-rounded thermostat that has all of the functions you would expect from such a device.
You can control it through multiple methods, both manual or via voice commands or app, it supports geo-fencing to control the room temperature based on your location, and the price is fairly reasonable.
While we give it extra points for how well we can customize it with our home décor, we can't help but take some of those points back for its lack of compatibility with other smart devices, as well as the lack of some very useful sensors.
Nonetheless, it performed well during tests, allowing users to change temperatures fast and easily.
Head over to Amazon and try the Lux Kono for yourself, and you won't regret it.
If you want a smart thermostat that is indeed smart, but still maintains a classic design to it, then look no further than the Sensi Touch Smart Thermostat ST75.
This device is easy to install, set, and control, and you can use it to set your home's temperature from just about anywhere, so that you can find your house just the way you want it on the inside.
Design
There aren't many design options for the ST75 other than the ability to choose between a glossy black and glossy white exterior, and unless you have a real pageant for gadgets that look a certain way, this thermostat is more than enough.
The full-color touch-screen control panel is very large at around 4.2-inch, which makes it visible from afar, and the device as a whole measures 3.4 by 5.6 by 1.0 inches.
Compared to the ST55 which will appear in our list later, the design is much more modern, and the first thing you'll notice is the lack of any actual physical buttons.
Control
The thermostat comes with a built-in Wi-Fi radio that lets it connect to your home network, and can be controlled via Amazon Alexa, Apple Siri, and Google Assistant voice commands.
It comes with geo-fencing, you can set it to alert you when temperatures and humidity levels drop below a certain point, and you can create your very own 7-day heating/cooling schedule so that you can save as much on your utility bills as possible.
Unfortunately, the ST75 doesn't support IFTTT applets, and therefore no other IFTTT-compatible smart home devices.
Another drawback is that the ST75 doesn't come with remote room sensors, so you'll need to install one device in each room where you want your temperature to be controlled.
Verdict
The Sensi Touch Smart Thermostat ST75 excelled at pretty much everything we tried putting it through, and it does a great job at heating up or cooling down your rooms as soon as you give the commands.
However, the dated design and limited functionality (lack of IFTTT support and remote room sensors) are the only real reasons this product is not higher on our list.
Nonetheless, if these drawbacks aren't so important and you only want a thermostat that does its job right, then go ahead and buy the Sensi Smart Thermostat ST75 right now.
Affordability and a classic design are what make the Sensi ST55 so popular among users, and with its own fair share of features and temperature control tool under its belt, it's no wonder it made our list.
Design
When it comes to fashion, this is where the Sensi Smart Thermostat ST55 loses the most points, since at first glance it looks like a classic non-smart thermostat.
It measures 3.7 by 5.8 by 1.0 inches, and is only available in a plain white color with a monochrome LCD display along with the Mode, Fan and Schedule buttons (these are actual physical buttons, as the device lacks touchscreens of any kind).
Controls
The aforementioned buttons can be used to regulate room temperature, and the design is quite intuitive (pressing up raises the room temperature, pressing lowers it, etc.).
You can use the buttons to configure your Wi-Fi settings, switch between Fahrenheit and Celsius scales, configure heating, cooling and humidification settings, and more.
As far as requirements go, this thermostat is compatible with most HVAC systems, although a C wire is a must-have if you want to install it.
Connectivity is also pretty limited compared to our other entries, since it only supports 2.4GHz Wi-Fi radio, although command input is still varied as it works well with Alexa, Google, and Siri voice commands, but not IFTTT applets.
You can further integrate it into your household with HomeKit, SmartThings, and Wink systems, and it has some form of geo-fencing, although it is pretty limited in terms of functionality.
Verdict
The price is reasonable and the features are plenty, it is easy to install and program, can be controlled through a wide variety of means, and it also performed flawlessly during tests.
In fact, the only true drawback of this smart thermostat is the dated design and presence of physical buttons, but if you value function over form, then by all means go ahead and give this thermostat a try.
You can buy the Sensi Smart Thermostat ST55 from Amazon, and you can even take advantage of the flash sales that they offer sometimes.
The Bosch Connected Control BCC100 doesn't stand out with anything in particular, since it comes well-equipped as far as tools and features are concerned, allowing you to control the temperature within your home from anywhere as long as you have your phone at hand.
Design
The entire device measures 3.0 by 5.1 by 1.0 inches, and the screen is large and colored, so using it is fairly easy regardless of whether you are doing it manually, via voice commands, or through the dedicated app.
Unfortunately, not much can be said about the outer shell, since it only comes in a standard matte white finish
Control
The Bosch Connected Control BCC100 is compatible with almost any 24V HVAC system, and it uses a 2.4GHz Wi-Fi radio to be connected to your network.
Unfortunately, there are a lot of cons to this thermostat as well, or at least when you compare it with what the other entries on our list have to offer.
For example, it lacks remote room sensors, so you'll need to install a thermostat in each room, and it doesn't have any geofencing capabilities either, so you'll need to program the thermostat according to your schedule yourself.
Finally, it lacks any form of Smart Home integration, and the only voice assistant that it works with is Amazon's Alexa, and even then you're pretty limited to just raising and lowering the room temperature.
Verdict
Of all the smart thermostats on our list, this one is admittedly the most basic of them all, both in terms of how it looks, as well as what it can do, but that's not necessarily a bad thing.
If you're the type of user that still prefers the classic thermostat, the BCC100 is the perfect product that can help you transition to something better and more high-end.
For those of you that are indeed interested in this model, you can get the Bosch Connected Control BCC100 from Amazon, and even take advantage of the occasional sale their having
Smart Thermostats: Conclusion
New thermostat models are appearing each year, but not all of them are good enough to make it on our list.
Some devices look great and can be easily customized, others are super effective at what they do, and finally there are those that are just plain affordable and therefore available to anyone.
In the end, the choice is entirely up to you, and based on our brief descriptions we hope that you will be able to pick out the perfect thermostat that will work with your household.
However, keep in mind that the price of a smart thermostat is greater than that of a traditional one, but the return-on-investment will come soon enough once you see how the electric and gas bills go down.
Do you know of any other thermostat that deserved a place on our list? If so, tell us about it in the comments section below, we'll review it, and if we're impressed by its specs, we'll add it to our list.