We are reader supported and may earn a commission when you buy through links on our site.
Learn more
Best USB Wi-Fi Adapter for Windows Desktop PCs
In this article, we're going to go over our picks for the best USB Wi-Fi adapters for Windows and how to pick which one is best for your needs.
Best  w/  Antenna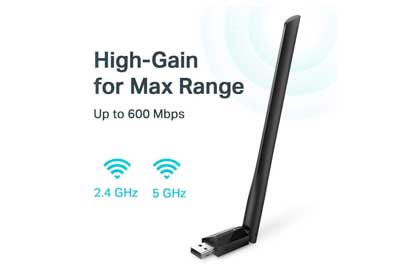 High performance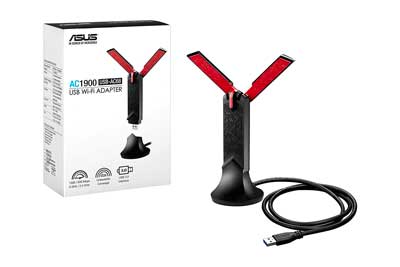 Best for Gaming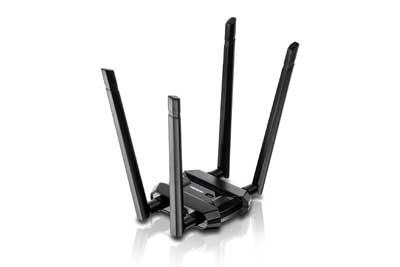 Don't worry, you don't need to be hyper tech-savvy or anything like that to read this article and make a good choice. We've done most of the vetting for you, and if you're already savvy, you can just go ahead and grab the pick that best suits you. But if you aren't sure about any jargon or tech specs being thrown around, just scroll down to the "How To Choose" section, and we'll tell you everything you need to know to make an informed buying decision!
Which USB Wi-Fi Adapter Is Best?
Even if you don't buy anything today, we're hoping that this article builds your tech knowledge just a little bit more and serves you in the future.
Let's dive into it!
USB Standard: USB 2.0 | Antenna?: Yes | 5 GHz Support?: No | Estimated Speed: 150 Mbps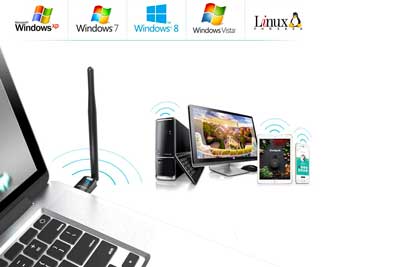 First and foremost is our cheap pick, the EDUP USB Wi-Fi adapter. There are many compromises for this one to achieve its low price, but we're going to talk the positives first.
Positives first: this adapter comes with an antenna, which gives it amazing range for a Wi-Fi adapter that's under $10. Also,  yeah, it's under $10. No other adapter on this list can really say that, now can it?
Where the downsides creep in is that this adapter is limited to just 150 Mbps, because it's stuck with both a single antenna and support for only 2.4 GHz Wi-Fi. While it's range is better than a lot of dual-band adapters for twice the price, its speeds are a big downgrade in comparison.
If all you need to do is get online for basic web browsing and video consumption, and you need to do so from a distance, this is the ideal pick for you. If your uses are a little heavier, though, you may want to consider one of our other picks.
Verdict: Best Cheap Wi-Fi Adapter For Windows
USB Standard: USB 2.0 | Antenna?: No | 5 GHz Support?: Yes | Estimated Speed: 433 Mbps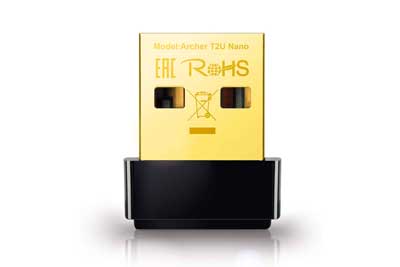 Our next pick is the TP-Link Mini AC600, which is…
Well, pretty much exactly what it sounds like. It's a tiny little Wi-Fi adapter.
It doesn't have an antenna, so we wouldn't use this at long ranges. But it does support 5 GHz networks, which gives it a fair performance boost over other options, so long as you're in range. For something like an apartment, this should do the job just fine.
Verdict: Best Small USB Wi-Fi Adapter For Windows
USB Standard: USB 2.0 | Antenna?: Yes | 5 GHz Support?: Yes | Estimated Speed: 600 Mbps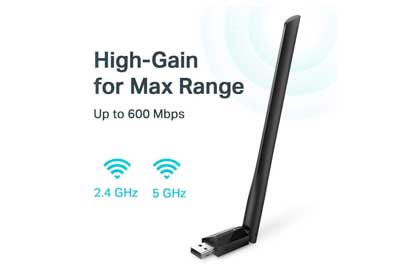 For those who want antenna range and 5 GHz speeds, this is a great option for you.
The TP-Link Archer T2U Plus is a USB Wi-Fi adapter with a proper antenna and 5 GHz support, which allows it to reach speeds of up to 600 Mbps. It also retails for under $25 at the time of writing, which makes it an excellent pick for users on a tight budget who still want good performance.
This is an all-around ideal value pick. In terms of what you're getting per-dollar, it's hard to argue against this one.
Verdict: Best Single Antenna USB Wi-Fi Adapter For Windows
USB Standard: USB 3.0 | Antenna?: Yes, 2 | 5 GHz Support?: Yes | Estimated Speed: 1200 Mbps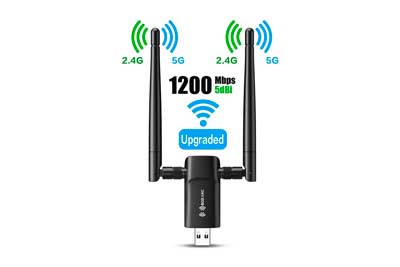 Another great budget pick is the Nineplus Dual-Antenna USB Wi-Fi Adapter. This is one of the cheapest dual-antenna adapters available on Amazon, but it still brings the performance you'd expect with its form factor.
The addition of a second antenna allows for this Wi-Fi adapter to reach not just 5 GHz speeds, but effectively twice the speed, since both antennas can send and receive information simultaneously. This boosts your maximum effective speed to as high as 1200 Mbps in ideal conditions, a far cry from anything a single-antenna adapter would be capable of.
We still wouldn't recommend this over our other options if you can afford them, but this is a very solid entry-level dual antenna adapter. No need to pay extra for a brand name just to get in the door.
Verdict: Best Budget Dual Antenna USB Wi-Fi Adapter For Windows
USB Standard: USB 3.0 | Antenna?: Yes, 2 | 5 GHz Support?: Yes | Estimated Speed: 1300 Mbps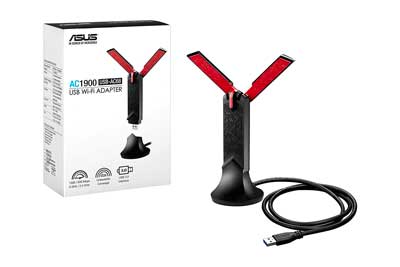 The ASUS AC1900 Dual-Band Wi-Fi adapter comes from a prestigious gaming brand, and the red-and-black design probably gives that away a little bit. It's also priced like a product from a prestigious gaming brand, which leaves the question: is the money worth it?
We'd say so.
For your money, you get a beefy USB Wi-Fi adapter that you can either plug directly into your machine or into an external dock so you can place the antenna wherever in the room it'll get the best reception. It includes two folding antennas which you can fold outwards, and a 3×4 MIMO antenna design on the inside.
All of this translates to incredible performance, and the most consistently high download/upload speeds of any adapter currently on the market. For downloading and uploading large files on the regular and even for gaming, this is a truly excellent pick.
As long as you can afford it, and as long as it isn't too large for your needs. Don't be afraid to compromise if this seems a little over the top for you.
Verdict: Best Performance USB Wi-Fi Adapter For Windows
USB Standard: USB 3.0 | Antenna?: Yes, 4 | 5 GHz Support?: Yes | Estimated Speed: 1300 Mbps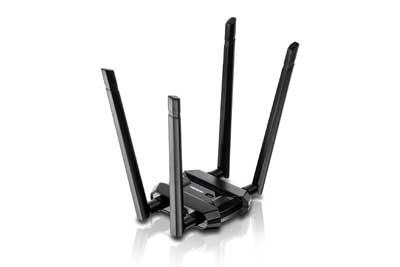 Last but certainly not least is our pick for the best gaming USB Wi-Fi adapter for Windows, the TRENDnet AC1900. If we were basing our scoring metrics solely on the number of antennas these have, this would win without question, because it has four of them.
We…aren't really sure why they went with four, because it does not quadruple the speed or anything. Speed-wise, this is still functionally-identical to using a dual-antenna adapter. In fact, raw speed-wise, this one is still beaten out by our previous pick- so why bother with it at all?
Simply put: gaming, and other latency-sensitive tasks. If you want the lowest possible latency with your USB Wi-Fi adapter, then this is definitely the pick for you. Its speeds are within spitting range of our #5 pick, too, so in real-world scenarios you probably won't notice a difference.
The only real downside is that this is the most expensive one on our list. So unless you're a serious gamer who can afford it, we'd recommend considering one of the other options first.
Verdict: Best Gaming USB Wi-Fi Adapter For Windows
How To Choose The Best USB Wi-Fi Adapter For You
In this section, we're going to walk you through all the need-to-know information you need to make an informed buying decision.
Do I need to use Windows to use these adapters?
Probably not, but if you want some guaranteed Linux-optimized picks, take a look at our Best USB Wi-Fi Adapters for Linux.
What sets using Wi-Fi apart from using an Ethernet connection? Should the difference matter to me?
The most obvious difference between Wi-Fi and Ethernet is that one is wireless and the other isn't. If you don't know too much about technology, you may think that wireless is obviously better in every scenario…but this isn't necessarily the case.
The big issue with Wi-Fi compared to ethernet is consistency and latency, both of which can be variable, at least on lower-end setups. For things like video streaming or web browsing, the difference will be imperceptible and probably won't matter much, if at all.
Where things may become problematic is in latency-sensitive applications, like real-time video chats or online gaming. In these cases, an Ethernet cable will almost always be the best choice- but for one reason or another, you may not be able to run an Ethernet cable or just may not want to at all.
In order to best reduce the inherent weaknesses of a Wi-Fi connection, operate as close to the router as you can and use the faster 5 GHz connection in order to reduce latency and increase overall speeds. If you're a serious gamer, for instance, 5 GHz Wi-Fi is what we would consider the bare minimum for an acceptable wireless gaming experience.
A note on router quality and how it will impact your Wi-Fi connection
You can have the best Wi-Fi antenna in the world, but it won't matter if your router is garbage. A network is only as good as the weakest link in the chain.
Fortunately, any reasonably-modern router you're getting from your ISP should have dual-band Wi-Fi and other important features you should be looking for. But for the super high-end stuff on this list, you may also want to opt for a high-end gaming router to match. If you'd like to see a more detailed article on that matter, leave a comment in the comments section below!
2.4 GHz vs 5 GHz Wi-Fi
Simply-put, the choice between these two boils down to a choice between range and speed, at least at the time of writing.
2.4 GHz Wi-Fi has higher range, but is slower and laggier, making it less ideal for low-latency experiences. The saturation of the 2.4 GHz spectrum also makes it more prone to interference. Even with these downsides in mind, 2.4 GHz is perfectly fine for most of your video streaming and web browsing needs.
5 GHz Wi-Fi has lower range, but is much faster and less laggy. This makes it far better for low-latency experiences, like gaming. The 5 GHz spectrum is also nowhere near as saturated. For video streaming and web browsing, you won't see a big difference. But for latency-sensitive applications, like gaming and live video chatting, 5 GHz Wi-Fi will serve you much better.
Antennas and how they impact your Wi-Fi experience
Even on devices that don't have a visually-obvious antenna, at least one antenna is technically there: just very, very tiny and hidden inside the device. Your laptop and smartphone, for instance, both have antennas built inside their enclosures that don't obviously protrude like others do.
A protruding antenna comes with numerous benefits, though- especially to range and speed.
The difference between having one and two antennas comes down to speed. With dual antenna Wi-Fi devices, you can effectively send and receive two Wi-Fi signals at the time, which doubles the effective speed possible with your connection. That's why you can have two 5 GHz Wi-Fi adapters on this list, but have one be massively faster than the other.
2+ antennas is almost always objectively better if you have the room for them, but only if you can afford them.
Where are the best USB Wi-Fi 6 adapters?
Not here yet, unfortunately. We'll update this page once those start popping up, though- we're looking forward to them just as much as you are.
Parting Words
And that's it! We hope that this article gave you all of the information you need to know about buying the best USB Wi-Fi adapter for your needs. If you have any other questions, feel free to leave a comment in the comments section below, and we'll be happy to help you.