Archos 101 Internet Tablet Specifications & Price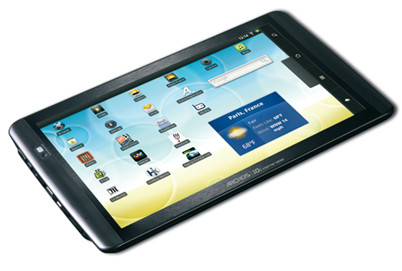 Archos has just announced Archos G8 line of five new android devices varying in size, all running Android 2.2 Froyo. The hottest of all is the new 10.1| Archos 101 G8 internet tablet with a slim and light weight design with HD multimedia and a thinness of just 12mm. To learn more about this new entrant in the Android tablet market, read on after the jump.
Android tablets have started to pick up pace, despite relatively slower adoption by users compared to the iPad. That doesn't keep hardware manufacturers to start churning out a lot of Android tablets, which has already made this market competitive. Archos has just made a big entry in the market with its G8 line of tablets and the flagship amongst these is the 101. From the looks of it, the device seems quite neat and sturdy, with a decent grey finish and a gorgeous 1024 x 600 screen.
Let's take a look at the specs of this device in details:
Android 2.2 Froyo
1 GHz Processor
256 MB RAM
10.1 TFT LCD Capacitive Multi-touch screen with 1024 x 600 pixels
8 GB or 16 GB internal storage
3D graphic accelerator
High Resolution touch screen, 1024 x 600 pixels
USB 2.0
VGA Camera on the front
HDMI out
G-Sensor
Wi-Fi 802.11 b/g/n
Bluetooth 2.1
Built in mic and speaker
Leg stand
MicroSD card slot
While it may not be an iPad killer, Archos 101 does look like a good choice if you are looking for an Android tablet and don't mind the shortage of tablet-optimized apps in the Android Market.
Archos 101 internet tablet would be available in October 2010. The two 8GB and 16GB variants are expected to be are priced at around $300 and $350 respectively.