The 12 Best Glass PC Cases For Your Custom Builds
A Custom Built PC can be a work of art, if done right. Some people prefer their custom gaming rigs to be built using whatever material is readily available, while others go through incredible lengths to customize every little facet. The internet has seen Chassis Free PCs go viral, PCs that fit into the body of a Playstation 3, and even using ludicrous objects like packaging boxes, go viral. However, glass casings have started presenting an interesting blend of creative liberty and ready-made objects. Following are our recommendations for the best glass PC cases available in the market.
Preamble
The selection criteria is based solely on aesthetics and popular user opinions. We will be using the word ATX to describe the chassis. ATX (Advanced Technology Extended) comes in a variety of configurations. ATX Tower is a traditional standing desktop casing, miniATX is a more compact design for desktops while microATX are for smaller components.
Also, all chassis come with the standard 2 x USB 3.0, line-in, line-out and power ports, if a chassis has anything unique, it is mentioned there, presume it is standard where not mentioned. Similarly, lighting is mentioned only when some effort has been put into it. Assume no out of the box lighting options exist if not mentioned.
1. Phanteks Enthoo Luxe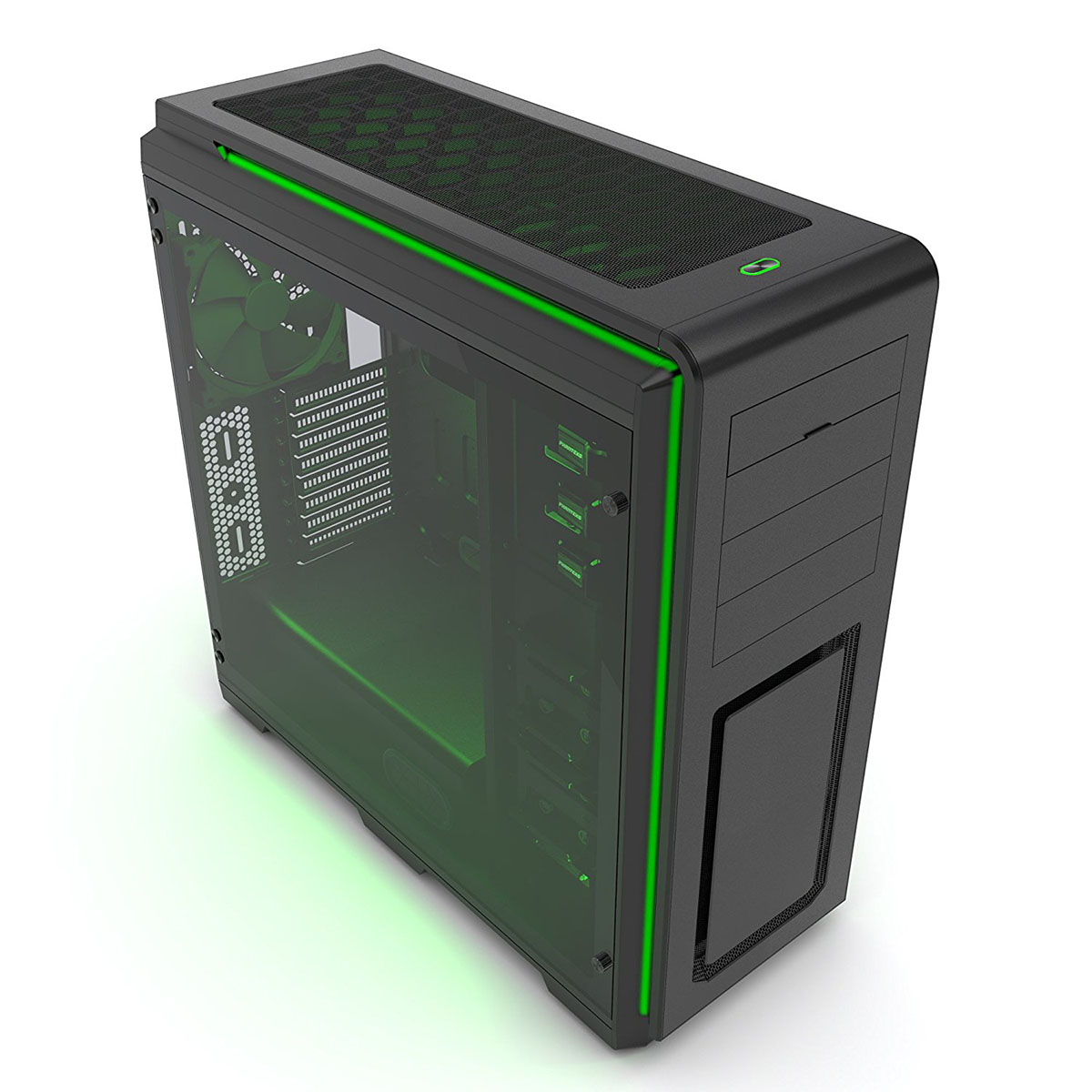 Build and Components
The Phanteks Enthoo Luxe chassis has an aluminum assembly with one tempered glass side panel, on hinges. The faceplates can be sandblasted (already come with Sandblasted company branding). Most importantly, it is ready for liquid cooling with reservoir mounts and a pump bracket. This is a Full Tower ATX case.
Lighting
There is ambient lighting to give a better view inside the chassis as well as an LED control (for upto 10 colors) and support for RGB LED Strips. It is also Asus Aura and Mystic Light Ready, out of the box. Additionally, it features an LED strip that lines the outside of the glass.
Ports
The casing comes with Phantek's velcro cable ties for improved cable management, USB 3.0 x 2 ports, USB 2.0 x 2 ports, Headphones/Line in, Mic, Reset Button, LED Switch, 2 x SSD Brackets and removable HDD cages.
2. Thermaltake Core X5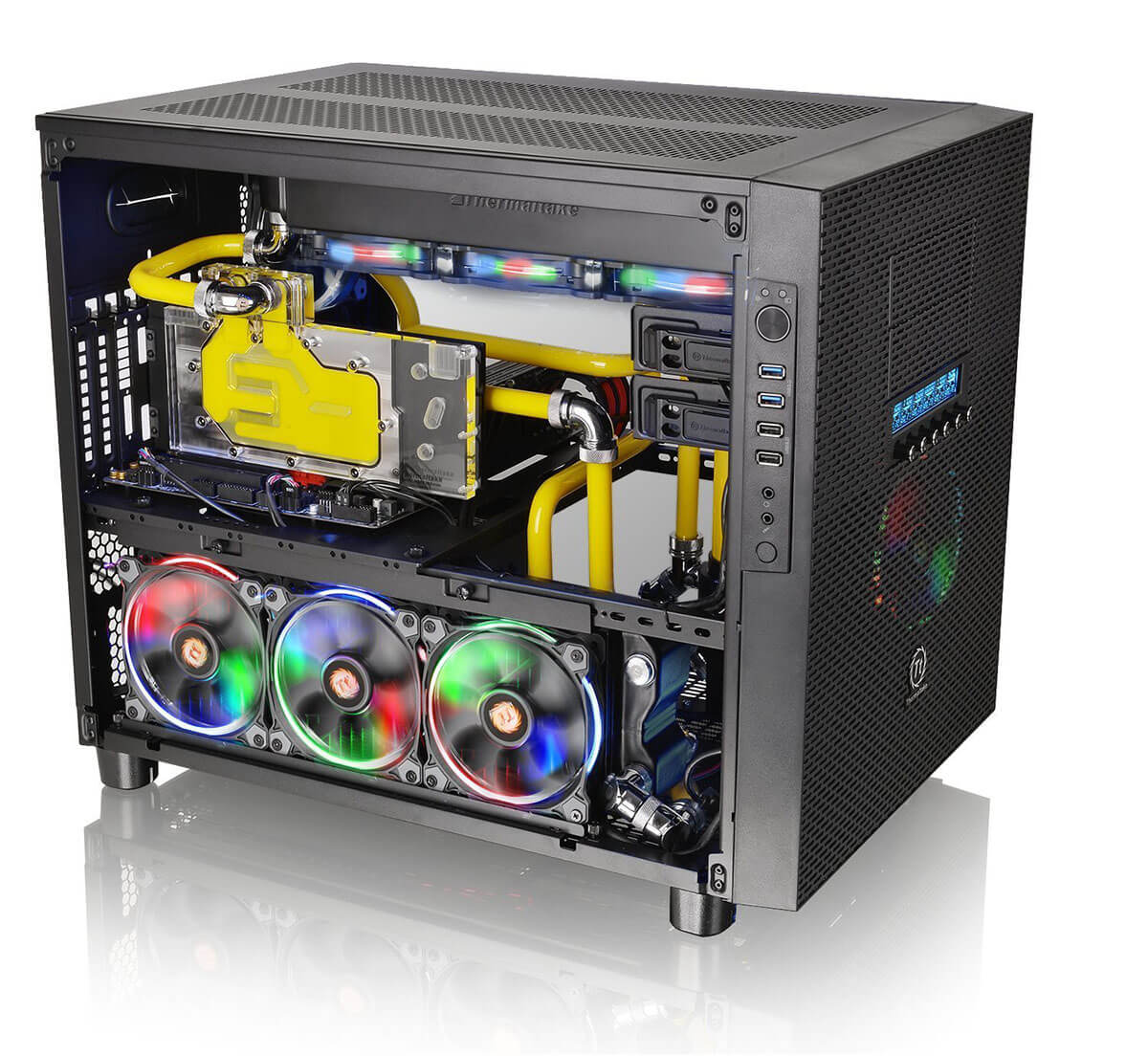 The Core series of Thermaltake chassis are a stackable solution with a glass side panel. It is gorgeous and easy to maintain but it does not have the flexibility of the P series.
Build and Components
The Core x5 has dual 4mm tempered glass panels for easy viewing. It supports Thermaltake's cooling and lighting solutions out of the box. Is optimized for liquid cooling.
Ports
The case has interchangeable side I/O panels (from left to right), two USB 3.0 ports, and two USB 2.0 ports, line in and line, out located on either side.
3. Corsair Carbide Air 540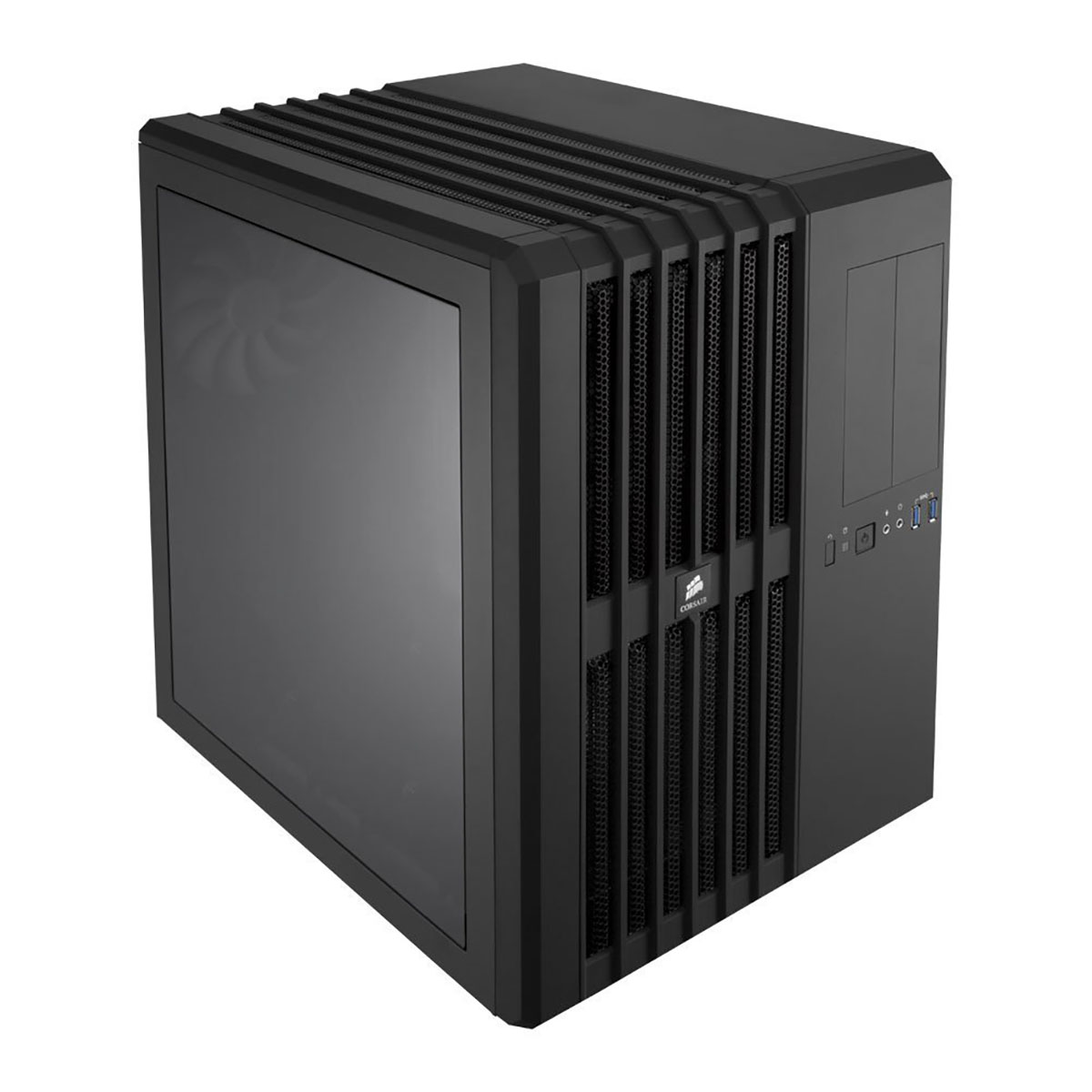 Build and Components
The Corsair Carbide series chassis has a dual-chamber direct airflow path for dust free ventilation. It has a stackable design which leaves plenty of room for additional fans. It comes equipped with Corsair's Air Series fans and has rubberized cabling paths for native cable management.
Lighting
The Corsair's Air series fans come with lighting, but the chassis itself does not.
Corsair Carbide Series Air 540
4. Phanteks Enthoo EVOLV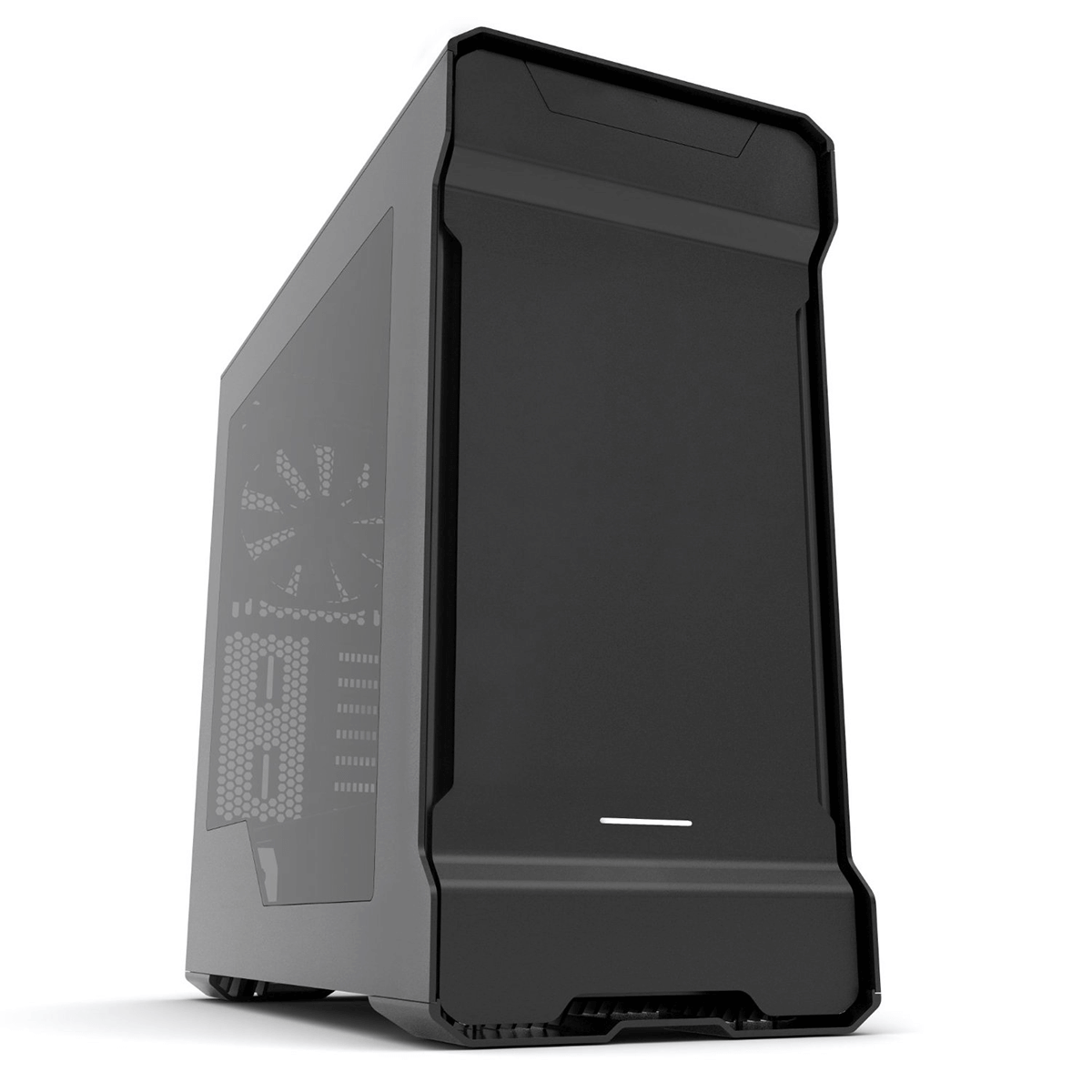 Build and Components
The Phatneks ATX casing is a durable 3mm thick aluminum build with a glass preview panel that sits inside an aluminum bracket with dust filters on the front. The Enthoo Evolv comes with hidden PSU and HDDs. It also ships with with two 140mm fans in the front and another in the rear. It features three different locations for 120mm or 140mm radiators and it accommodates reservoirs for 120mm as well as 140mm with vibration dampeners. It also ships with built in cable-ties for easy cable management and quick release panels for easy access to fans and dust filters. The side panel access is tool-less (no screws) and swings open like a car door.
Lighting
The power button has 4 customizable lights settings, but that is about it. It is a more cooling-centric device than light-centric. Though lighting is not supported out of the box, this kind of design usually just requires one LCD strip at the bottom to illuminate the innards of the Chassis.
Ports
The ports on the Enthoo Evolv are the standard two USB 3.0 ports as well as a line-in and line-out behind a small shutter on the top of the front panel.
5. Phanteks Enthoo Pro M
Build and Components
The Enthoo Pro M chassis has a brushed aluminum exterior and a clean interior with a hidden PSU and HDDs. The side panel is tempered glass. Much like the EVOLV, it has a glass panel on only one side. This glass panel attaches and detaches with screws. It also ships with an optical drive cage that you can easily remove if you want to increase space or install something else. The Radiator bracket is designed such that it will not interfere with the memory. It also has a reservoir mount and pump slots for liquid cooling.
Lighting
This case has no out of the box lighting added but is compatible with Phanteks LED strips and RGB Motherboards.
Ports
This case has two USB 3.0 ports, a line-in, line-out, Mic and reset button on the front. It also has Modular HDD System (requires separate add-on) support.
6. Thermaltake Core P5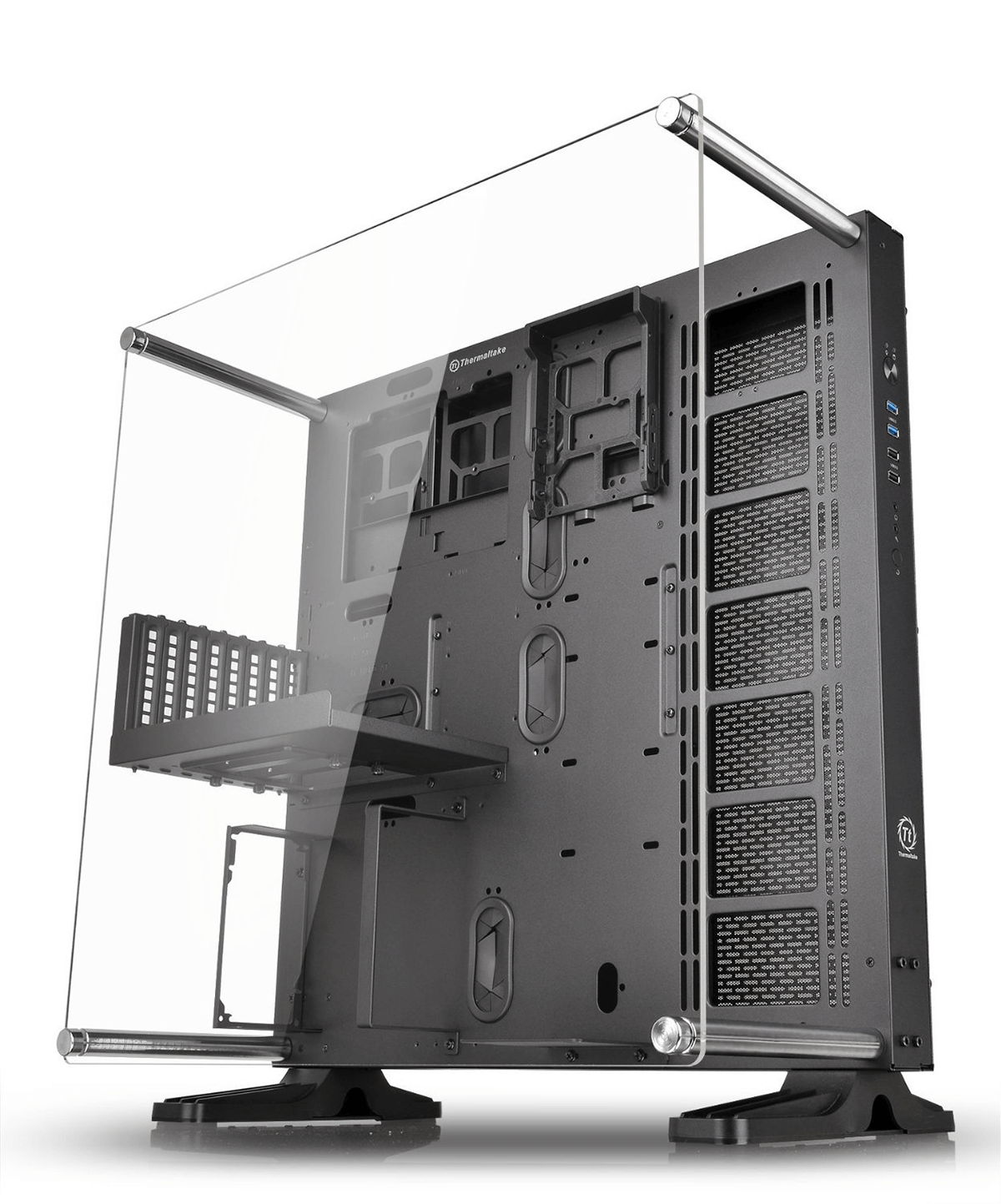 Thermaltake's core series happens to be a stand-out design realm in that it does not exactly qualify as a chassis, but it is still quite exquisite. If you want added space, the Thermaltake Core P7 is the same as P5 but with 2 added mounts.
Build and Components
This case has an open frame design that consists of a glass cover and a steel base held together by reinforced pillars. This chassis can be mounted on a wall,  stand erect, or lay down horizontally. The downside is that it is bound to attract plenty of dust. It is designed to immediately accommodate Thermaltake's propritery cooling solutions. The whole assembly comes with a 3-year warranty.
Ports
The front panel supports four USB 3.0 ports (spaced apart from each other in groups of two), line-in and line-out ports.
7. Thermaltake Suppressor F31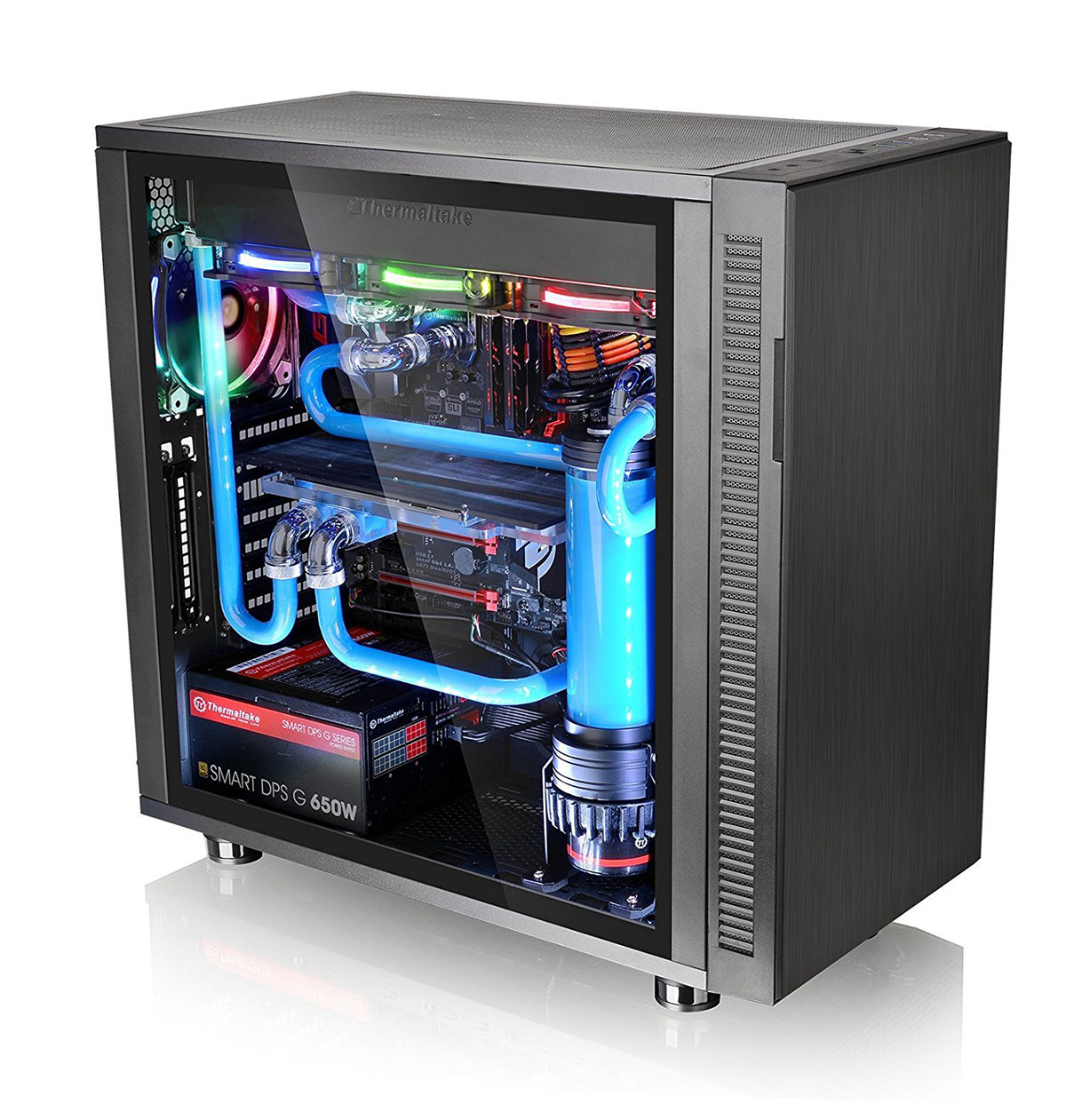 Build and Components
This particular chassis comes fully covered but it also has a glass option and it is quite a gorgeous assembly with the glass. The Suppressor F31 has everything the Thermaltake Core X5 does, with the additional bonus of shipping with a riser GPU support bracket. It has removable optical drive brackets as well as HDD and SSD brackets, adjustable as needed.
It also comes with brackets for reservoirs and radiators which, when assembled look quite good especially with a good light scheme.
Lighting
The entire casing is not illuminated, but it ships with a quiet fan with adjustable lights.
8. NZX
T S340 Elite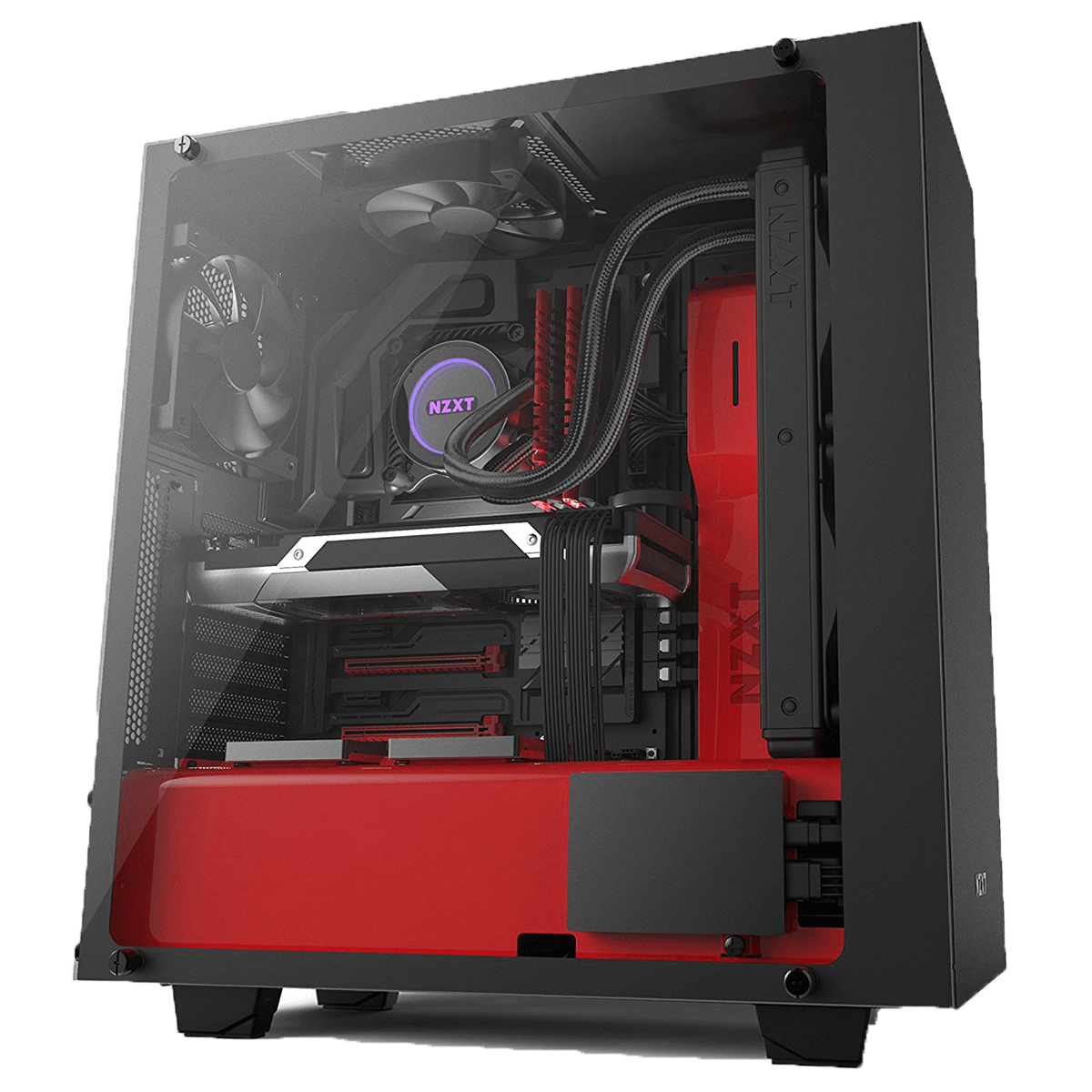 Build and Components
The NZXT boasts an all-steel construction with a giant tempered glass side panel. It has filtered intakes, steel-plated audio jacks, captive thumb screws, and built-in cable management solutions. It comes in black, green and white.
Ports
This case has a power button, HDMI (for VR) and USB 3.0 slots on the top as well as line-in and line-out jacks.
9. Corsair 570X RGB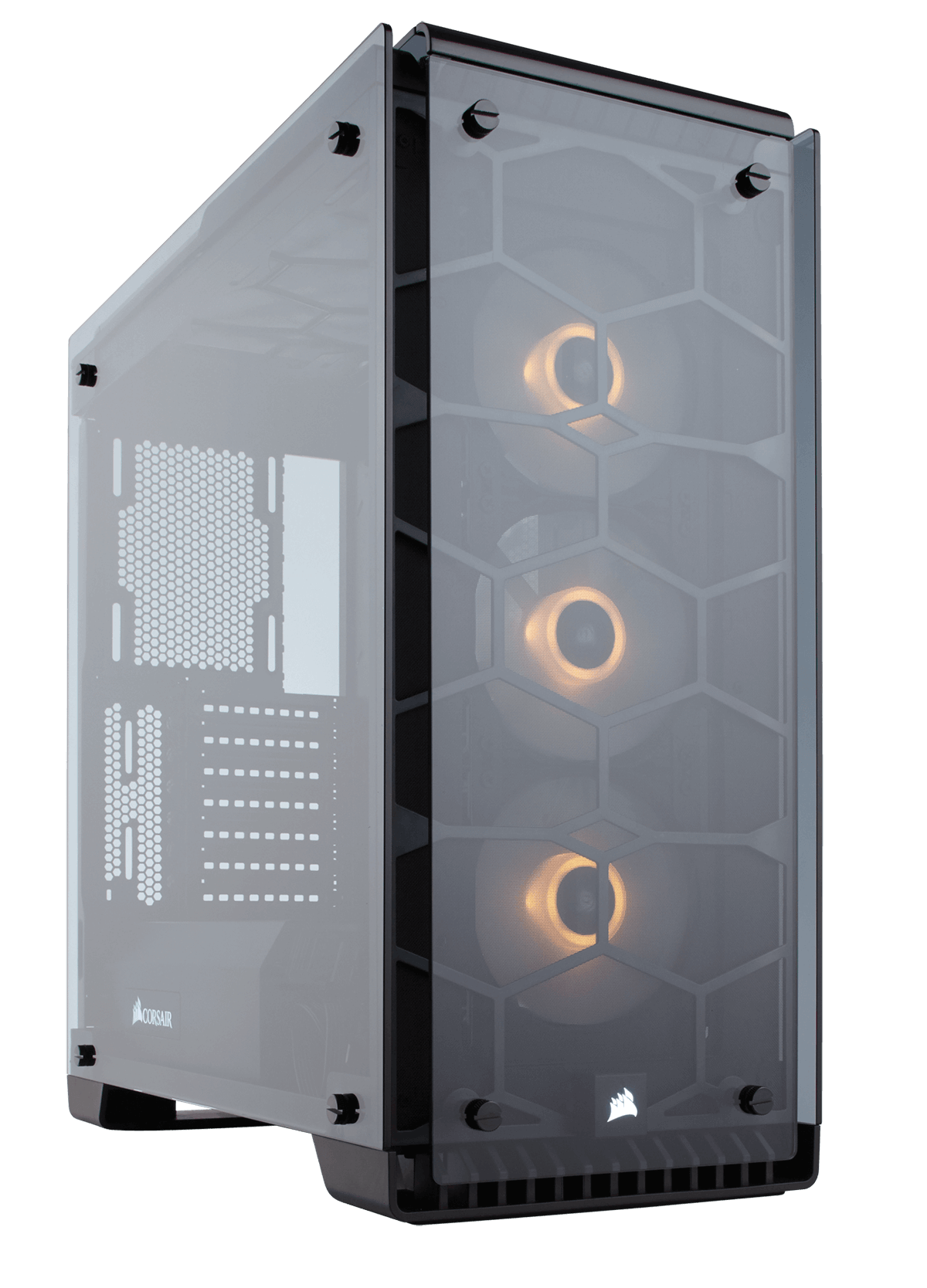 Build and Components
This steel built glass encompassed mid-tower case comes with fan mounts in the front, rear and top. It ships with 3 front mounts and has three locations for radiator mounts ranging from 120mm to 140mm at the front, top, and rear. It comes with 2 SSD drive bays as well as 2 HDD drive bays. Is compatible with major corsair liquid coolers and supports a GPU of upto 370mm (the biggest commercially sold GPU is ~270mm long). The whole thing comes with a 2 year warranty.
Lighting
The three front mounted fans this chassis ships with are RGB LED.
10. Phanteks Eclipse P400S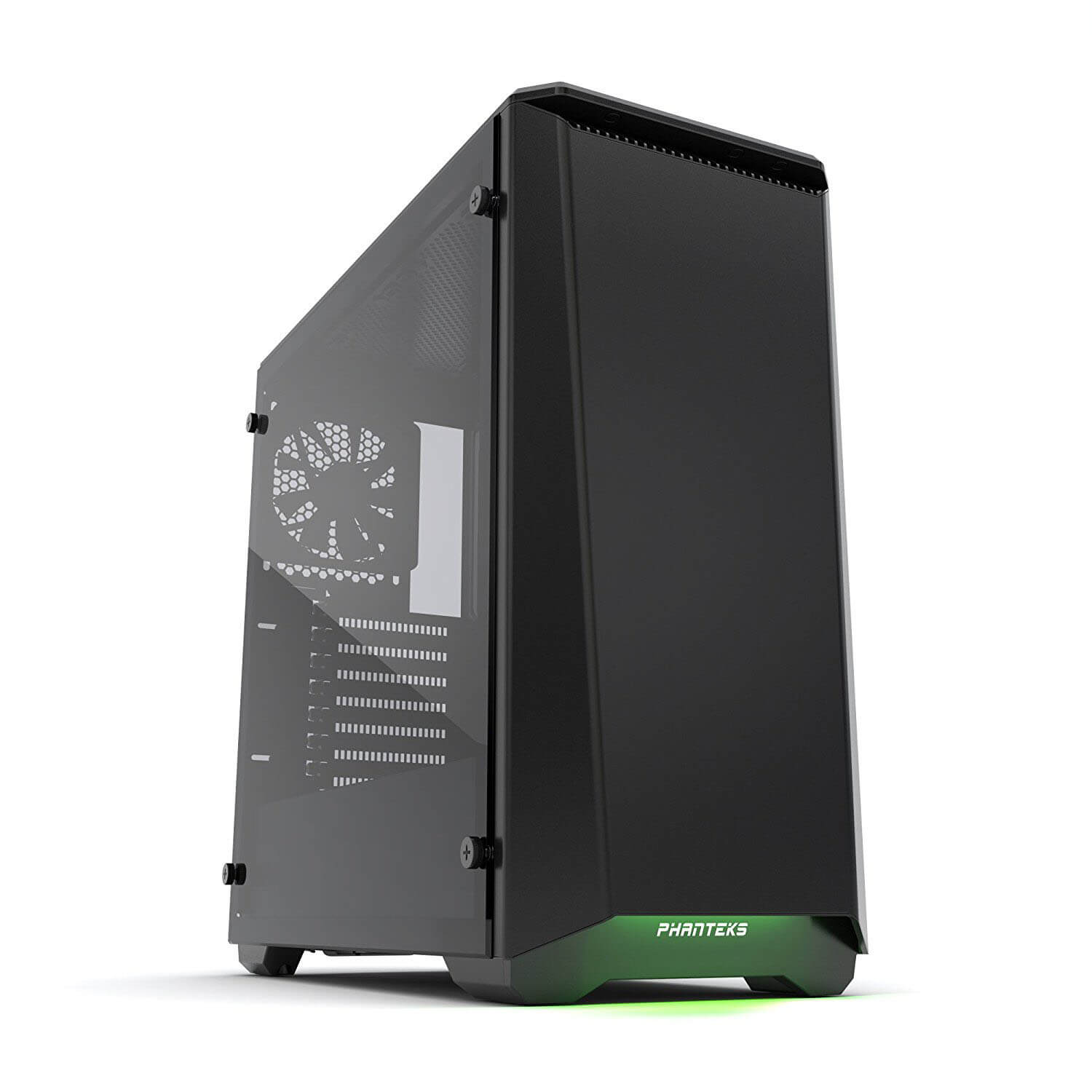 Build and Components
The Eclipse boasts a completely metal body, a steel exterior and a tempered glass side panel. The chassis comes with magnetic dust proof filters and soundproof panels. Despite all of that, it still supports optimal air flow directly to the CPU as well as the GPU. It can support a 360 water-cooling radiator. It also comes with cable ties for easy cable management.
Lighting
This case has 10 color RGB downlight  and an RGB power light with on/off switch as well as a 300mm RGB LED strip included to go wherever you please.
Ports
It comes with a hidden front I/O, two USB 3.0 ports, Line-in and Line-out jacks, LED Control, Reset, and a 3-Speed fan controller.
Phanteks PH-EC416PSTG_BK Eclipse P400S
11. DeepCool TriStellar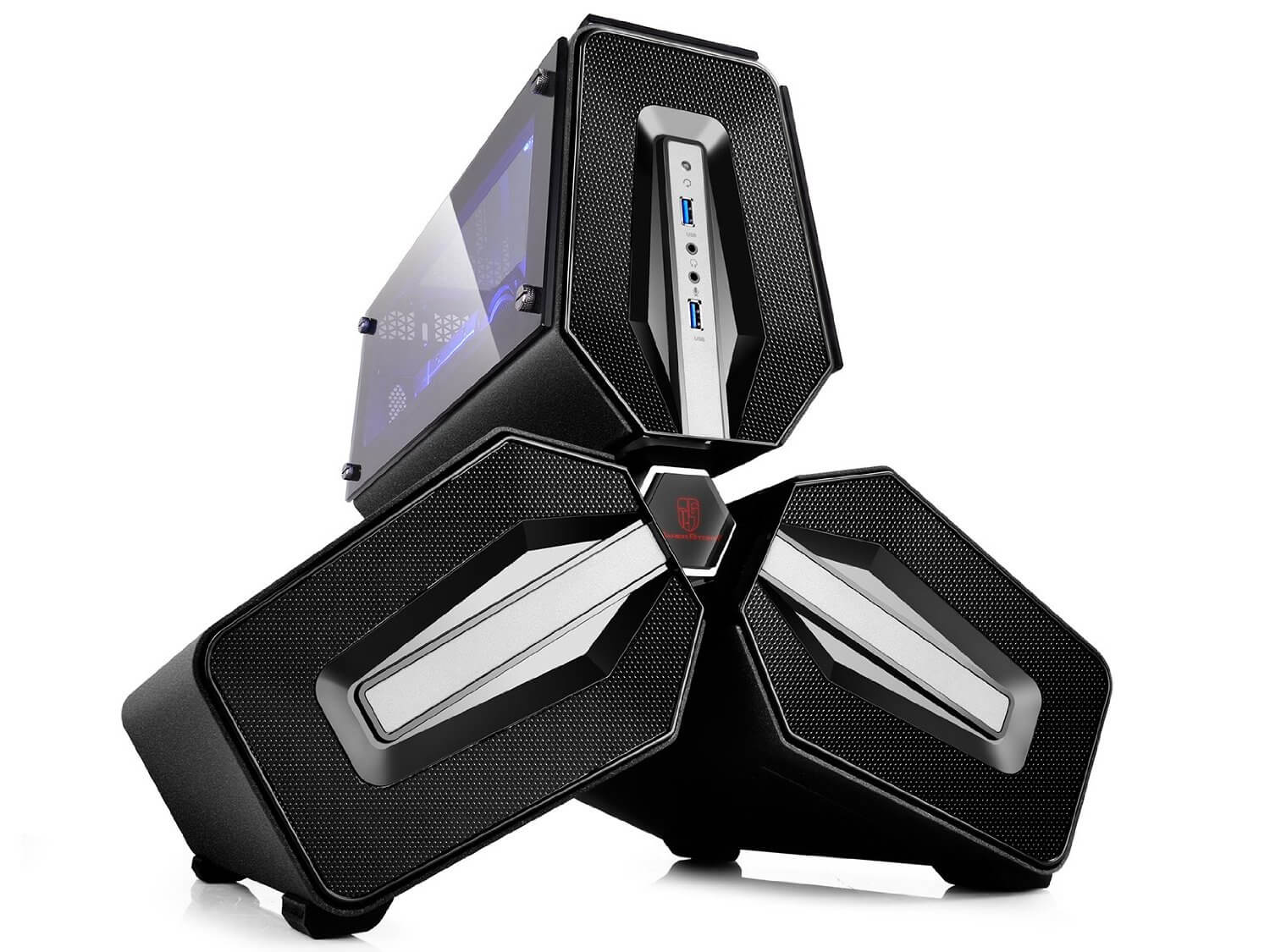 Build and Components
This chassis is in the list due to its unique design. Everything else on it is pretty standard. Other than the fact that it looks like an Imperial Cruiser from Star Wars. It has Three 1-way slots for expansions. It supports a Mini-ITX Style motherboard and is made of SPCC (thin, cold rolled steel) and features a 0.6mm glass panel.
Lighting
There is an LED strip at the base of each expansion bay.
12. Thermaltake Tower 900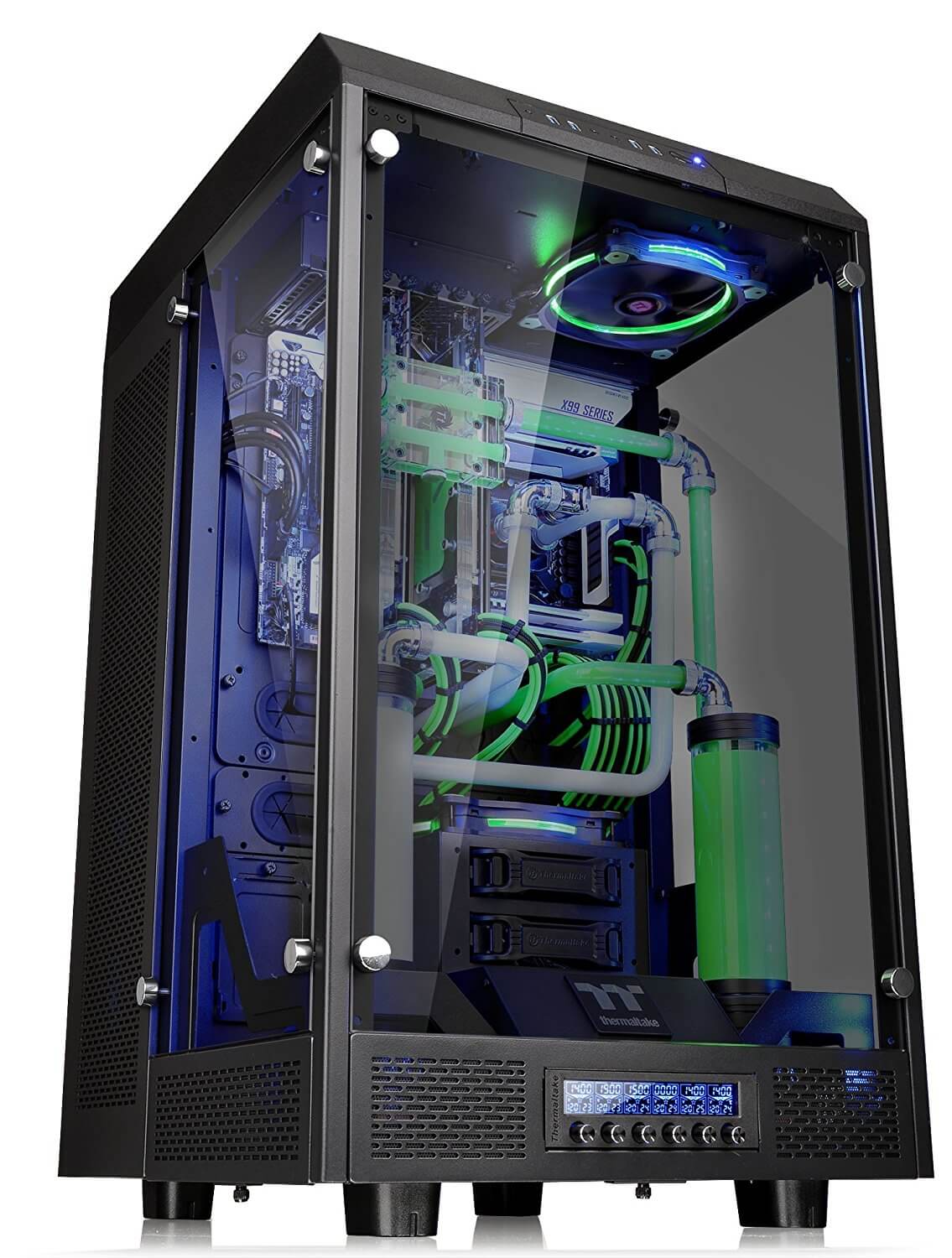 Build and compontents
This case is available in both black and white. The Tower 900 is truly a showcase of your build. The GPU mounts are vertical and prevent sag which builds up over time, especially with water cooling. It supports dual 560mm radiators (big ones) on either side allowing for dual loop liquid cooling configurations. The 2-sided glass is a 5mm thick tinted tempered glass panel secured with rubber cushions to keep things flexible and durable at the same time. The warranty on this thing lasts 3 years.
Ports
On the top are Four USB 3.0 ports as well as the standard audio ports. On the bottom there are control gauges with temperature readouts and dials on the front of the panel to control all the fans inside.