DRS Armor X10gx Tablet Specifications
You might have never heard the name of DRS Technologies but  you are about to, and with authority! DRS Technologies has unveiled a new tablet named DRS Armor X10gx, which has been developed exclusively for military purpose. It happens to be running Windows 7 Ultimate and offers AT&T and Gobi wireless broadband to keep the user online. We've got the full spec sheet for you right after the edge, so read on for the details.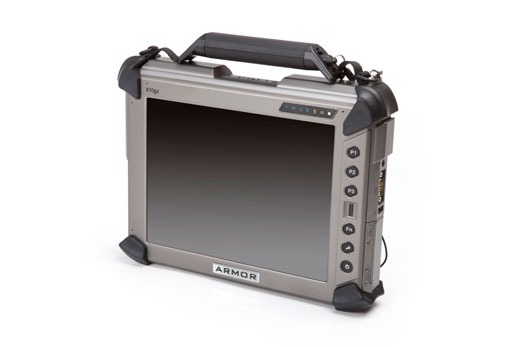 From the very first glance, the Armor looks like a device built for endurance. With the four rubber grips at all corners for enhancing grip against many types of surfaces as well as acting as shock absorbers upon impact with anything, these four black rubbery appendages could mean the difference between being with a tablet and being without one. The handle looks pretty neat too, and so does the rest of the design that has an industrial touch.
The detailed specifications of Armor X10gx Tablet are:
Windows 7 Ultimate OS
Intel Core Duo 1.2 GHz Processor (SU9300)
MIL-STD-810G approved Casing
Daylight-Readable Display
1024 x 768 Resolution Display
10.4-Inch Screen
Bluetooth 2.0
CD-RW/DVD-ROM Combo Drive
Wi-Fi (AT&T and Gobi Wireless Broadband)
2GB RAM
2.5-Inch Removable Hard disk
Ultra-slim keyboard
64GB Internal Storage Capacity with 80GB and 160GB Intel SSD's Available As Option
Weighs 4.7 Pound
GPS
Hot-Swappable Batteries
According to the spokesman of the company, the Armor X10gx Tablet is embodied in a magnesium allow chassis to avoid shock, vibration and temperature extremes, moisture, dust, sand pollen, mold and many more. Armor X10gx is a strong bodied Tablet PC with enhanced specifications to meet the Military standards so it results with maximum accuracy in the battlefield. There is no official word about the price tag of this tablet and will most likely ship in September 15th, 2010. Though considering it is being developed for the defense industry, it may or may not see a release for the general public.