We are reader supported and may earn a commission when you buy through links on our site.
Learn more
Best GTX 1660 Super Graphics Card (Reviews) in 2021
The GTX 1660 Super is Nvidia's October 2019 refresh for the GTX 1660, which was released earlier in the same year. In addition to offering performance within spitting distance of the much more expensive GTX 1660 Ti, the 1660 Super serves as Nvidia's primary competitor in the sub-$300 GPU price range, offering the most performance-per-dollar of any of their cards.
If you don't care about features like real-time ray-tracing and you just want a GPU that's a great value for the money, the GTX 1660 Super is a great option for you. Unfortunately, many cards under that name exist- so how do you find the best one for your needs?
Budget Choice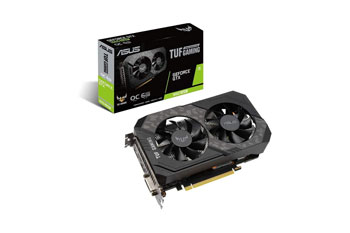 Which GTX 1660 Super to Buy?
That's what we're here for. If you aren't familiar with all the jargon and stuff, skip on down to the buying guide section of the article, where we break all this down for you. But if you already have a pretty confident grasp on GPU technology … go ahead and look at our top picks!
#1. Gigabyte GTX 1660 Super Mini ITX OC
Clock Speed: Up to 1800 MHz | Width: 2-Slot | Length: 170 mm | Ports: 3 DP, 1 HDMI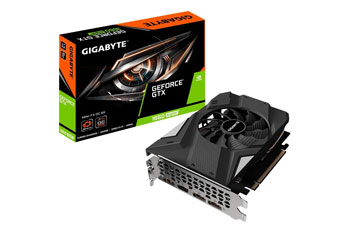 First up is our pick for the best small GTX 1660 Super, the Gigabyte GTX 1660 Super Mini ITX OC. While there are many Mini ITX 1660 Supers available on the market, we believe this one offers the best raw performance of the cards in this weight class. At only 170 mm and 2-slots, fitting this into a standard Mini ITX or HTPC case should never be an issue.
While this card doesn't offer the raw cooling performance or overclocking headroom of its larger cousins, it still swings within the same ballpark. The 1660 Super chip inside is adequately cooled, and when you're trying to get your PC as small as possible, these kinds of compromises are normal and expected, so we can't really knock it for that.
Plus, this is one of those GTX 1660 Supers that always seems to stick around MSRP. Considering how frequently GPU pricing can fluctuate, a card at a reliable low and reliable price point is always a nice thing to have.
Verdict: Best small GTX 1660 Super
Clock Speed: Up to 1845 MHz | Width: 2-Slot | Length: 206 mm | Ports: 1 DP, 1 HDMI, 1 DVI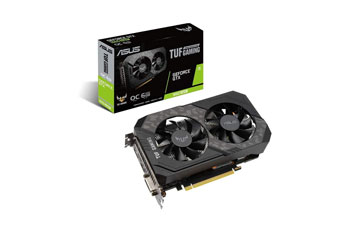 The ASUS TUF GTX 1660 Super is our pick for best budget 1660 Super. Like our #1 pick, it's always at or around MSRP, but it does so without slacking in the performance department. The factory overclock and cooling performance are both genuinely impressive for the price, and it even offers a DVI-D port for those who are still using an older monitor! (If you're still playing games at 1080p and 1440p, hey: no judgement here.)
The length is only 206 mm as well, which means it should comfortably fit in just about any chassis. Many gaming-oriented Mini ITX cases should even be able to fit it, since those are making a heavy pivot toward having open space for the GPU and not much else. If you just want a GTX 1660 Super and don't really care about extra features or overclocking, then this card will pretty much be a perfect match for you.
Verdict: Best budget GTX 1660 Super
Clock Speed: Up to 1830 MHz | Width: 2-Slot | Length: 226 mm | Ports: 3 DP, 1 HDMI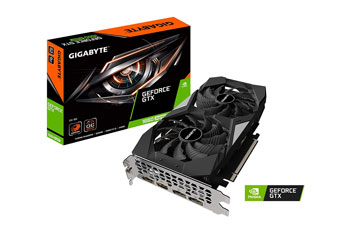 The Gigabyte Windforce Twin-Fan GTX 1660 Super is our pick for the best balanced GTX 1660 Super. It offers some of the best performance out of any of the available versions of the card, and better cooling/OC headroom than the previous two available in this list. While only 226 mm, it offers two full-sized cooling fans with a beefy heatsink, and it's only priced for $10 more than MSRP at the time of writing.
In addition to being one of the best-performing 1660 Supers, it's also one of the best-priced ones. So, what's the catch?
…there isn't one, really. As long as it can fit in your system, and it most likely can, then you really aren't going to have any issues here. 226 mm may be pushing it for extreme SFF PC builds, but most HTPC and Mini ITX PC cases should be able to fit a 226 mm GPU just fine. We wouldn't recommend it if it's a tight fit, though, since a card of this size needs plenty of air to breathe for optimal performance.
Verdict: Best balanced GTX 1660 Super
Clock Speed: Up to 1830 MHz | Width: 2-Slot | Length: 247 mm | Ports: 3 DP, 1 HDMI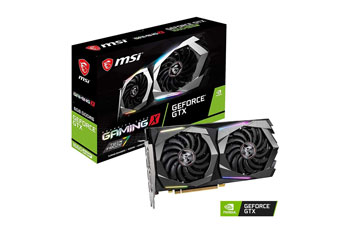 There are some in the world of PC gaming who care about one thing and one thing only: RGB.
While the RGB on the MSI Gaming X GTX 1660 Super isn't particularly excessive, it's also just about the only 1660 Super that actually has the feature. It offers customizable RGB lighting in the LEDs around its cooling fans and the MSI logo visible on top of the card. If you want to show off this RGB, especially synced to the rest of your PC build, then a vertical GPU mount should go a long way, if your case supports it.
In addition to RGB, this card offers fairly strong cooling and raw performance. RGB is there, cooling is there, and performance is there…so what's the catch?
There's the length, first of all. At 247 mm, or 9.7 inches, this is definitely starting to hit the territory where it's unfeasible for smaller PC builds. It's a very beefy graphics card.
More importantly, there's the price. This card is quite a bit more expensive than its non-RGB counterparts, and if you don't care about RGB, then there's really no reason to choose this over one of our other listed options. Even if you do care about RGB, you may find the price hike a little bit excessive.
Verdict: Best RGB GTX 1660 Super
Clock Speed: Up to 1860 MHz | Width: 2-Slot | Length: 280 mm | Ports: 3 DP, 1 HDMI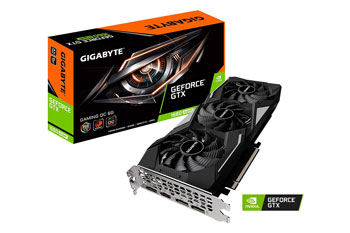 Last but certainly not least is our pick for best performance GTX 1660 Super — the Gigabyte Windforce Triple-Fan GTX 1660 Super. It's the longest card on this list, at 280 mm, but in exchange you get the best factory overclock, overclocking headroom, cooling performance, and raw in-game performance of any GTX 1660 Super on the market. If you aren't concerned with fitting this into a SFF PC build or RGB, then the Triple-Fan Windforce GTX 1660 Super is easily the best option available to you. It even has an RGB logo!
Really, we don't have much negative to say about this card. It does what you would expect it to, and better. The only issue we really have is that its availability is a little bit spotty at the time of writing, possibly due to high demand. (Not just for this card- the 1660 Super in general seems to be a hot graphics card purchase right now.)
If you can't get your hands on this card, the Gaming X or Twin-Fan Windforce card should both make for suitable replacements. Otherwise, this is our pick for the best overall GTX 1660 Super.
Verdict: Best Performance GTX 1660 Super
FAQ and Selection
Looking past our top picks, it's time to discuss all the need-to-know information that you'll need before making an informed purchase. Let's get it all down.
Base GTX 1660 Super specs and information
The reference specs of the GTX 1660 Super GPU chip that is within every 1660 Super card is, as follows:
Turing Architecture
1530 MHz Base Clock
Up to 1785 MHz Boost Clock
6 GB GDDR6 RAM (instead of the GDDR5 in the non-Super card)
14 Gbps Memory Speed
Unless specified otherwise, assume that every card listed above shares these basic specifications.
Aside from differing cooler designs, another big difference you'll notice in all of the 1660 Supers listed above is that they include much higher boost clocks. These are called factory overclocks, and we'll dive into the nature of those a bit later.
How the GTX 1660 Super performs in games
The GTX 1660 Super is a mid-high range 1440p and VR card, and outright overkill for 1080p. To compare it to a console, it outperforms even the Xbox One X. (Note: The X1X and PS4 Pro both use lower resolutions, like 1440p and 1800p, to scale to 4K displays. They are not true 4K consoles!)
Pushing 100+ FPS at high-to-max settings at 1440p and lower resolutions shouldn't be an issue with this card. For a detailed look at how it performs at max settings in the latest games, click here to check the TechSpot benchmarks. It's pretty much on par with the GTX 1070 of old, and very often comes within spitting range of the more-expensive GTX 1660 Ti. Value-wise, this is a really hard card to beat in its price range- on Nvidia's part, it borders on self-competition against the 1660 Ti.
On the off-chance that you have serious trouble with optimizing the games you play for an acceptable level of performance with this card, be sure to take a look at our Better FPS guide for an idea of where to start.
How it compares to competing cards
While the RX 570 and RX 580 used to offer better overall value, those cards are no longer being manufactured and are rapidly dropping out of availability. If you can find a sub-$200 RX 590 before it disappears, it's certainly a great pick…but that won't be around for long, and it still won't match the raw performance of the GTX 1660 Super.
The closest modern competitors it has are the RX 5500 XT and RX 5600 XT. The former card is significantly weaker for not much cheaper, and the latter card is more expensive…for not much more performance. (Plus, an issue with inconsistent VBIOses means that there can be a great disparity from one 5600 XT to the next.)
If we had to recommend just one card in this price range, it would be the GTX 1660 Super. If you don't mind pushing closer to $300, a proper-VBIOs 5600 XT or 5700 non-XT both make a good alternative, though.
Clock speed specs and factory overclocks
Clock speed, measured in MHz, refers to the raw speed of a given processing chip. Once upon a time, this was the most important metric to consider for CPU or GPU performance, but over time clock speeds have stagnated while architectural improvements elsewhere have pushed the card to a higher level of performance. Make no mistake: a higher clock speed is still better, but it can no longer be used to determine the performance level of two CPUs/GPUs that don't share the same architecture.
In the case of GPUs like the GTX 1660 Super, though, it is a useful metric. While these factory overclocks only result in a slight difference in performance between these cards that are otherwise using the same graphics processor, a higher factory overclock tells you a bit about the rest of the card, too. For instance, cards with particularly high factory overclocks tend to have particularly good cooling, because better cooling is necessary to make those factory OCs stable enough to be advertised.
Once it's in the hands of the user, that clock speed- and other aspects of the GPU, like its power limit- can be pushed farther to squeeze even more performance out of the card, so long as the cooling can keep up.
Width, Length, and how they pertain to compatibility
Width and length are the main physical specs to be concerned about when it comes to buying any graphics card, not just the GTX 1660 Super. Fortunately, since the 1660 Super is a relatively low/mid-range part, it comes in a wide variety of shapes and sizes from different manufacturers. This means you can get a 1660 Super with the beefiest cooling and OC potential if you have a spacious ATX case, or a smaller 1660 Super if you're building in a Mini ITX or Micro ATX case.
All of the cards on this list are dual-slot cards, and this pertains to width. Width is almost never a compatibility concern when it comes to graphics cards, since any chassis will have at least 2 slots open, and most GPUs are 2-slots. Some beefy cards may be 3-slots, but even many Mini ITX cases are equipped to handle that.
Width only REALLY becomes an issue when you need to use multiple PCI Express cards, not just a graphics card…or your GPU needs breathing room, but can't get it because it only barely fits, widthwise. Fortunately, the 1660 Super is only ever a 2-slot card, so this shouldn't be a problem.
Length is the more prominent issue here. As cases get smaller, so too does their capacity for long graphics cards. Stuff that's around or under 200 mm will usually be fine, but ~300 mm and higher are very often too large to fit inside today's low-profile cases. Be sure to double-check a GPU's length spec against your case's specs before buying a graphics card!
Different ports and their impact
Now, for some common video ports you'll be seeing and the differences between them!
DVI – An older standard. Carries video only, no audio. Limited to a maximum resolution of 2560 x 1600 @ 60 Hz or 1080p @ 144 Hz. Not recommended for high-end 1440p or 4K displays.
HDMI – A TV-centric standard. Depending on the specific implementation, can support 4K @ 60 Hz or 1440p @ 120 Hz. The very latest HDMI cables can support 4K @ 120 Hz, but this isn't common at the time of writing. Not as good at supporting arbitrary/non-16:9 resolutions.
DisplayPort – A PC-centric standard, recommended for most PC related scenarios. Has the best support for high refresh rate and high-resolution content. Like HDMI, also supports audio passthrough, but is rarely (if ever) seen on 4K/HDTVs.
Parting Words
And that's it! We hope that our combined buying guide and product roundup helped you find the best GTX 1660 Super for your needs. If you still have any questions left, feel free to ask them in the comments section below.