How To Download VLC Player For iPhone/iPod Touch Without Donating
VLC4iPhone is an application for both iPhone and iPod Touch that works on all firmwares 2.x and 3.x. Please note that it is not an official app, rather it has been developed by Zodttd who ported all VLC functionality into a simple app. The latest version(as of today) is 2.1.0 and contains a complete redesign along with better video playback functionality. For a complete review, please check out this post.
Update: The official VLC Media Player is now available in iTunes. Read more about it here.
All previous versions were free, but the developer likes to categorize the latest version as 'Donate and Download'. It doesn't mean that you cannot download it for free, you can, but donating a small amount is always a healthy practice since it helps in further development of the app. But what about those people who cannot donate or those people who don't have a PayPal account?
Note: It is only available from Cydia Store which means that you must have Jail broken iPhone before downloading VLC4iPhone. It doesn't matter which firmware you are using, since it supports all of them.
To download it for free without donating, first launch Cydia Store, hit Search, type VLC, and select vlc4iphone from the list.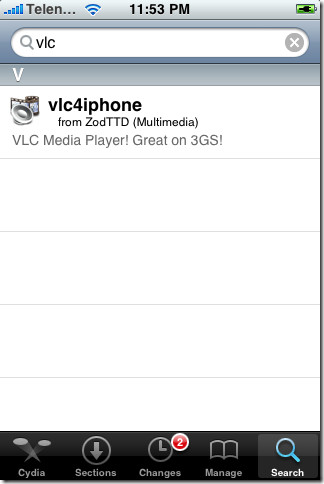 Now don't rush and hit Install. Wait for the page to load, scroll down, click the amount 2.50 as shown in the screenshot below.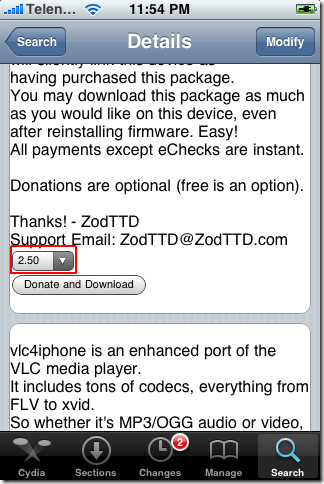 From here you will find various money options for donations, keep scrolling and you will find FREE at the end.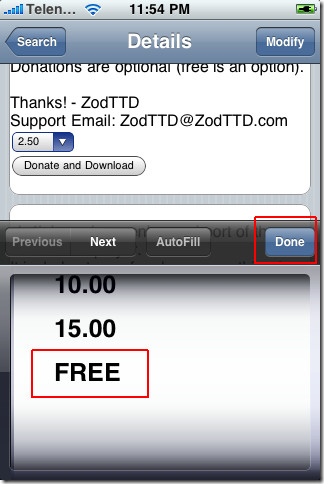 Select FREE and then click Done. Once you are back to the main page click 'Donate and Download' button.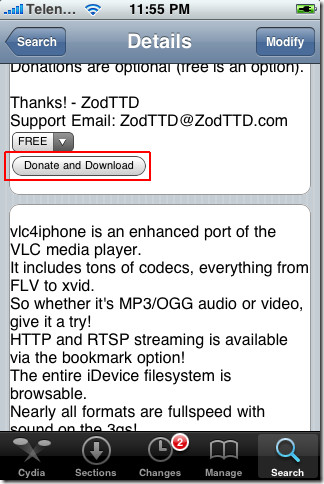 It will load a small white page whose content can be hardly read. Actually it is written Success, which means that not you can head back to the main page and click Install.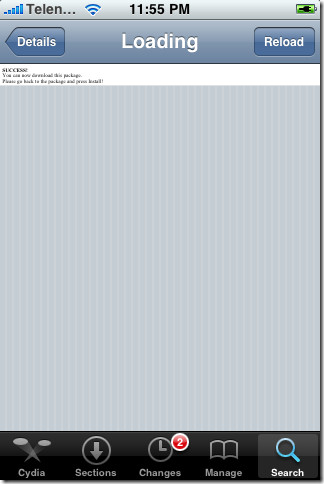 It is almost 13.3 MB big file, so make sure you are connected to some Wifi, otherwise be ready to pay hefty amount of bucks to your cellular provider. 😉
Selecting Free option is quite tricky since it is hidden at the button of donate money options. But if you can't donate, then downloading it for free makes sense. We strongly recommend that you support the development of this awesome app by donating and commenting.
Enjoy!