Huawei S7 Android Tablet Specs And Price
The touch-tablet race is gathering some pace now with more manufacturers are jumping in everyday.
Recently Huawei released their S7 tablet geared with Android and here are the detailed specs: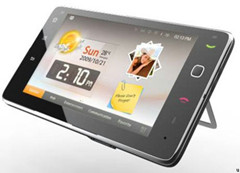 786 MHz Qualcomm Snapdragon Processor
256MB RAM
7" Inch Resistive Touch-Screen
800 x 480 Display Resolution
Android 2.1 Eclair OS (upgradable to Android 2.2 Froyo)
Wi-Fi
Bluetooth
2 Mega Pixel Camera
3.5mm Head Phone Jack
3G Compatible
SIM Card Slot
From the specs, it is evident that this is Huawei's answer to Dell Streak touch tablet. Huawei S7 Android Tablet is now available for shipping @ 299 Euros in Europe. The exact release date(s) for US and rest of the worldare not yet known, but we can predict it to be next month sometime.
All-in-all, it seems to be a mediocre device. While it definitely stands out in looks, with a sleek and gloosy front, fancy capacitive buttons and optical touchpad, and a really decent kickstand for a comfortable viewing experience, its 786 MHz processor leaves much to be desired. Furthermore, resistive touch screens are a real pain when it comes to a smooth user experience. Registering your finger's touch will not be very responsive, and forget about multi-touch. Resistive touch screens should be dead by now, as they are stylus-optimized and not suitable for finger-driven use at all, in contrast to capacitive touch screens. A stylus has been provided, but most casual users don't care for using a stylus these days.
Another major drawback is the lack of internal storage. You will have to rely on an SD card for all your storage requirements. Lastly, while there is a microUSB port available for connecting it to your PC, it doesn't charge the device. Charging is possible only using its proprietary charger. All these shortcomings, especially use of a resistive screen and lack of internal storage, collectively matter a lot, considering the price tag. For a $150 tablet, the price would have justified these cons but that doesn't apply in this case.
If you don't care much for these shortcomings and are fine with the price, you can buy it now in Europe or wait for a while for its US or international release.