Install Front Facing Camera On Samsung Vibrant [Video Guide]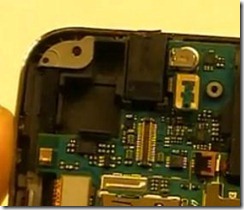 Samsung Vibrant is essentially an exact replica of the Samsung Galaxy S I9000 at the hardware level with one difference – it lacks a front facing camera but that can be changed quite easily if you are ready to spend a few bucks on a newer camera and do some hardware-level tinkering. While it may sound like a potentially risky mod, we were surprised at how easy it was to do, thanks to this video guide.
This excellent video guide was shared with us by XDA-Developers forum member connexion2005 who demonstrated the entire process with very easy-to-follow instructions that enable even novice users to install a front facing camera on their Samsung Vibrant.
We know you must be getting impatient for the video by now so here it is in all its glory.
Disclaimer: Please follow this guide at your own risk. AddictiveTips will not be liable if your device gets damaged or bricked during the process.
The reason this method is so easy is because unlike some other carrier-specific versions of Samsung Galaxy S series phones, the Vibrant's entire hardware structure is entirely the same as that of the Samsung Galaxy S I9000, including the housing area for the front facing camera, despite its lack. Even the hole for the camera is there; Samsung simply decided to cover it with black paint from the inside when they chose not to ship the Vibrant with a front facing camera. Thus, this guide is essentially all about removing that black paint and replacing the single back-facing stock camera with a dual one that has a front-facing lens in addition to the back-facing one.
In the end, it's all about whatever gets the job done. Enjoy using your brand-spanking-new front facing camera on your Samsung Vibrant!
[via XDA-Developers]