Texas Instruments Blaze Tablet Specs
Recently Texas Instruments released the details of their Blaze tablet. While the device certainly boasts very impressive specs, don't get too excited; the tablet is not a fancy Android based one, but is in fact targeted at developers who are working or intend to work on the Blaze Development platform.
This Blaze Tablet has some pretty impressive specs and here they are for your reference: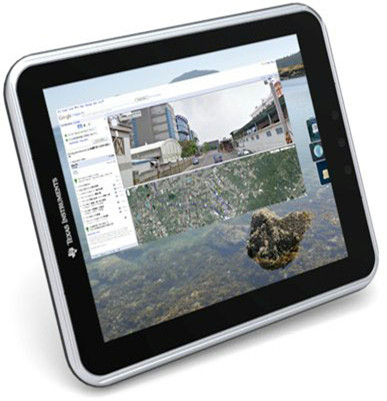 1 GHz OMAP4430 Application And Multimedia Processor
TWL6030 Power Management Integrated Circuit
TWL6040 Audio IC
1 GB lpDDR2 RAM
32 GB MMC Compatible
10.4 Inches Touch Screen
1024 x 768 Display Resolution
HDMI Port
Multi-Touch Capable Touch Screen Controller
8-bit SD/MMC External Connector
SIM Card Slot
3.5mm Headset Jack
Built-in One Way RMS Speakers
Integrated Microphone
LTE and 3G Modem Support
Wi-Fi
Accelerometer
3 –Axis Gyroscope
Integrated Temperature And Ambient Sensor
Digital Compass
5 MP Camera [Mount Externally On Tablet Frame]
Chargeable Through Normal USB
4100 mAHR LiON Battery
Ethernet Port
10.48 In X 8.28 In x 1.14 In Dimensions
Optional Debug LED's
As you can see from the specs, the device would definitely be ranked amongst the highest-end tablets out there but there is a major catch: as we mentioned earlier, this tablet is not meant for the casual users. It has been developed as a tablet exclusively for programmers and developers, who want to build on the Texas Instruments Blaze platform. It comes with all the development tools necessary for the purpose, and is mainly intended to provide developers with state-of-the-art equipment to build their apps on, which will likely be then used by the mass market when tablets running consumer-oriented versions of the platform are released to the public in the future.
We don't know the release date yet but we can predict it to be somewhere in Q4 this year. The price is expected to be quite high as being a developer-oriented device, fewer units would be made, increasing the per-unit cost, so expect it to be in the $1500 range for now.