Use Apple Magic Mouse On Windows 7
Who didn't see this coming? Apple's latest multi-touch capable Magic Mouse now works on Windows. Yes you heard it right, from Windows XP to Windows 7, it can work on them all. But this is not an official update from Apple, rather it was done by hacking the Apple's Bluetooth Update. Thanks Dan! Now I can't wait to get my hands on the Magic Mouse. Download links for both 32-bit and 64-bit versions are given below.
Those who have used Magic Mouse know that people have a love-hate relationship with it. On one hand it is utterly useful if configured correctly, on the other hand the sensitive touch can be a tad too much for power users. Nevertheless, the drivers only allow users to use the basic functionality of Magic Mouse in Windows. You can left click and right-click just fine, even scrolling works. But don't expect the swipe effects to work since they are only exclusive to Mac OS X.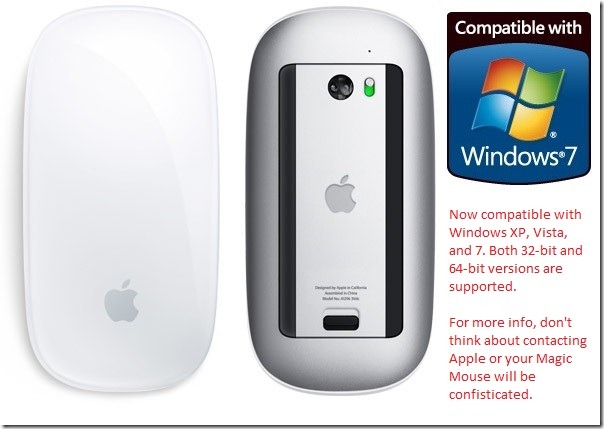 For Mac users: These drivers are not meant for those who are running Windows on Macbook using Bootcamp because if installed correctly, your Magic Mouse should automatically connect. This is because Apple installs the necessary drivers required for your Magic Mouse to work on Windows. However, if you are using Hackintosh or have installed Windows without Bootcamp, then you will need these drivers to make the Magic Mouse work. Again, it should be noted that it only activates the basic functionality of the Magic Mouse in Windows.
Download Apple Magic Mouse Driver (32-bit)
Download Apple Magic Mouse Driver (64-bit)