Yahoo Launches HTML 5 Version Of Yahoo Web App For iPad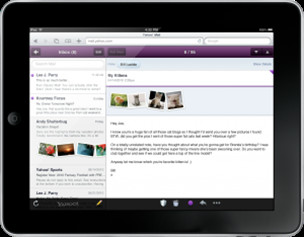 Yahoo has launched the HTML 5 version of their Yahoo Web App specifically for the iPad. This new version is packed with great features that include caching capability if you are disconnected from the internet, meaning the information you recently accessed still remains available even when offline. Read on for more information.
As tablets keep on gaining popularity, more and more web services are rolling out their own dedicated tablet-optimized apps. This trend is highly visible on the iTunes App Store which has separate filters for iPad-optimized apps.
Here are the detailed set of new features that are inculcated in this new HTML 5 Yahoo Web App for the iPad.
Faster and more reliable: If you're offline, Yahoo! Mail uses local caching capabilities to help you access and search your messages even without an Internet connection, just like you would do using an email client.

Smart: You can find and organize your messages using Full Search, personal folders and Smart Folders with messages from your most important contacts and optimized views for photos and file attachments. This makes interaction with information as well as contacts not only easier, but also much more intuitive.

Feature Rich: View rich photo attachments in their full form, or as previews directly in the inbox view. Also includes a dual-pane view to make reading and organizing a breeze. HTML 5's full potential can't be realized without utilizing its rich multimedia compatibility features and Yahoo Web App for iPad app puts those to great use.
According to Yahoo, this web app version is available to every iPad owner throughout the world. All you need to do is to log on to mail.yahoo.com on your iPad's Safari browser and enjoy this new feature rich version of the Yahoo web app, without even having to install anything additional.
What do you think of this new version of Yahoo on your iPad? Hooked on the offline capabilities? Mesmerized by the rich multimedia features? Impressed by the smart features? We'd love to hear from you, so don't forget to let us know of what you think in the comments below.