We are reader supported and may earn a commission when you buy through links on our site.
Learn more
Which Documents to Shred to Keep Your Identity Safe
Unsure about which documents to shred, which to keep, and which to just toss in the garbage without fuss? This guide is for you, and in it we'll show you which types of documents typically contain the most sensitive information. Then, we'll cover what else you can do to prevent identity theft once you're done feeding the shredder.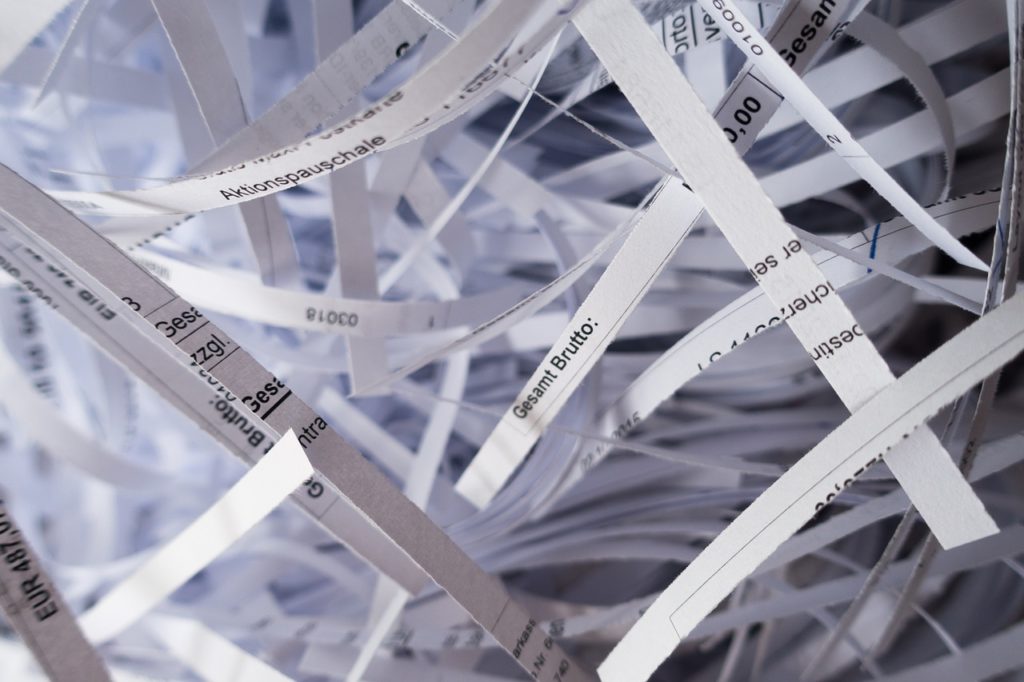 Even in today's digital age, there is no going around receiving hardcopies of important documents. From purchase receipts to bank statements, we are all guilty of misplacing and throwing out official papers containing sensitive information. In turn, one of the biggest risks for identity theft is right there in plain sight – the documents we should be shredding.
At this point, you must be thinking back to all those times you threw out documents containing your Social Security Number or bank account details. Fortunately, it's quite unlikely that you chucked anything that's likely to compromise your identity, credit, etc. Still, it helps to be sure – so in this article, we'll cover some document types that are risky to throw out and should be shredded.
Which documents put me at risk of identity theft?
There is specific information that one must be careful with in order to prevent identity theft. Below, we've listed the most important documents you should shred before you throw out.
Documents stating personal details
First and foremost, your personal information is the most valuable to identity thieves. This includes your Social Security Number, address, and even date of birth. For example, statements from the IRS or letters from your employer could be used to retrieve personally identifiable information. In the wrong hands, your SSN, for example, could be utilized in a manner highly destructive to your credit. Since an identity theft victim spends an average of 600 hours clearing their name, it's best to destroy any document containing personal details and consequently avoid the situation in the first place.
Account details
This section is one we are all guilty of – storing passwords, usernames, and account numbers for identity thieves to find. If other pieces of information are a mere hint, this is a whole key to your personal accounts. Documents that usually contain this sort of information include credit card statements, tax statements, and utility bills. So, next time you get your phone bill or bank statement for the month, if you have no intention of keeping it, make sure to shred them.
Financial documents
Any letter or statement from a financial institution typically contains sensitive information that could put you and your identity at risk. For example, voided cheques or online purchase receipts contain your bank account information, which can end up serving as a key to your finances. While it is recommended to keep your credit card statements for several years prior to getting rid of them, make sure to shred these documents when the time comes.
Other documents
While the records we've mentioned so far have been more obvious, there are some everyday documents that you wouldn't consider to be risky to simply toss out. However, with more than 60 million Americans being victims of identity theft at any given time, you can never be too careful. Below we list the less obvious documents you should shred before getting rid of them.
Boarding passes – this one is surprising, but boarding passes not only contain your name and travel destination, but also have a barcode that any free website could decipher. This information can often be used to gain access to airline accounts, so fraudsters can see your travel plans and even cancel trips.
Receipts – many receipts contain the last digits of your credit card and maybe even your signature. This can be used to make fraudulent purchases or returns, as well as to gain access to your store credit.
Prescription labels – labels used for prescription medication tend to contain pretty valuable information. Many thieves make use of these bottles in order to get refill of a person's prescription, therefore make sure to destroy the label prior to throwing it out.
CVs – in a nutshell, your resume is essentially your timeline. It contains your name, address, phone number, employment history, academic history, and much more. A resume gives away a myriad of valuable information, therefore be wary of simply tossing it in the bin.
How else can I prevent identity theft?
There can never be a full guarantee that your identity is 100% safe. However, there are many ways you can reduce the risk of being an identity theft victim. For starters, you can use a credit bureau in order to place fraud alerts on your credit report. This way, companies will always take several precaution steps in order to confirm your identity. The next step you can take is place a security freeze on your credit report. A security freeze requires you to go through several security steps in order to confirm that it is, in fact, you. Specifically, you will need to state a password or PIN before a company can check your credit report. Although this may cost a small fee, the extra protection is worth it.
There are simpler steps you can take that don't require contacting credit bureaus at all. For starters, make sure you are checking your accounts online on a regular basis. This way, if there are any unusual charges you don't recognize, you can spot them immediately. Secondly, make sure you don't carry your Social Security Card around with you, and don't have the number written down for thieves to find. Finally, there are many ways to avoid having hard-copy papers by doing certain things online.
For example, you can now pay your bills online, which will eliminate the risk of an identity thief stealing your check from the mailbox. This is the case with most bills today – paying online is faster, safer, and much more convenient. If you do bill pay online, be sure to lock your Internet connection down with a VPN.
Finally, you should consider signing onto an identity theft protection service. You might think this is only useful after you've been a victim, but the real-time monitoring of your many identity vectors will help you catch breaches as they happen. This can go a long way towards stopping something far worse from happening under your name.
Conclusion
It's clear that everyone leaves a paper trail simply by existing, but it's up to you to minimize the sensitivity of documents exposed to the general public, hackers, thieves, or anyone else. We've shown you exactly which document types should be chucked into the shredder first for this very purpose.
Got any other tips besides these? Share them in the comments below!