2 Ways To Extract/View Any Archive File Before Downloading
Suppose you need to download a 5MB sound card driver, instead you find a 100MB archive file on the manufacturer's website which contains a complete list of drivers. But since you don't need them all, what you will do is extract the archive file, find the sound card driver, and finally download it. But how will you extract the archive file without downloading it in the first place? Below I have posted two methods that will help.
Note: I reviewed a software for Windows that does the same thing here. But it has few limitations, such as you can't use it in other Operating Systems. The methods covered below can be used in any operating system since it is not a software that needs to be downloaded.
ArchView (Firefox plugin)
ArchView is an add-on for Firefox that can open the archive file online without downloading it. Just click on the archive file and you will see all the contents inside it. To download a file, first select the file and then go to File > Save. You can select multiple files by holding down Ctrl button and selecting the files. The supported archive formats are: Zip, Rar, and ISO.
You can change the view to HTML by right-clicking ArchView icon on the status bar and selecting the option from there.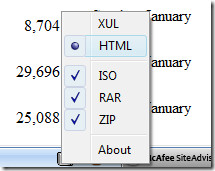 WobZIP (Online Service)
Wobzip is an online archive extractor that can extract archive files both from your computer and online server. It can even extract password protected archive files. It supports the following formats: 7z, ZIP, GZIP, BZIP2, TAR, RAR, CAB, ISO, ARJ, LZHCHM, Z, CPIO, RPM, DEB and NSIS. The maximum file size that you can extract is 100Mb, this limit prevents the server load to increase.

This service can come handy if you want to quickly access the files inside the archive. Just enter the URL of the file and click wobzip!.

One remarkable feature is that it automatically scans the archive for virus.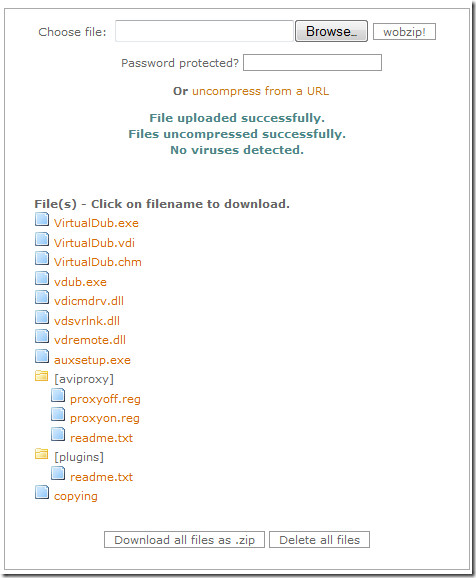 It can extract the archive files from both HTTP and FTP server just like ArchView. Enjoy!