A Complete Guide: How To Access And Send Email Offline In Gmail
Did you even imagine checking and sending emails offline? Gmail can finally be used offline thanks to their Offline Team. But what's the use of accessing Gmail offline? Well if you receive plenty of emails daily and travel a lot, then it can come handy all the time. What it does is downloads all your emails so that you can check them later and also send important emails, these send emails are saved in Outbox. Once you connect to the internet again, messages in the Outbox are send automatically.
To begin, first download and install Google Gears. Once done, log in to your Gmail account and on the top right side click Settings. Now go to Labs as shown in the screenshot below.
In Gmail Labs you will find add-ons which you can enable for your account. Now search for Offline add-on and click Enable and finally click Save Changes at the bottom of the page. Once done, your Gmail will load again and you will find an Offline link next to Labs on the top-right side of the page.
Click Offline and you will get a pop-up message asking you to Install Offline Access To Gmail, click Next.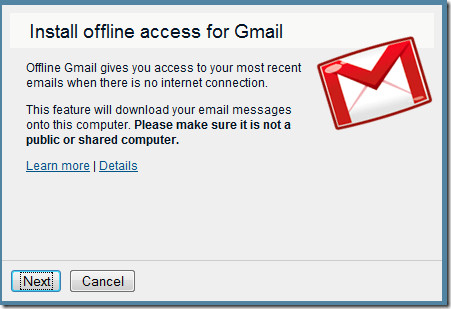 Once done, it will take some time to download all your emails on your computer and your browser window might become unresponsive during this time.
Note: You should have a high speed broadband connection to download all emails quickly.
Below is a short video from Google explaining how Gmail works offline.
Enjoy!