A Quicker Way To Find The Best Flights, Hotels & Travel Packages In Chrome [Extension]
Travel Deals Advanced Search is an extension for Chrome that uses the Wego travel search engine to help you find the perfect flights, hotels, activities, guides or travel packages for your needs. Instead of searching multiple services and visiting a multitude of apps, this single 5-tab widget helps you find the perfect travel deals with just a couple of clicks, be it an airline ticket to Bangkok, or a hotel room for two in London. Not only does the app provide you with a comprehensive flight searching and filtering model for your trips, but also lets you discover entertaining activities. Moreover, the built-in price comparison and destination suggestions let you save a lot of time.
After installing the extension, all you need to do is click the button in the toolbar and a pop-up will be displayed with five basic tabs, Research, Hotels, Flights, Deals and Activities. Travel Deals Advanced Search offers you with comprehensive hotel searching, booking and filtering features, complete with star ratings, photos, maps, check-in/out dates, number of rooms, expense information and more. Just feed in your desired details, and let the extension find the cheapest available options for you.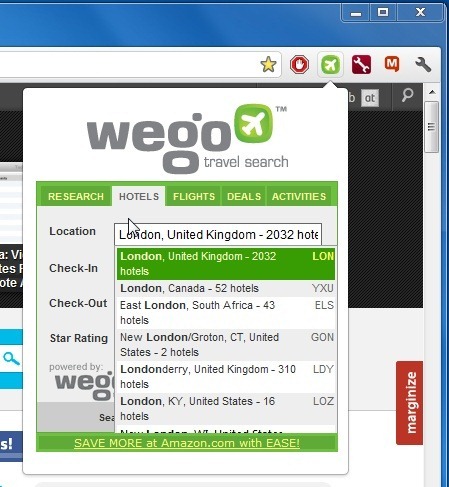 For the Flights category, you have to specify your From and To destinations, Departure/Return dates, number of adults and children, Trip Type (Round Trip, One-way), and hit the search button to get a list of all available flights that fit your criteria.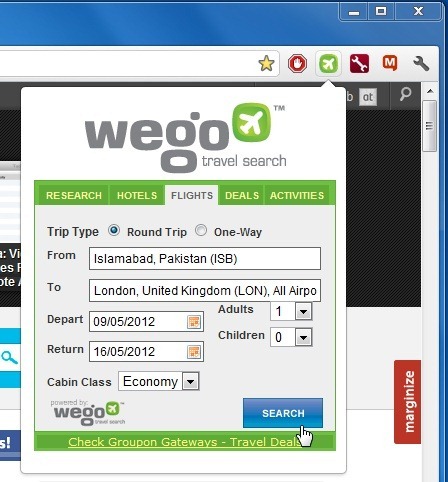 Latest and up-to-date results will then be opened in a new tab. For instance, various flight details such as airline service, dates, duration etc, can be viewed within the Wego app, whereas the booking procedure itself can be carried out by clicking the GO button.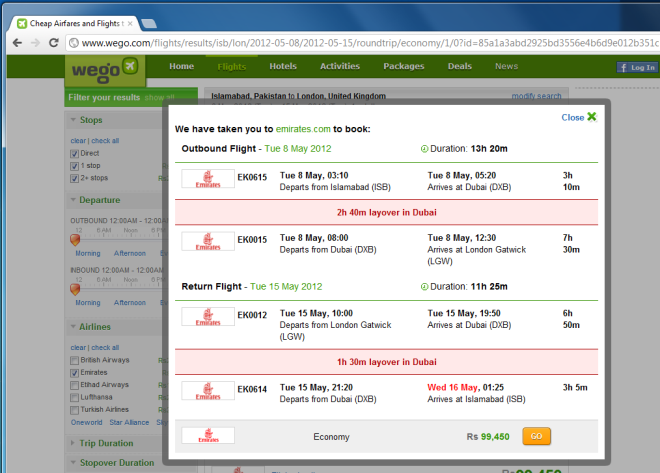 Travel Deals Advanced Search gives you comprehensive travel search results with real-time flights, hotel pricing and availability from hundreds of leading travel services from all around the world. With it, you can save time and cash, not to mention the hassle of visiting several different services and web locations, so visit the link below to give it a try!
Install Travel Deals Advanced Search For Google Chrome