Access History, Bookmarks & Search Suggestions From Firefox Omnibar
Omnibar Plus, a Firefox add-on, adds extra functionality to the Firefox Omnibar by organizing links from history, bookmarks and search suggestions. Bookmarks & History links are grouped together, whereas Omnibar search suggestions can be found in a different group. Omnibar Plus also requires another add-on, Omnibar, as a prerequisite. You can also quickly search and switch between different search engines using the shortcut search operator. Hitting F6 focuses the location bar, and a middle click on the search engine opens its homepage. The drop down list is compact, and different styles can be applied to it. Settings and features can be changed from  Omnibar Plus options.
Once you've installed the add-on, you will be able to access links from your bookmarks, history and search suggestion through the Omnibar. The order of the links retrieved from bookmarks, history and suggestions can be changed. Furthermore, you can change the color scheme for the suggestion pop-up, and display the search engine in the URL bar.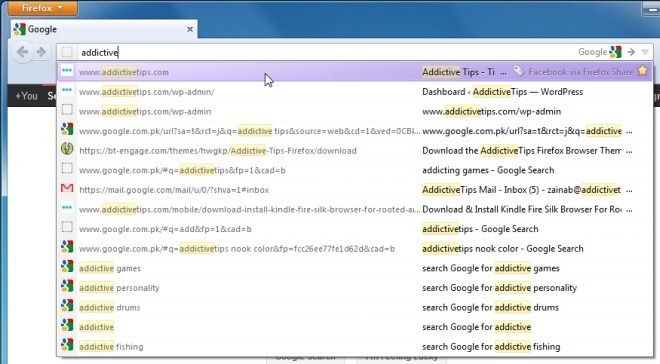 The Omnibar Preferences consists of two categories, Omibar and Plus. The Omnibar category lets you set the maximum number of suggestions shown, history results and visible results. Select a search operator from the drop-down menu and show the search engine in the url bar or hide the engine name/icon. In addition to that, change the style for the suggestion list.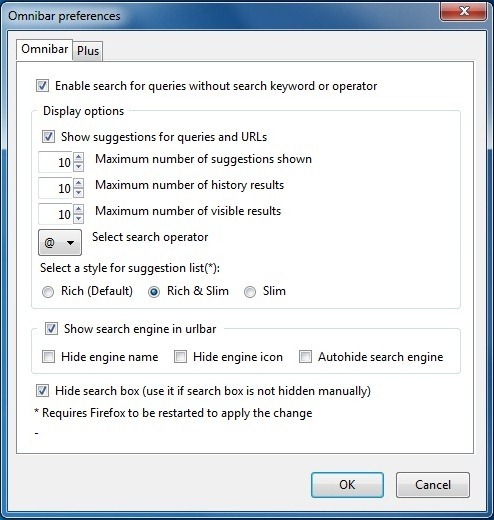 The Plus category lets you change the look and feel of the Suggestions Popup, and select a color scheme from the drop down menu. Organize the suggestion list by changing the order of the items in the suggestion list. Furthermore, toggle between Focus the location bar by pressing F6, Middle Click or Ctrl/Alt + Left Click on search engine opens its homepage and Focus the location bar after changing the search engine options.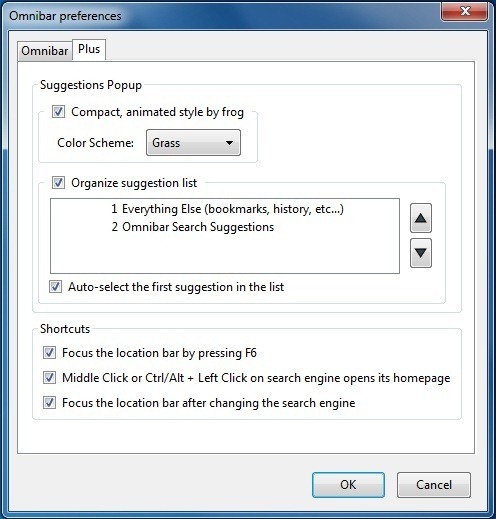 Omnibar Plus is quite a useful add-on that integrates the omnibar and the search bar into one, and sorts suggestion entries. You can install both the Omnibar and Omnibar Plus Add-ons from the links below.
Install Omnibar Add-On For Firefox
Install Omnibar Plus Add-On For Firefox