Account Bookmarks: Keep Track Of All Web Services That You've Signed Up For [Chrome]
Managing each online account and keeping track of login information becomes a difficult task, especially when you've signed up for quite a wide range of online services. For this reason, users opt in for online account managers like LastPass, that help manage all online accounts from their account vault. I've personally signed up for numerous online services, ranging from social media websites, email services, productivity apps and so on, and obviously, I have to keep track of each online service I've signed up for. If you don't use an online account password manager, but are looking for a way to assist you in tracking all your online accounts, then Account Bookmarks may help. It's a web extension for Chrome that automatically bookmarks all your login accounts, so that you can easily remember the websites that you've signed up for.The extension has the ability to automatically create a bookmark whenever you login to an online service/website or browse to a website that you are already logged into. All the bookmarks that it creates while you surf the web are stored in a bookmarks folder called, My Login Accounts. For each account, it saves the website URL and your username. However, it must be noted that it doesn't save passwords for online accounts.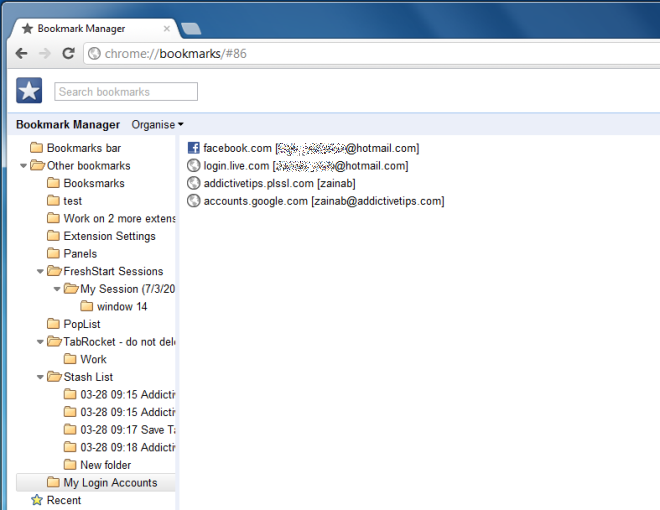 Since remembering all the websites you've signed up is not possible, Account Bookmarks saves you the time you would've spent finding and managing your online accounts. Nevertheless, it's been developed for those who don't like saving their online account information in account/password managers. Using this extension, you can quickly view your accounts and visit the subscribed services to manage your login details. The extension has no buttons or settings, whatsoever and can be installed by hitting up the link below.
Install Account Bookmarks For Google Chrome