Add Filters And Automate Firefox Downloads With Automatic Save Folder
Firefox automatically saves downloaded files to a single Downloads folder, and doesn't allow you organize the downloaded material through automatic sorting. If you want to filter out your downloaded files and organize them for faster access, then a handy Firefox add-on, Automatic Save Folder, can be of help. This add-on allows you to specify different folders by adding filters based on file name and domain. Your selected folders are then automatically used to save the downloaded files, or proposed by the file explorer to prevent spending your time while looking for it. Moreover, you can enable options such as dynamic folders, to add additional information (e.g., dates) to your folders.
Once you've installed the add-on, simply add filters by file type & domain name from the Automatic Save Folder Preferences. Change the order of the filters by clicking the up/down arrows, and click the Edit button to change settings for the file locations. In addition to that, click the (-) button to simply delete a domain from the list, and click the (+) button to add new filters.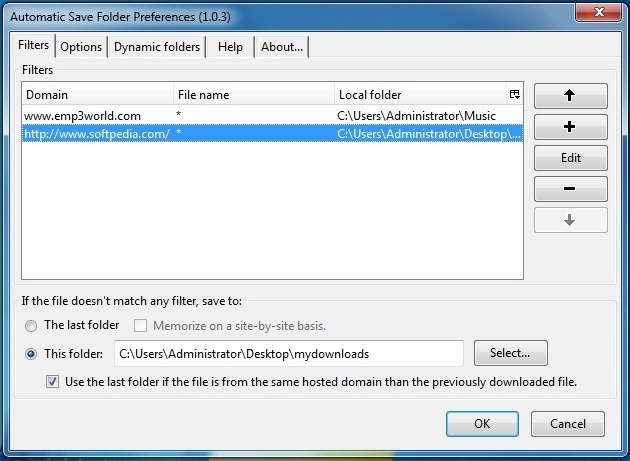 The (+) button opens a Add a new filter window. From here, you can configure new filters by adding a URL for the Domain. Use full file names, wildcards or regular expressions for the file name category and click Select to choose a local folder from your system. Once done click Ok and your selected filters will be added to the list.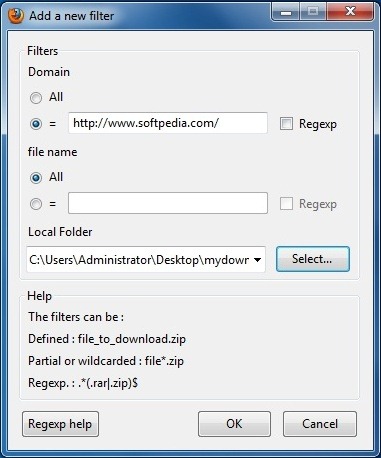 Use the Options category to enable Do not show the file explorer, Save dialog box and select Automatically accept "What should Firefox do with this file?" dialog windows. In addition to that, you can also enable Suggest all possible folders and View the list of folders options in the the Save dialog box.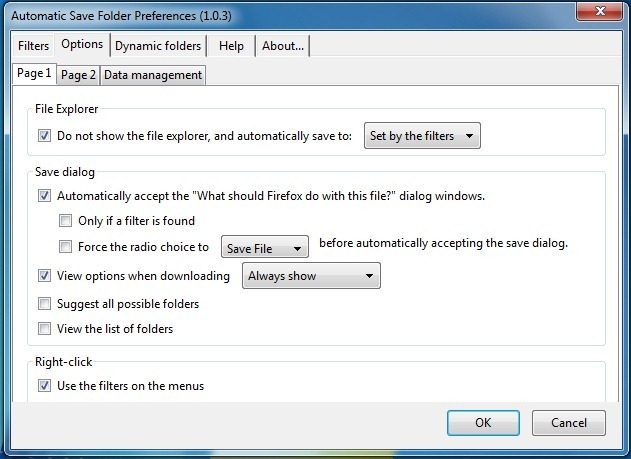 Another useful feature of this add-on is the ability to enable dynamic folders. These are created with the help of tags, and can add date or other information to the folder dynamically. You will have to enable this option before you use them in the download paths.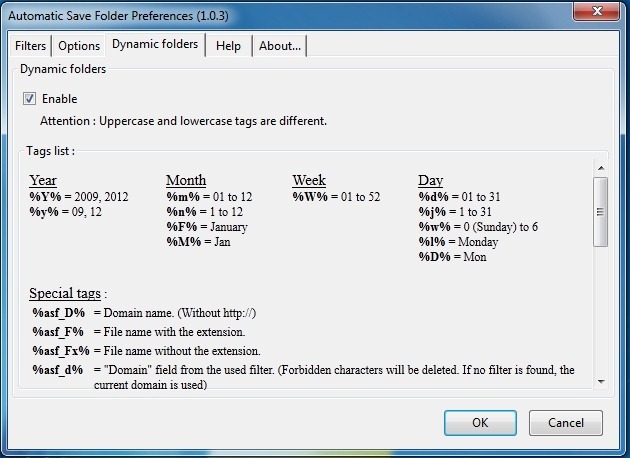 A save dialog of Automatic Save Folder is displayed when you download a file. Here, you will be able to save the file in your defined location, or you can choose a different folder from the Available filter's path option. Furthermore, click Add or edit a filter to add the current domain or file name to the list.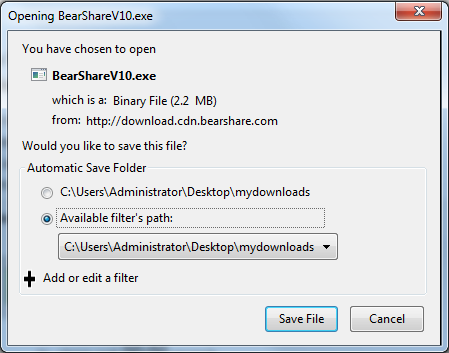 Automatic Save Folder is a handy add-on that allows users to organize and manage downloads. It only requires a one-time configuration, after which you can automate the file download process. Install the add-on from the link below, and let us know what you think.
Install Automatic Save Folder Add-on For Firefox