Add More Photo Sizes And Options To Picasa 'Embed Image' URL Code
Picasa is one of the most popular places to store images online but there are few limitations when it comes to sharing photos. One such annoying feature is that while embedding the image, you can only choose between one of the four sizes: Thumbnail(144px), Small(288px), Medium(400px), or Large(800px). Bloggers and Webmasters prefer different sizes when embedding an image, one of the most common size being 512px.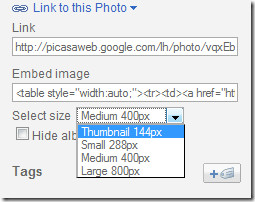 Get Picasaweb Image URL is a GreaseMonkey script for Firefox that adds 19 more sizes to the list(making a total of 23 sizes), from 32px to 1600px, thus enabling webmasters to use Picasa as a destination for sharing their photos more easily.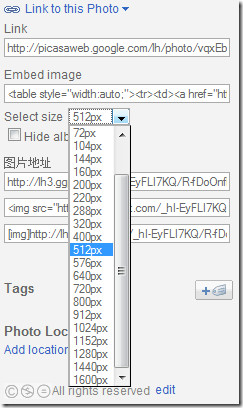 Apart from it, this script adds 3 more image addresses: Direct link, Link with Image tags, and Code for embedding image in forums. If you use Picasa frequently, you should definitely give this script a try. Enjoy!