Add Notes To Web Pages And Share Images / Videos With Layers [Plugin]
Layers is an awesome plugin for both Firefox and Google Chrome which is written to change the way you browse through web, search for content, share images, information, articles, and videos with your friends and colleagues. So how will it revitalize your work on web space?  The name gives an idea of adding layer over any element on the web page, be it video, a piece of information with a blend of text & image, a complete article, etc., you can add a layer in a form of small note which will help you in remembering the context of the element. Adding more, it supports two most eminent social media services- Twitter and Facebook, to let you share the content with your followers and friends without referring to the page or pasting links manually.
Once the plug-in is installed and enabled in your favorite browser (Firefox or Google Chrome), you will see a ribbon (with the name Layers) sticking on the left side. Clicking this ribbon will bring up option to comment on an element or web page, and share any relevant video and image.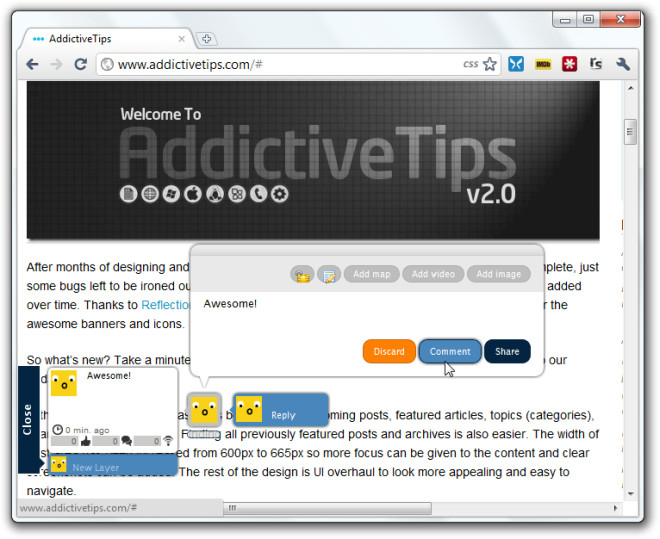 The best part is that it shows any supported multimedia content right on the page, for instance, if you've shared or commented on a web page with an image or a video, you will get to see them along with all the comments while scrolling up/down the content. All the social media links are also seen here, you can quickly share a note on Twitter and Facebook.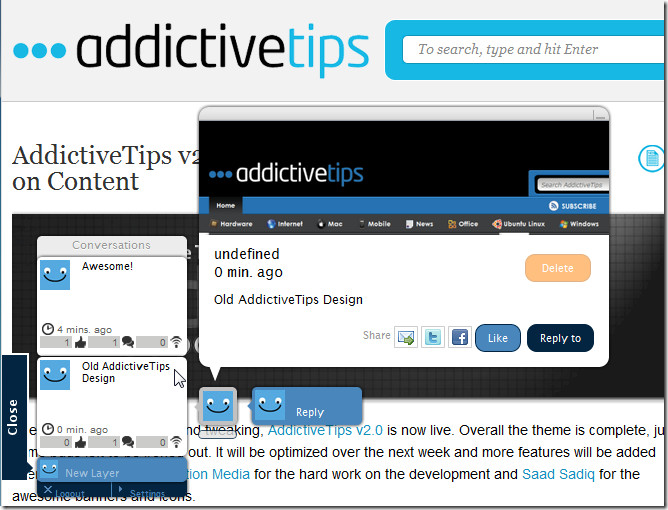 If you need to add another layer to comment out or to take a note of any specific part of web page, just click New Layer to comment with sharing a video or an image. Replies from users with whom you shared the content can also be seen in the ribbon.
Layers for Google Chrome & Firefox