Address Book I Need: Import, Sync & Manage Gmail Contacts [Chrome]
Having your email contacts available offline can be immensely useful; whether you need them to compose an email offline or just to look up an address or phone number, an offline address book that allows you to access contacts normally stored in your email account can't hurt to have around. Address Book I Need is a Chrome application that syncs your Gmail contacts and makes them available even when you're offline. You can organize the contacts in to different groups, add contacts offline and sync them to Gmail when you go online.
Once installed, the application serves as an offline address book until you sync it with all your Gmail contacts. To sync contacts, sign in to Gmail by clicking Login. If you're already signed in to Gmail, you will only have to authorize the application to connect and pull information from your Gmail account. Click Sync from Gmail to import all Gmail contacts in to the app. Click Sync to Gmail to export contacts to Gmail. The application can also import contacts from a CSV file by clicking File Import.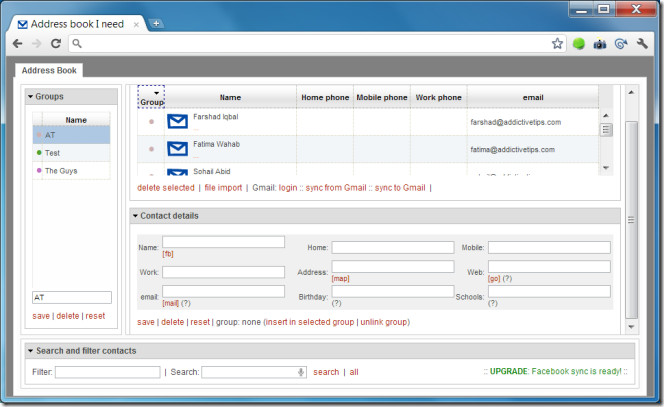 To add a contact, scroll down to Contact Details and add a contact name, email address etc., and click Save.

To create a group, type the group's name in the input field provided at the bottom of the Groups panel on the left. Click Save to save the group, to rename a group, select it from the panel and edit its name from the same field. To delete a group, select it and click Delete. To add a contact to a group, select the contact from the contacts' list and the group you want to add it to from the group panel. Details of the contact will be populated in the Contact Details area, select Insert in selected group and the contact will be added to the group you selected. To remove a contact from a group, select it and click Unlink group from the contact details panel.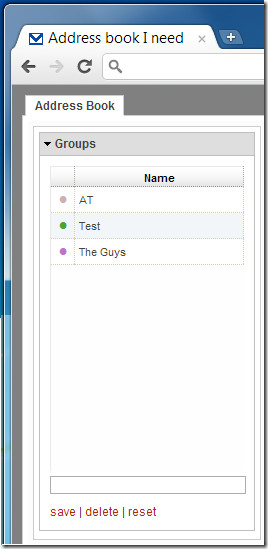 Since the app syncs contacts both online and offline (two way sync) the contacts you add while offline and later sync to you Gmail account are available no matter what device you access them from. It also imports contacts from CSV files which means you can import contacts from any email service that lets you save/backup contacts in this format and sync them to Gmail.
The extension also allows you to import contact details from your Facebook account, however, you will have to make a donation to the developer in order to upgrade and use the feature.
Install Address Book I Need Application For Chrome
Update: The extension is no longer available on the Chrome Web Store.