Attachments.me – Search Email Attachments, Download & Send To Dropbox
Attachments are those extremely important things that are too easily lost and very difficult to find and even built-in email search isn't as effective as it should be. Attachments.me is a service that makes it easy to track down your email attachments; it lets you search attachments in you Gmail and Yahoo mail accounts, it searches your Facebook and Twitter stream for images, audio, video, documents, news, events and code. You can download items directly, share them on email, Twitter, Facebook or Dropbox.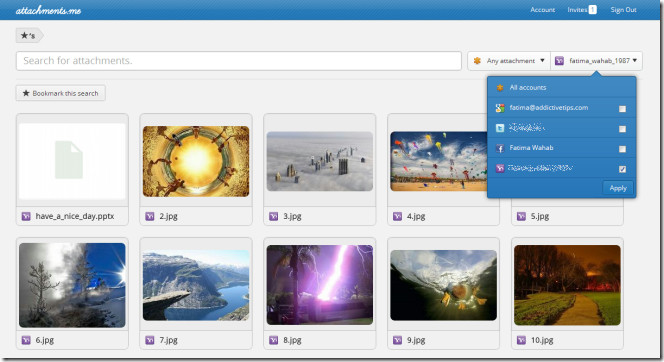 The service is extremely simple to use; start off by adding all the accounts you want to pull attachments from, you can add multiple Gmail, Yahoo, Twitter, Facebook and Dropbox accounts. To start searching for an attachment, type in a part of the file name that you remember, choose which account you want to search in and pick the file type from the drop down menu. By default, the service searches all accounts that you've added and all types of file attachments for the term you've entered.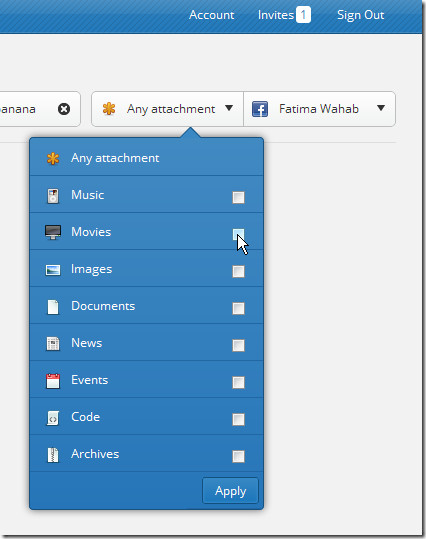 The service lets you add two types of accounts; Inbound and Outbound. Inbound accounts are the ones you can search attachments from and Outbound ones are the accounts you can forward attachments to.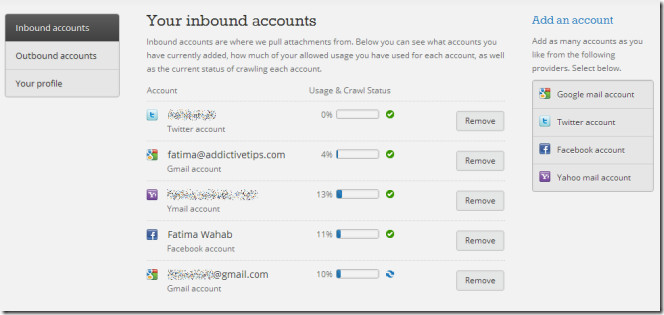 To send an attachment to your Dropbox account, mouse over it, click the share icon and choose Dropbox from the menu. The attachment will be added to your Dropbox account.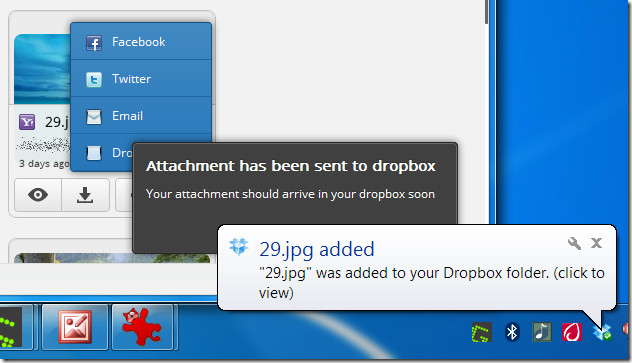 You can also download or preview the attachments. Mouse over the thumbnail preview of any attachment and click the eye icon to preview a file (not all formats are supported for preview) or click the Download icon to download the file. You can also remove a file from showing up in your attachment preview by deleting it. The file isn't removed from you email account, it just no longer appears in your search.
The more the emails in your account, the longer it takes for the service to 'Crawl' it, and load all attachments. If you receive a lot of images as email attachments, this can be a great way of going though all of them without opening multiple email messages.